RentHop Rental Report – Q4 2020
The NYC rental market continues to struggle as small businesses fold and residents relocating to the suburbs and
other metro areas due to the COVID-19 pandemic.
The bleak rental demand has forced the landlords to offer concessions and other kinds of incentives to attract renters. In Manhattan and parts of Queens as well as Brooklyn, neighborhoods filled with high-end, luxury apartment buildings are seeing drastic rent reduction, in some cases over 10% below the net effective rents last year. This presents an opportunity for agents focusing on no-fee apartments.
Meanwhile, the population outflow from Manhattan to outer boroughs continues. Our data shows that the once-popular Manhattan neighborhoods, such as Chelsea, West Village, and East Village, are seeing fewer renter inquiries, consistent with what we observed back in Q2. Leads in Bushwick, Bedford-Stuyvesant, Astoria, and Ridgewood, among others, have stayed relatively steady in the past few months compared to last year.
Agents looking to utilize their credits and maximize listing performance on RentHop could consider advertising in popular OP neighborhoods that are less competitive. We have compiled the chart below for your reference.
Most Popular NYC Neighborhoods by Lead Generation and How Competitive They Are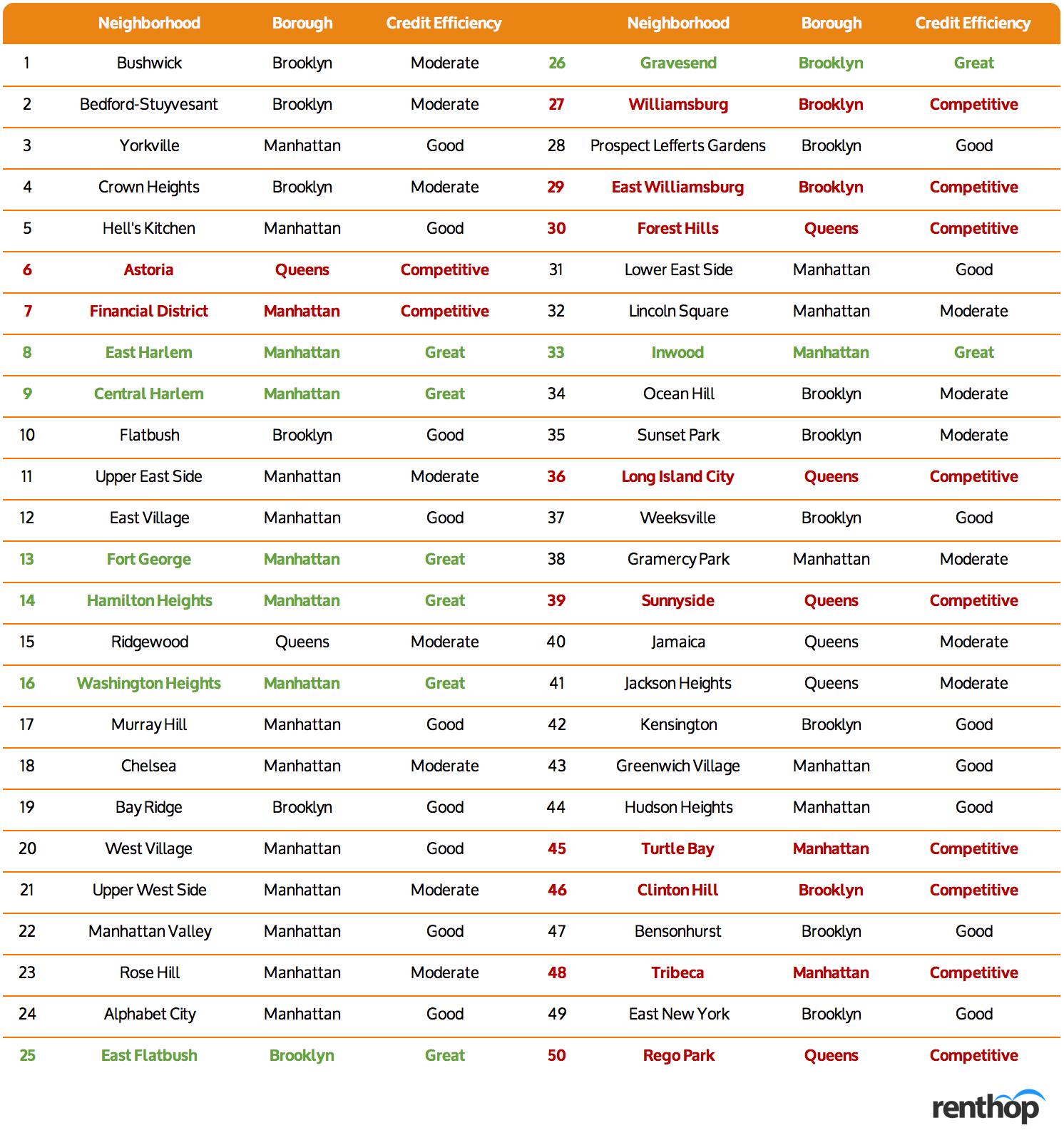 Top Growing Neighborhoods
With respect to renters seeking full apartments, certain popular neighborhoods have seen some growth in renter leads year-over-year. Looking at the most inquired neighborhoods, the neighborhoods with the highest growth appear farther away from the city center, including Bushwick, Crown Heights, East Harlem, Central Harlem, and Ridgewood.
Top Declining Neighborhoods
At the same time, many popular neighborhoods in the city have seen a substantial decrease in renter leads year-over-year. The majority of these large declining neighborhoods are concentrated in Manhattan, including Upper East Side, Hell's Kitchen, Murray Hill, East Village, West Village, and Chelsea. Renter inquires plummeted over 10% in all of these neighborhoods after adjusted to traffic numbers.
---
Methodology
Released on a quarterly basis, the RentHop Rental Report analyzes the NYC rental market using the platform's rental listings and traffic data. The lead volume, most inquired apartment type, and year-over-year changes are determined based on inquiries sent by renters visiting the RentHop site. Please email press@renthop.com for a detailed report covering all NYC neighborhoods. Note that unlike other RentHop studies that analyze and summarize data using the Neighborhood Tabulation Areas, the RentHop Rental Report adopts a more granular neighborhood shapefile for the analysis, which is consistent with the listing search criteria on the consumer side.