RentHop Agent FAQ
1. What Do "Auto Feed Mode" and "Manual Update Mode" Mean?
If your firm has a feed plan with RentHop, your listings will be fed to the "Active" tab and will be in "Auto Feed Mode". As long as the listings are in the "Auto Feed Mode", any changes you make through the feed will also reflect on our site when we refresh the feed. If you manually update/edit a feed listing on RentHop, the mode will be switched to "Manual Update Mode". Listings that are in "Manual Update Mode" will no longer actively syndicate updates via the feed. The listing will expire in seven days. You will have the option to reactivate it using 2 Credits.
2. I featured the wrong listing. Can I undo it?
Please email support@renthop.com for assistance.
3. I just added a listing to the Feed but it's not showing on RentHop. Why?
It takes 12-24 hours for a listing to hit the RentHop site. We refresh the feeds once to twice a day depending on the feed provider. If you miss the time window, you will have to wait for the next time we refresh the feeds. Still not seeing your listing after 24 hours? Please contact support@renthop.com.
4. Can I share Pro Credits with my colleagues?
We do not allow agent-to-agent Pro Credit transfers. However, if you purchase an enterprise-level Credit package, then we are able to do a one-time Credit transfer at the time of purchase. Simply provide us with your colleague's emails and the number of Credits to distribute to each account.
Please reach out to sales@renthop.com for our enterprise-level Credit packages.
5. What if I suspect my account has been hacked/compromised?
If you have reasons to believe that your RentHop agent account has been hacked, please reach out to support@renthop.com immediately.
You can also refer to our article regarding what to do if you've been hacked.
6. I get an "error" every time I call the routing number. What's wrong?
If you receive any error messages when calling renters, please contact support@renthop.com with a description of the error message you are receiving along with the renter you are trying to call and our support team will investigate.
7. Why are my leads lacking contact information?
On RentHop, renters have the option to anonymize their contact information. Our system allows renters to opt into the anonymizer in order to:
Help protect the privacy of anyone using our site.

Better track response rates/speeds.

Ensure agent performances aren't hurting their HopScores.
8. What will I receive instead of the renter's direct contact information?
Instead of the renter's direct contact information, you will receive:
Renter name

A tracking email

A routing number (if their phone number was provided)
See the example below: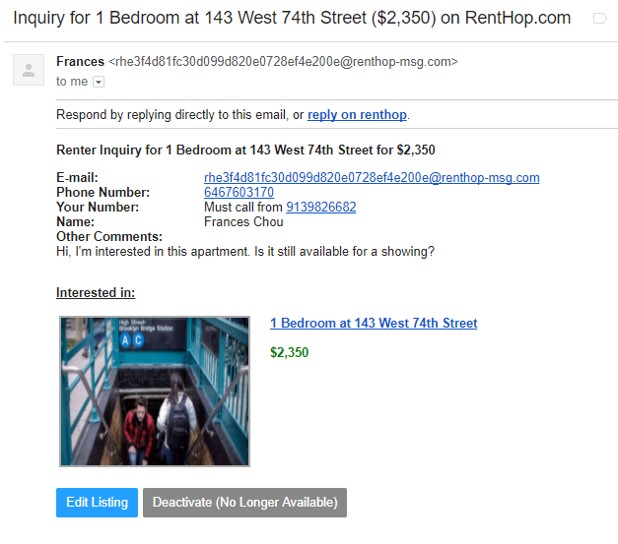 Responding through email:
Please respond directly to renters via the renter inquiry notification email that RentHop sends you.
Please do not copy and paste the tracking email to form a new email thread.
Responding through phone calls:
RentHop is now able to track calls made between agents and renters!
To call a renter via the new system, simply call the routing number provided. You must call from the cell phone you have listed on your account, otherwise, we won't relay the call properly.
Routing numbers are formatted in the following way: 646-760-XXXX
If the renter chooses not to provide a cell phone number, then the RentHop email inquiry notifications you receive will look like the following. You will not receive a text notification and you will not be able to call/text these renters.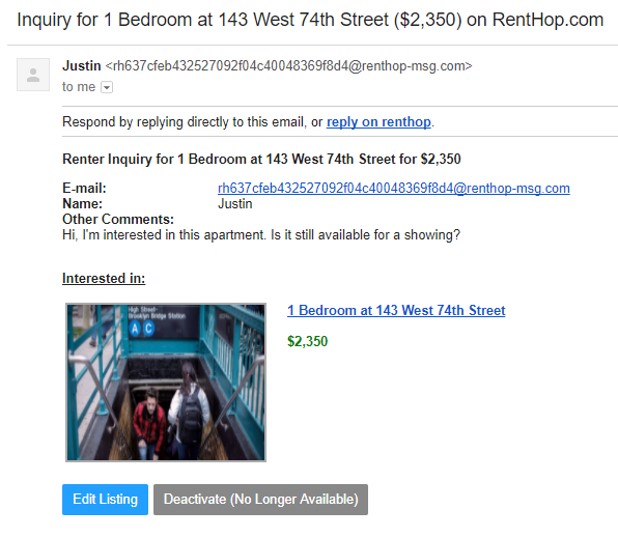 If you haven't provided us with a cell phone number then you will not be able to text/call the renter directly via our routing system. Note that a valid number must not be a landline number or a fax number. You must include your cell phone number.
You'll receive notifications to update the phone number listed in your account and listings via the renter inquiry email/texts that are sent to you. See example: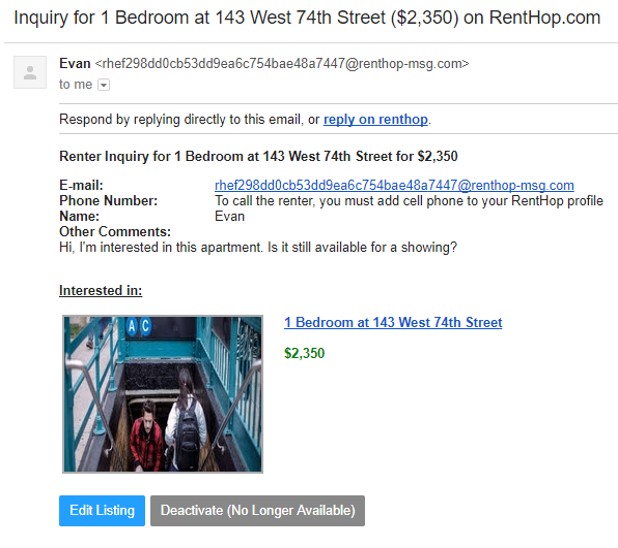 Responding through text messages:
Please respond directly to renters via the renter inquiry notification texts that RentHop sends you. Please do not copy and paste the routing number to start a new text thread.