Manager Reputation
Manager reputation relies on having a complete profile and a fast response rate.
---
Agent Profile
You can fill out your agent profile by going to the Profile + Settings tab on your RentHop account. Once there, be sure to fill out the following:
Your full name
Company email (we suggest using your company email over a personal email as it gives an extra level of verification for renters that you are a legitimate agent/broker)
Phone number(s)* (include your cell phone number to receive real-time text notifications from renters between 8am EST and 11pm EST.)
Company
Personal Bio
Neighborhood Expertise

To setup your neighborhood expertise, RentHop Pro members can scroll to the bottom of the Profile + Settings page to input three neighborhoods where you have a strong knowledge of the area, along with buildings and apartments.

Include a profile picture (highly recommended if you plan on using our app)
Everything else on your profile page is optional, but we recommend filling in as much as possible to give renters a better idea of who you are. The more you fill out, the better your HopScore.
Reviews are another way to create a more complete agent profile. You can access your reviews by going to the Reviews tab on your RentHop account. While not having reviews won't negatively impact your HopScore, having reviews from Renters will boost your score. It's important to note that RentHop doesn't allow renters to leave reviews for agents on our site; nor can you copy & paste reviews from other sites.
If you would like a renter review, you can use the "Request a Review" system we have set up within the Reviews tab. Input the renter's name and email address, then draft a quick message to send them. Once they complete the review, it will appear on your Agent Page.
---
Reply Rate
The faster you respond to the initial inquiry you get from a lead, the better your HopScore. We track how quickly you respond to the first message a lead sends you one of four ways:
Your RentHop account messaging portal (desktop and mobile)
The RentHop email that we send to your own email account when you receive an inquiry (it's important to note that you should not copy and paste the renter contact info to start a new thread. Please respond directly to the RentHop email!)
The RentHop text notification that we send to your own cell when you receive an inquiry (Please respond directly to the RentHop text.)
Call the renter at the routing number provided in the email notification.
RentHop only cares about the first response and your score won't be negatively impacted as long as you respond to the first message a renter sends. Multiple inquiries from one renter will be combined into a singular email as to save you time and effort.
We send you a reminder when we see that you have not responded to a lead, but don't worry — renters won't see these reminders! Here's what the reminder looks like in the messaging portal: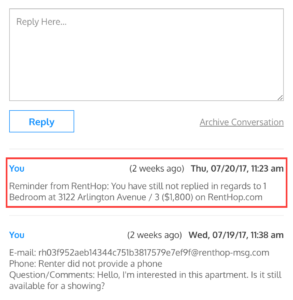 There is a 9 hour grace period to respond to a renter inquiry before your score decreases, but we recommend responding as quickly as possible to leads to ensure you can set up an appointment and close the deal. Additionally, the tracker does not count between the hours of 11pm and 8am.
We also recommend that you log in daily to check your messages and ensure you've replied to all inquiries. Additionally, renters will see that you've been active on RentHop in the last 24 hours and your HopScore will increase.