Rents Down Big Since Last Year, But Starting to Rise Again
The NYC rental market continues to trade at a significant discount in Q1 2021 vs. Q1 2020. However new data collected by RentHop suggests the bottom may be in as rents are starting to gradually increase once again.
According to the RentHop Rental Report this quarter:
Median 1BR rent fell 18.7% year-over-year in Manhattan as demand plunged and landlords scrambled to fill vacancies. In the borough, luxury neighborhoods saw the most drastic declines in rental prices, including the Upper West Side (YoY demand -23.62%), NoHo (21.83%), Chelsea (-21.43%), and Tribeca (-18.51%).
The impacts of the pandemic on the rental market were also felt in Brooklyn and Queens, with median 1 bedroom rents falling 17.2% and 18.1% year-over-year, respectively, in those boroughs. The Bronx saw a slight decrease, 1.9%, in year-over-year rent.
While year-over-year rents are down across the city, rents have rebounded approximately 1% since the beginning of 2021 across all boroughs. We expect rents to continue to rise as the vaccine rollout progresses and cyclical rental demand increases in the spring and summer months.
Manhattan Market Softened, with Median 1BR Rent Lowered by 18.7% Year-over-Year
The coronavirus pandemic has severely discounted the New York City rental market. Many neighborhoods across the five boroughs experienced price reductions due to reduced demand. Specifically, in Manhattan, one of the most expensive real estate markets in the nation, rent dropped in most luxury neighborhoods, including the Upper West Side, Chelsea, and Tribeca. The borough saw an 18.7% decrease in median 1BR rent, and some premium neighborhoods saw even more drastic cuts, as landlords increased concessions to attract renters.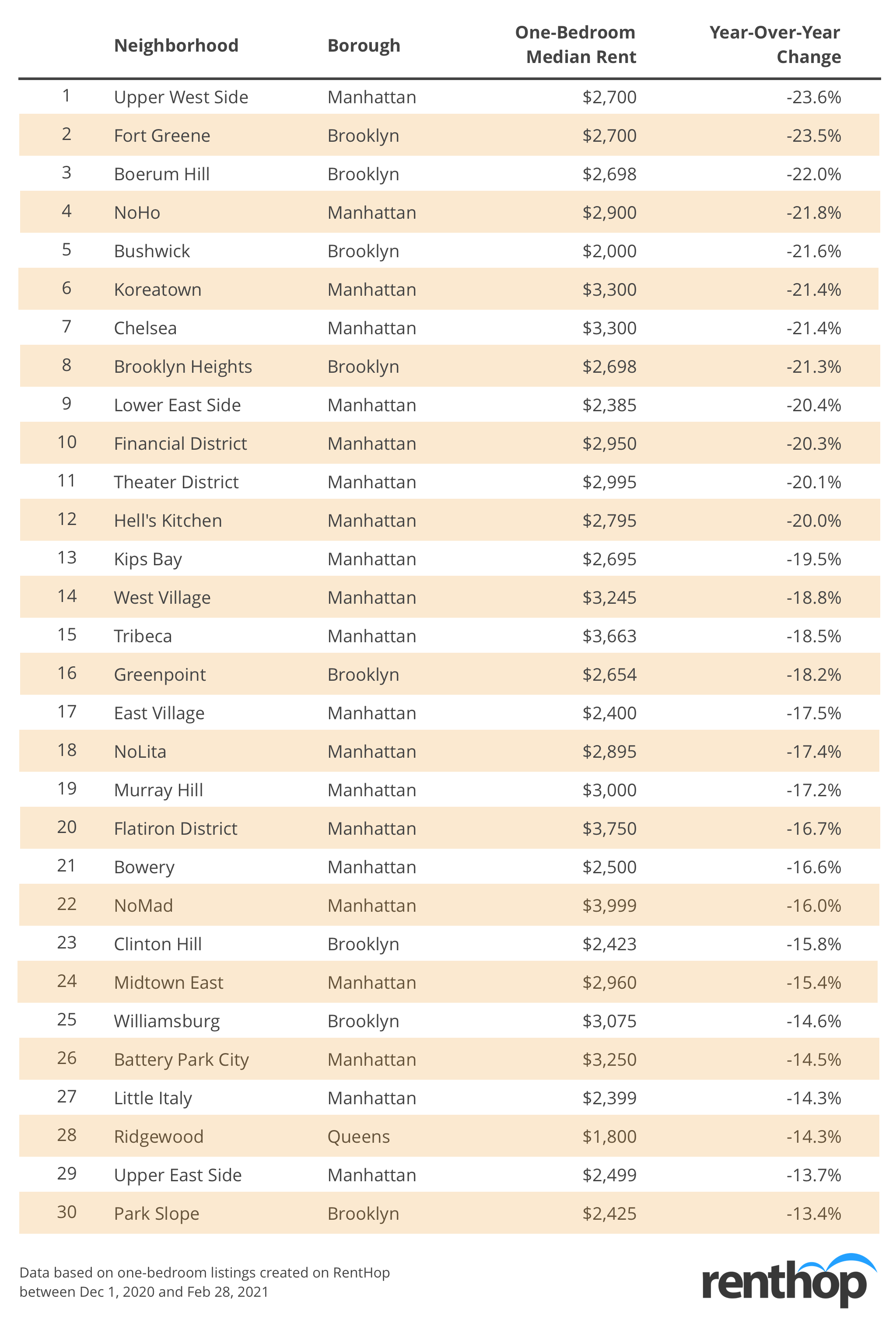 The Bottom May Be In As Rental Prices Are Already Beginning to Rise Across NYC
Although prices are down dramatically since last year, we're now starting to see prices bounce back, as rents are already up nearly 1% since the beginning of 2021 across boroughs. Given the recent success of the vaccine rollout, coupled with Manhattan's traditionally seasonal rental market, we expect rents to increase substantially as we enter the spring and summer months of this year.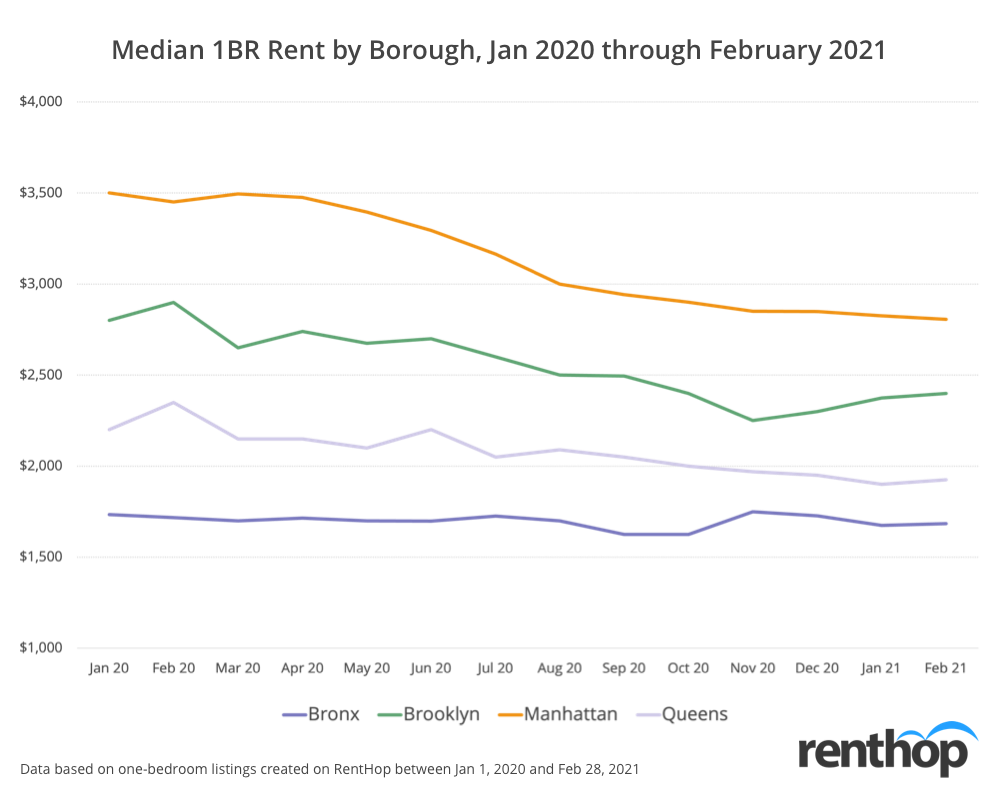 Most Popular NYC Neighborhoods by Lead Generation and How Competitive They Are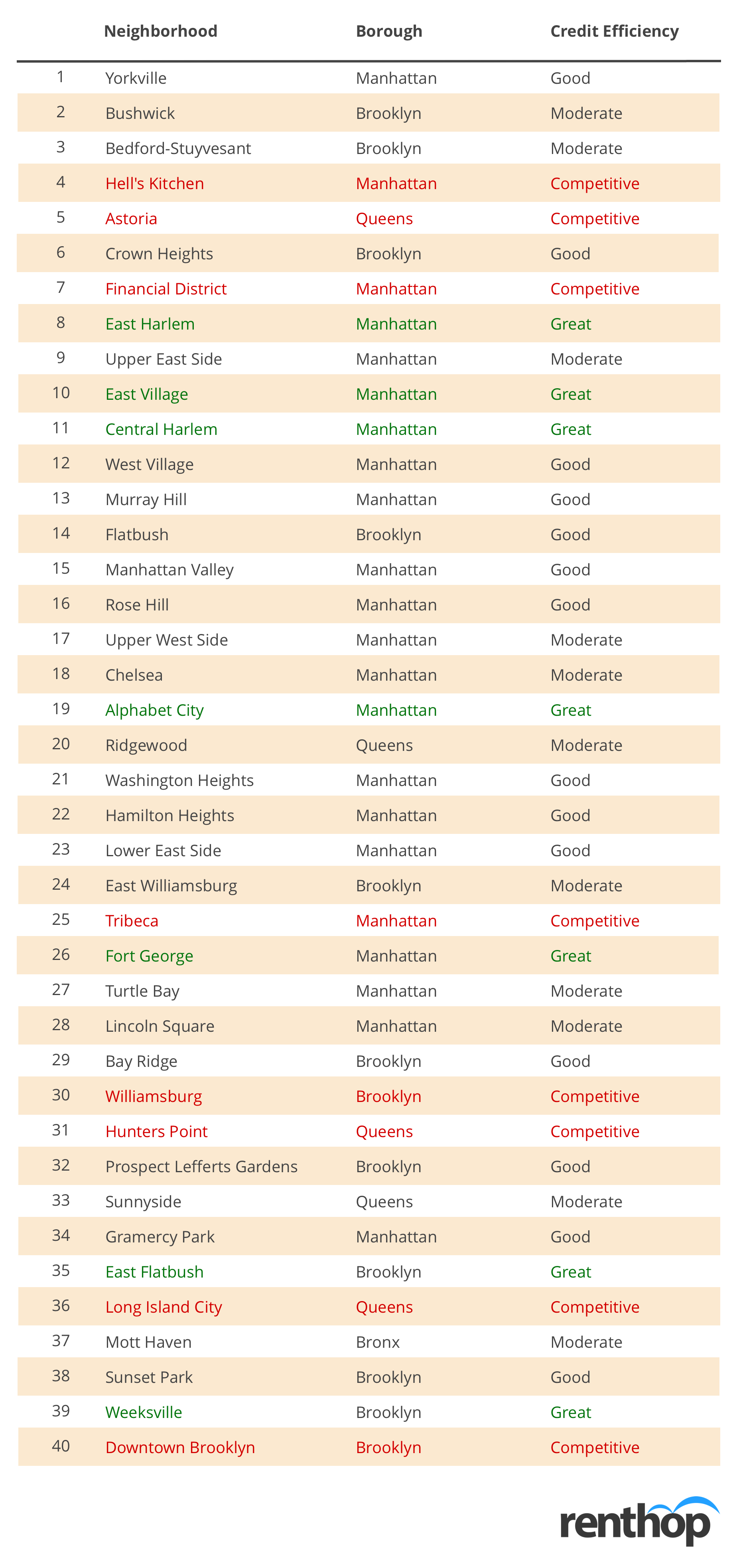 Methodology
Released on a quarterly basis, the RentHop Rental Report analyzes the NYC rental market using the platform's rental listings and traffic data. The lead volume, most inquired apartment type, and year-over-year changes are determined based on inquiries sent by renters visiting the RentHop site. The median asking rent is calculated using all listings created between December 1, 2020 and February 28, 2021, across all apartment types, whereas median 1BR rent is calculated using only one-bedroom listings created during the same time period. Please email press@renthop.com for a detailed report covering all NYC neighborhoods. Note that unlike other RentHop studies that analyze and summarize data using the Neighborhood Tabulation Areas, the RentHop Rental Report adopts a more granular neighborhood shapefile for the analysis, which is consistent with the listing search criteria on the consumer side.