Summer months are historically great for real estate. This summer, however, has been a rough one, especially for landlords across New York City. The market has been grappling with high vacancies as New Yorkers flee to suburbs and other metro areas and companies extend their remote-working policies, which further hinders population inflow.
Citywide, median net effective rent in the month of August fell 5.2% year-over-year. Manhattan, specifically, saw a rent drop of 7.5%, from $3,284 in August 2019, to $3,039, as landlords offer more concessions in response to the high vacancies. Meanwhile, the median net effective rent fell 1.9% year-over-year to $2,795 in Brooklyn.
NYC Exodus Continues
As previously reported, this year we've noticed an unprecedented number of renters looking to sublet their apartments. The total number of sublet listings1 on RentHop went up 110% from April to May 2020 and has since been trending upward. In August, the total number of sublet listings increased by 9.8% month-over-month and is 158.2% higher than August 2019. This once again broke the record in RentHop's 11-year history.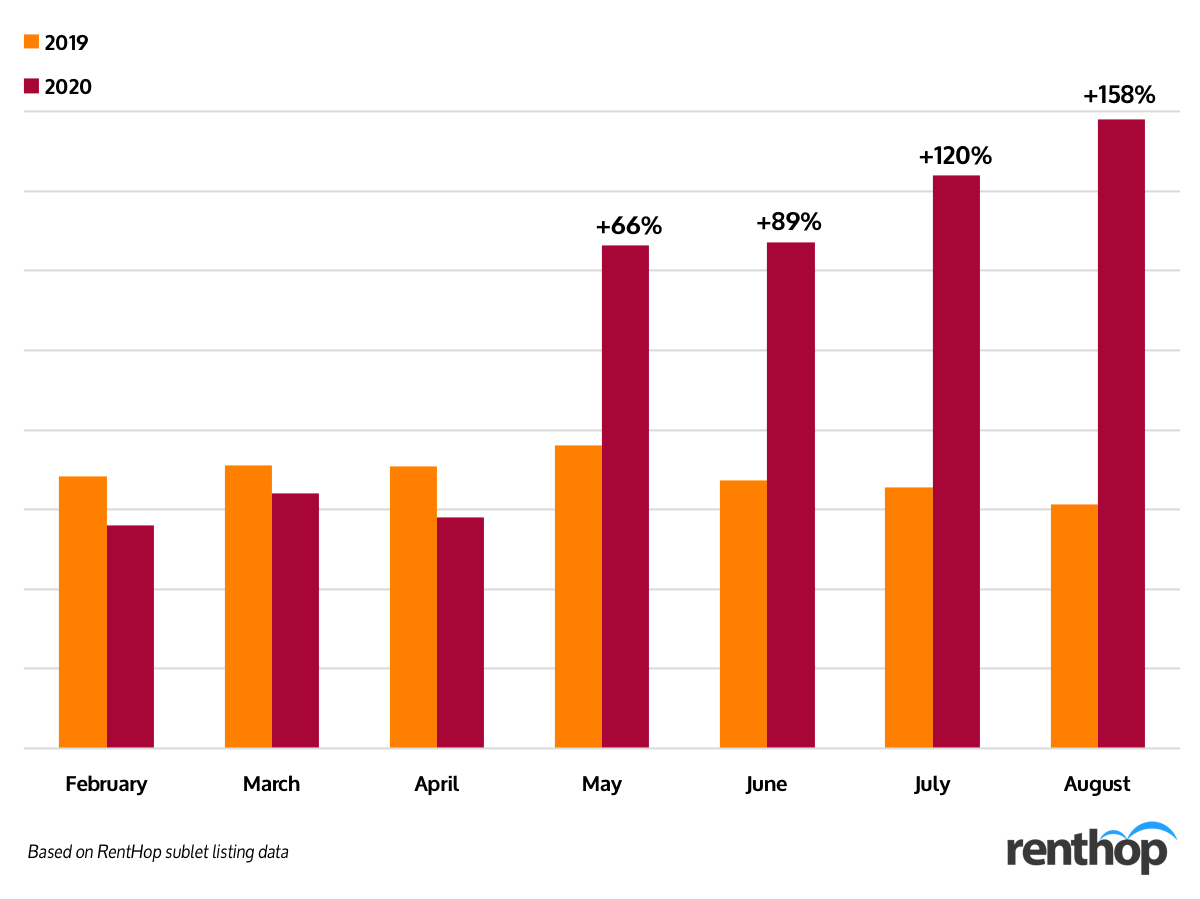 In our previous sublet reports, we highlighted that wealthy neighborhoods, particularly those in Manhattan, saw a steeper upward deviation from their 2020 average than other neighborhoods. This time around, the outflow from wealthy neighborhoods in Manhattan, such as Chelsea and Hell's Kitchen, seems to have reached its peak in July and has since died down slightly. The neighborhoods that saw the largest spike in new sublets in August 2020 vs. the first four months of the year were Yorkville (+643%), East Harlem (+464%), Astoria (+420%), Central Harlem (+327%), and Bedford-Stuyvesant (+300%). Most of these neighborhoods also saw a month-over-month increase in the number of new sublets from July to August 2020.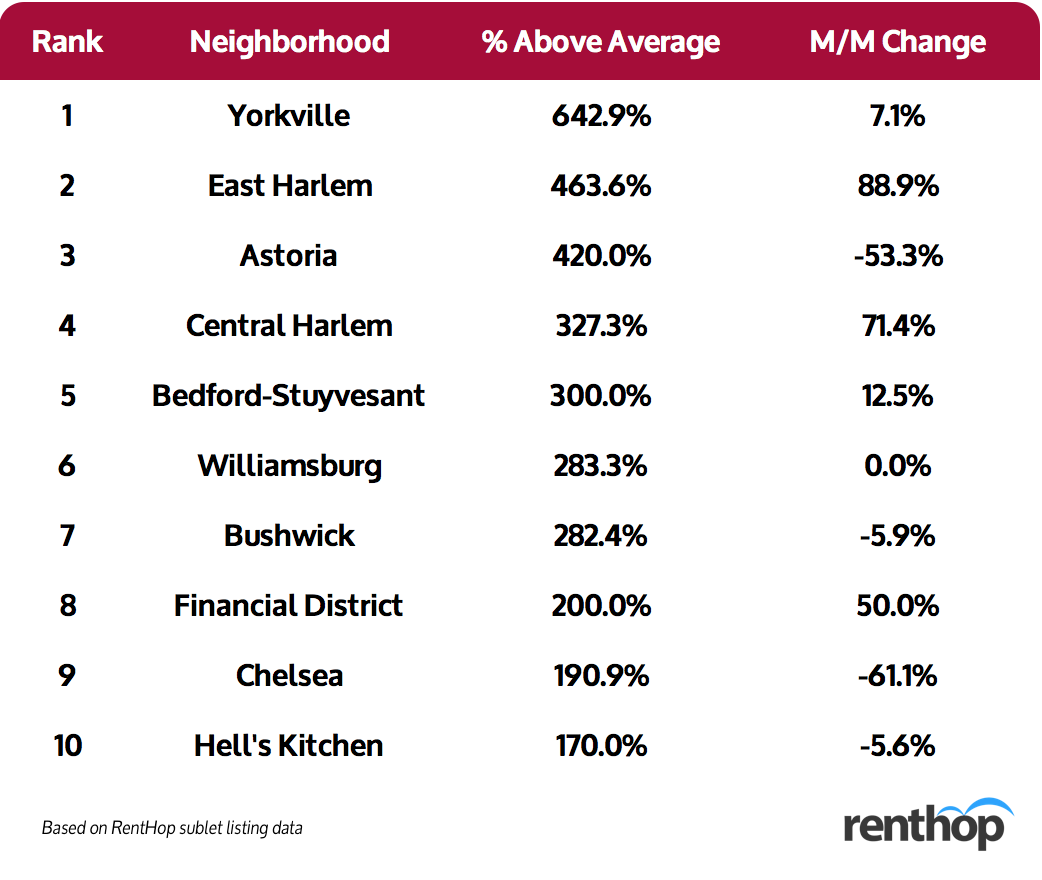 Brooklyn Replaced Manhattan as the Most Popular Borough
Grand Central was once the busiest hub in New York City. It's now one of those eerily empty stops that make people wonder if New York City will ever be the same. According to CBRE via WSJ, only 9% of the office workers returned to their office after they were permitted to return to the workplace. This inversely drove rental demand in outer boroughs, as living in the city center and being close to work no longer justifies the rent premium many landlords ask for.
Bushwick was the most inquired neighborhood in August 2020, replacing Hell's Kitchen. Meanwhile, Crown Heights rose to the second from the 8th in the previous year. Yorkville and Upper East Side, both used to be the most popular neighborhoods for rentals, had experienced significant changes in terms of renter inquiries.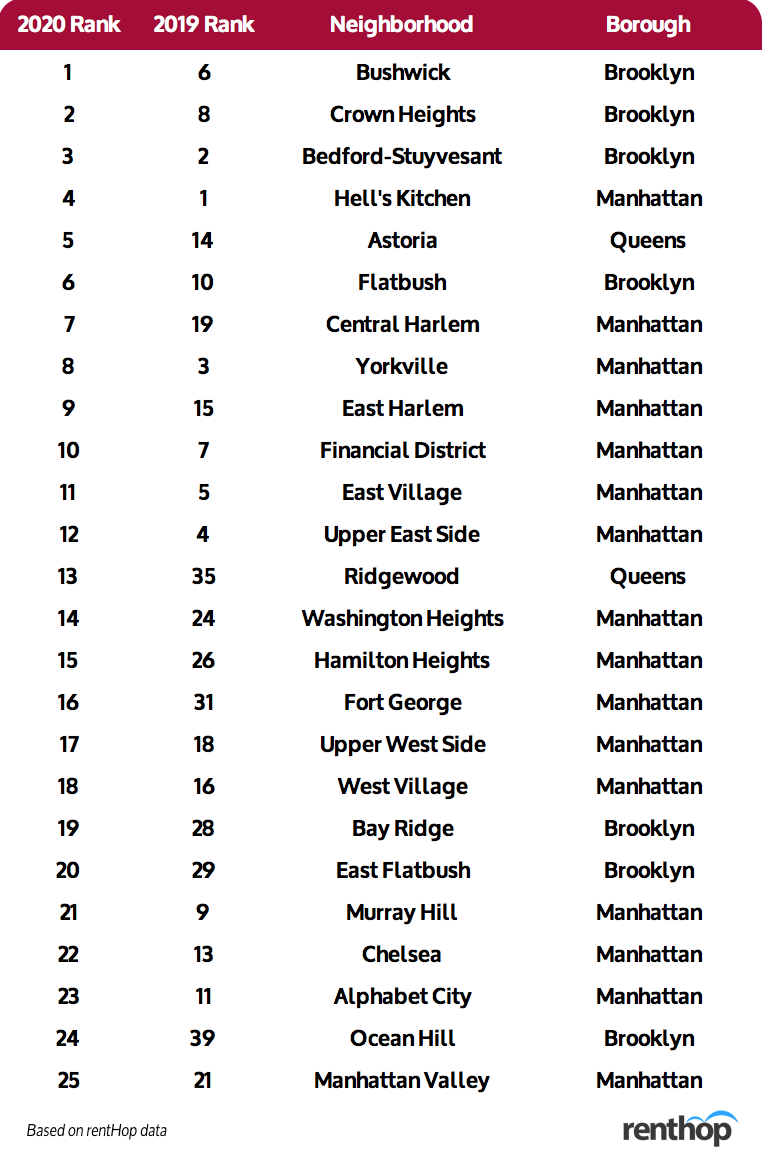 ---
1. As used in this study, "sublet listings" are listings created by apartment renters seeking to find a new tenant to take over the remainder of their apartment lease. In NYC, finding a subletter is widely considered the most effective way to get out from under a lease without paying the steep contractual penalties triggered by an outright lease break.
↩