When to Look for Apartments
While many people may not have the opportunity to choose what time of year to move to the city, you may have the option. Generally speaking, most renters move in the summer and fall seasons, creating a busy market where apartments sometimes rent within a few hours of listing. In fact, according to our study, the "best" time for a renter to move is in the winter months when rent prices decrease.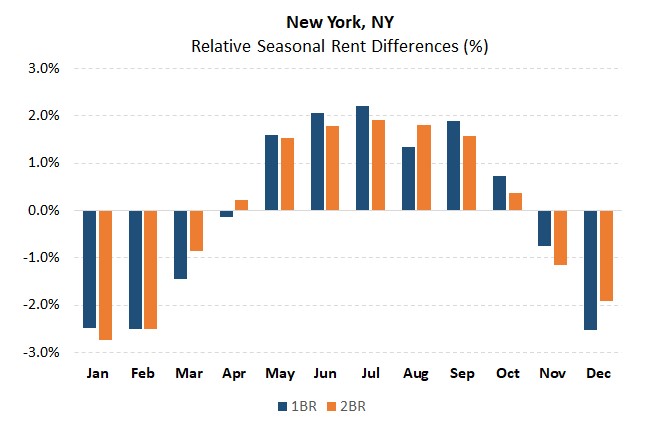 RentHop's Best Time of Year to Rent, 2019
Since fewer renters participate in the market during the colder months, building owners will decrease rent prices to incentivize renters. A renter who decides to rent in December instead of July may save an extra $139 on their monthly rent, or $1,668 per year. Even the difference of one or two months can save you money, as someone who rents a one-bedroom in January instead of March can save more than 1% on their rent. If you are motivated to save on your rental price and have the option to choose when you start a lease, it may be in your favor to consider moving in December or January.
Curious about how to save money when renting? Click here to learn more about no fee listings and concessions.
Renting in the summer
Those who rent in the warmer late spring through early fall months will face the benefits and challenges of a busy market. When many people move, more units become available, increasing the number of available options. Also, more excellent weather makes the moving process more accessible, especially for those who move their belongings. However, you should note that moving furniture up a walk-up building in the summer heat is also challenging.
While rents are higher in the summer, you may be able to negotiate with a landlord or management company by offering to sign a longer lease. A landlord who knows they will not have to rent the apartment again in a year can justify a lower monthly rental price. Additionally, while broker fees become more prominent in the summer, you can try to negotiate the fee by having your paperwork in order and presenting yourself as easy to work with client.
If you rent in the summer, you will have to move quickly once you find an apartment you are interested in applying for. Units sometimes rent within hours of getting listed, and you must be prepared to apply. Therefore, before attending apartment tours, you should assemble all of the required paperwork for yourself and your potential guarantor. If you attend a tour and like the apartment, you should be ready to apply within twenty-four hours.
Renting in the winter
However, the price may not be the sole factor that influences when you want to move. Someone who moves in the winter will face additional challenges, as the cold months in New York City come with strong wind, occasional snow and slush, and icy stairs and sidewalks. Additionally, since fewer people move in the winter, there are fewer available units for rent, and winter renters have fewer options.
Along with potential savings on rent, you can also experience the following benefits if you rent in the winter:
May not have to pay a broker's fee: Landlords and management companies have a more difficult time renting in the winter as fewer renters may be inclined to pay the broker's fee themselves. In this case, you do not become responsible for the cost. Learn more about broker's fees here.
Slower-paced market: While some units rent within the day during the summer, renters in the winter season may not run as high of a risk as losing out on an apartment by a few hours. However, you should still move quickly to ensure you get your application in.
Fewer competitors: There are fewer renters, decreasing competition. During the busy season, some renters wait in line to view an apartment, which typically does not occur in the winter.
Little price fluctuation: When unit owners witness high activity in the summer season, they will increase their rent accordingly. In the winter, rents stay relatively the same throughout the time they're listed. The online rent will typically stay the same until the unit rents.