What is the "Broker's Fee"?
The broker's fee is what agents receive in compensation for helping a renter find an apartment. Agents generally demand around 8%–15% of the full year's lease, but certain agents are open to negotiating their fee! Just be sure to negotiate the fee amount before the agent finds you an apartment!
Most agents will ask you to sign two forms prior to showing you any apartments in the city:
Fee Agreement: This form protects an agent and ensures them payment (either from you or the landlord) should you rent from one of the buildings they showed you.
Agency's Disclosure Form: This document clarifies whom the agent is representing. Either you or the landlord.
Neither form binds you to renting an apartment through the agent nor does it bind you to pay an agent anything. If you aren't satisfied with the service that an agent has provided, you are not legally bound to continue your business with them. As with any other legal documents, be sure to ask for a copy of the agreements and keep them for your own reference.
---
How Can I Get a "No-Fee" Apartment?
There are two ways you can find a no-fee apartment:
If the landlord offers to pay the broker's fee for the renter.
If you go to the management office or to the landlord directly. You won't have to pay a broker's fee since no agent helped you out in the process of finding an apartment.
---
"No-Fee" vs "Fee" Apartments
While most renters prefer no-fee apartments because they want to save money, there are reasons why paying a brokers fee and using an agent might be worthwhile.
Instead of going on a blind search for apartments on your own, you'll have an industry expert help you find the apartments that fit your requirements.
You'll have more options. Good agents can help you find a wider variety of apartments than the ones that you can find on your own because they have special relationships built with landlords around the city.
You'll get better apartments. In general, apartments without a few aren't a great as those with a fee. Usually when a landlord pays the fee for an apartment, it means that it has been on the market too long and that they are having trouble filling the space. It can be understood as a sign of desperation. Broker's fees usually indicate a higher quality and more competitive apartment.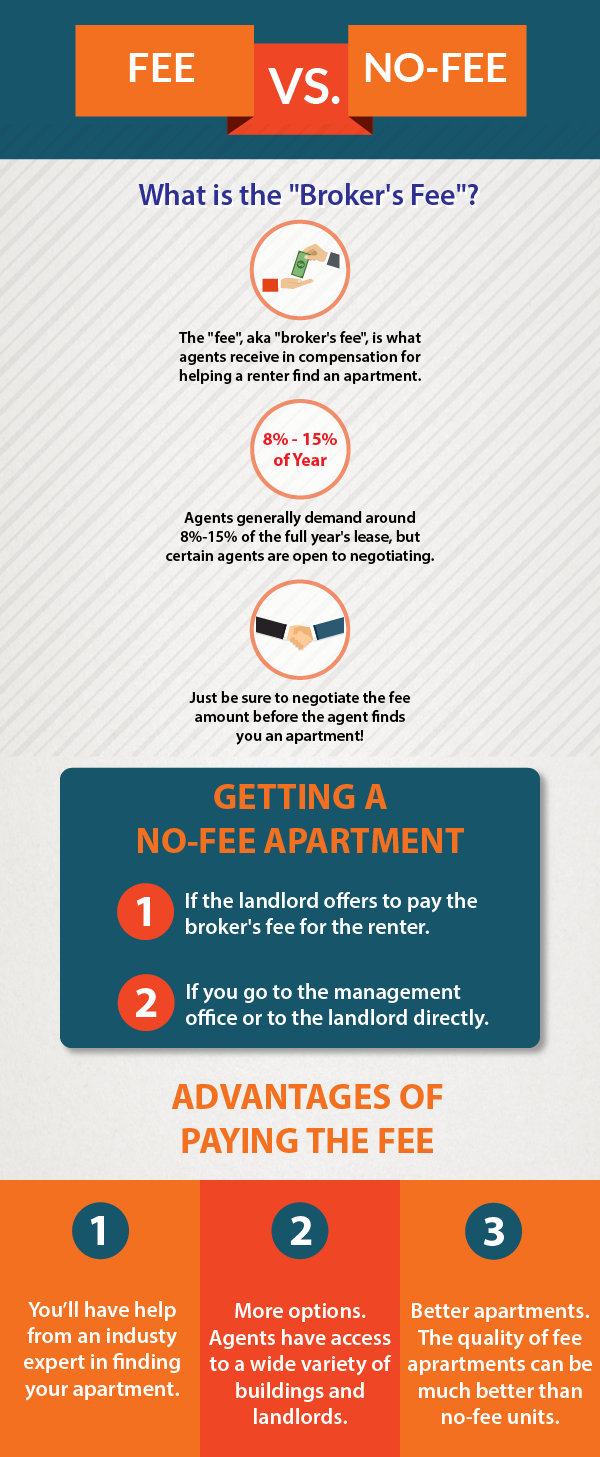 If you are set on finding a no-fee apartment, here are some tips on how to save money on the broker's fee:
Go directly to the landlord. Ask your friends and family to pass on their landlords contact info and ask him or her directly if there are available apartments.
Make sure the agent you're dealing with works for you and the landlord — when this is the case it's easier to get closer to no-fee because the agent doesn't need to split the fee with anybody else.
---
How Many Agents Should I Use? 1, 2, or 3?!
Let's say that you've decided to use the service of an agent. Just how many agents should you use? It's all up to you at this point. The experience is different for each renter. Some renters are indeed lucky and have been able to secure their dream rental apartment after just working with one agent. Others might have needed to test the waters with a couple of agents before they finally found the right agent. Regardless of what you choose to do, here are a couple things to note:
You are legally allowed to work with as many agents as you like. Just remember that if you've signed multiple Fee Agreement forms, you may get stuck paying multiple fees. For example, if Agent A shows you an apartment that you and then Agent B shows you the same apartment the next day, and you've signed Fee Agreement forms with both of them, you'll be legally bound to pay BOTH brokers for showing you the apartment (if you ultimately choose to rent it)!
Sometimes it's good to try out multiple agents. If you feel uncomfortable with your current agent for any reason, perhaps try another agent in the same company or another agent all together. It's like any relationship; sometimes you've got to try out different people until you finally find the right person to work with who understands what you want.
Most importantly, if you are using multiple agents, be sure to let the agents you're working with know. Be honest. In fact the more you communicate, the more the agent will understand your needs and be able to help you out to the best of their abilities.
Last but not least, try not to overwhelm your own schedule by reaching out to multiple agents. Only contact agents who seem to work for you or agents who have amazing listings that you want to see. A good tip is to reach out to agents who have a specialty in the neighborhood you're searching in.