How Much Rent Can You Afford?
Of course the most important thing to do before signing a lease, is to make sure you can afford the rent that you're committing to. Most landlords will require that your gross annual income is at least 40x your monthly rent. The easiest way to determine how much rent you can afford is to take your gross annual income and divide it by 40.
For example, if you make $50,000 dollars a year, you'll be able to qualify for an apartment going for around $1,250 dollars a month. By signing a one year lease, you'll be forking over about 30% of your annual income to rent, leaving 70% to cover your living expenses, utility bills, monthly bills, etc.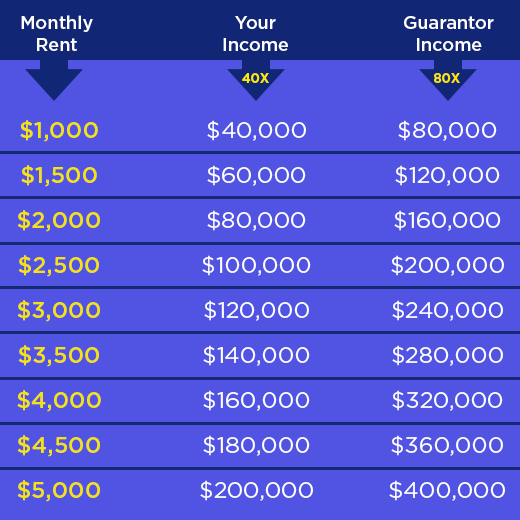 The 40x rule isn't all bad news; it helps maintain the 30% rule – which is not to spend more than 30% of your income on rent. Unfortunately, however, because New York has one of the most competitive rental landscapes in the country, landlords can require tenants to make more than 40x their rent. Because other and better-qualified renters can apply, the landlords can afford to be pickier with whom they choose to rent out to.
Of course, not all of us make 40x+ the monthly rent! But don't lose hope, we've provided some alternate options that you can consider trying below.
---
Finding a Roommate
Having a roommate might drive you nuts when it comes to doing chores and maintaining your personal privacy, but having someone to help split the potential cost of rent can either help lessen your own financial burden or allow you to afford a much nicer apartment in the neighborhood you want.
All things considered, this solution is totally worth it considering that you probably won't be spending all your time at home with your roommate anyways. Once the rent is split, your landlord will usually want each of you to make 40x your half of the rent, which is much easier for recent graduates, or lower income renters. For example, a 2 bedroom going for $2,000 a month would mean each of you needed to be making about $43,000 a year. Roommates in New York are extremely common!
---
Finding a Guarantor
If you aren't making 40x the monthly rent of an apartment you want (with or without a roommate), consider getting a guarantor. Upon agreement, a guarantor is both legally and financially obligated to help you pay rent should a situation ever arise where you can't pay. The guarantor is generally required to make 80x the monthly rent.
Some reasons you might look for a guarantor:
Just graduated from college
Lacking employment history
Lacking rental history
A non-resident of United States
Have a poor credit score (650 or below)
Lacking credit history
Not making enough money to move past the application process
Depending on the landlord, your guarantor may be required to live in state (since it's so much easier to track down someone who lives in-state) but that is not always the case.
Traditionally people ask a family member or friend to be a guarantor. Here are some tips on how to win over your guarantor if they have any concerns:
Ask politely. You're asking for a favor, the least you can do is be nice!
Provide as many details as you can on the rental process, the apartment (if you've found an apartment at this point), etc.
Make sure they know exactly what kind of documentation they need to submit so they can decide if they're comfortable with it.
Let them know that they can send the necessary documents directly to the landlord if they feel uncomfortable sharing sensitive information with you.
If asking a family member or friend is not a possible option for any reason, consider paying for a guarantor through a private equity or insurance firm (a well-known company is Insurent).
To speed up the process when you're looking for an apartment, consider finding a guarantor before your search and ask them to compile the necessary documents so you can streamline your application when you do find the apartment you love! Remember, the rental market moves fast! It's first come first serve!