The Application Process
Alright! You're one step closer to renting that dream apartment! Next up, the application process!
If the application process seems daunting to you, don't worry, we'll be going through all the steps, one-by-one. You'll be a pro at applying for rental apartments in no time.
The application process is a landlord's way to screen for applicants who are the most-qualified and least-risky. By looking at your background and finances, a landlord can have a better idea of whether or not you'll be able to pay rent. Because there are so many documents to prepare, forms to fill out and also fees to pay, the best plan of action is to start collecting the necessary documents prior to finding an apartment and put aside enough money in your bank account so you can pay for the fees associated with an application.
If you feel like you are unable to meet any of the requirements listed below, perhaps now is a good time to consider finding a guarantor.
---
Application Form and Supporting Documents
The application form will ask you for information such as your income, social security info, employment history, etc. Your supporting documents will help the landlord verify the information you filled out in the application form.
The supporting documents include:
Photo ID (passport or driver's license)
Letter of employment (usually on company letterhead that states your job title, length of employment, and salary)
Copies of last two pay-stubs
Copies of last two tax returns
Asset documents (such as brokerage accounts or property deeds)
Contact information for past landlords/employers/guarantors*
Letters of reference from past landlords*
Personal letters of reference*
* These last three are recommended but not always necessary.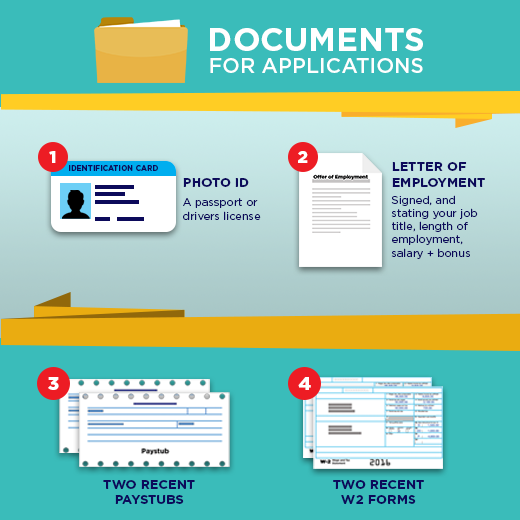 ---
Application Fees and Deposits
Here are the three types of fees you should expect to pay upfront when submitting your application:
Application Fee: The application fee is exactly what it sounds like, an application fee. This fee will need to be paid by each person on the lease.
Credit Check Authorization Fee: This covers running a credit check for each person on the application.
Deposit: Also known as a "good-faith deposit", this will temporarily take the apartment you are interested in off the market. The deposit can range anywhere from $500 to one month's rent.
Watch Out! Never pay any fees to the landlord or agent until you have seen the apartment in person!
Most landlords will accept these fees in the form of certified bank or travelers checks. Cash, personal checks, and credits cards are rarely accepted, but if they are – make sure and get a receipt.
Note: If your application is denied, you'll get your deposit back, but not your application or credit check fees.
---
The Credit Check
We mentioned the credit check earlier when we talked about the Credit Check Authorization Fee. The credit check is a procedure used to check your credit score. This credit score is a number between 300 and 850 and represents the likelihood of you paying your bills on time. The higher your score the better. If your score happens to below 700, a landlord may reject your application or ask that you pay either a few months' rent upfront or a larger security deposit to minimize the chances that you may not pay your rent on time.
Want to check your credit for free? Use http://annualcreditreport.com! Simply fill in the necessary information.
Tip: You should be checking your credit report at least once every year to make sure that all the information is correct and up to date. In fact, Federal law allows you to get a free copy of your credit report every year from each credit reporting company! Take advantage of it!