RentHop Singles Index: 2022 Edition
Originally posted on December 12, 2022 11:00 am
Updated on December 13, 2022 3:35 pm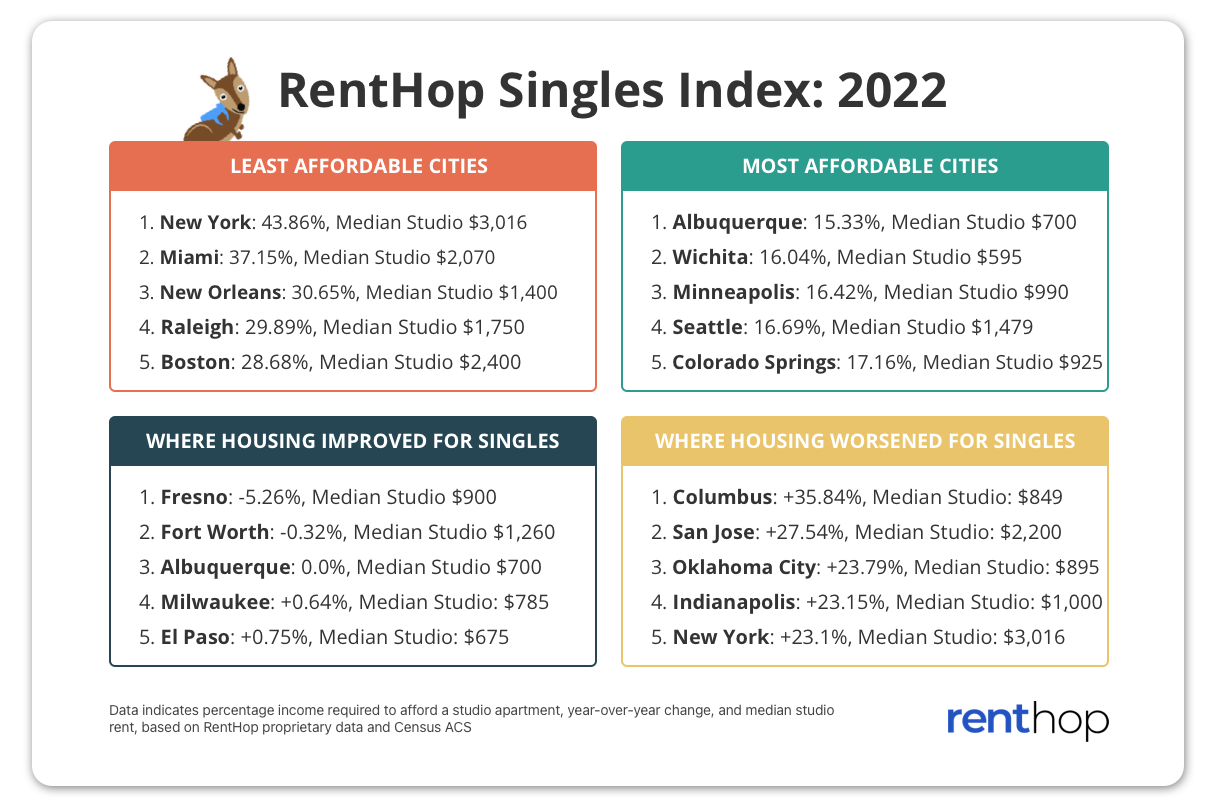 With housing prices skyrocketing over the past year, many young professionals are now faced with high rent prices as a single income earner. But are certain cities more affordable than others for singles?
To investigate this trend, we at RentHop explored housing affordability for non-family households across the 50 largest cities in the country. Our second annual RentHop Singles Index looks at the cost of rent for a studio apartment in each city, how these rents have changed over the past year, and whether living alone is affordable given average local incomes.
Least Affordable Cities for Singles
1. New York, NY is the least affordable city in America for singles. After placing second last year, NYC experienced a meteoric rise in rent prices in 2022 which led to it overtaking Miami for our top spot. Median rent for a studio apartment increased 23.1% in the year to a staggering $3,016. Singles in this city will have to spend 43.86% of their income on rent.
2. Miami, FL remains unaffordable for singles, despite dropping to second place on our list. Given the median non-family income of $66,871, and $2,070 for a studio, a single person would need to spend 37.15% of their annual income on rent alone.
3. New Orleans, LA remains in third place for the second consecutive year, as rent prices for a studio increased over 10%. An average single person living alone can expect to allocate 30.65% of their annual salary towards rent costs.
4. Raleigh, NC is the fourth least affordable city for singles, with rent commanding almost 30% of the average single person's annual income. There was one bright spot, however. As compared to other growing cities, studio apartments in Raleigh only saw a modest 3.5% annual increase in price.
5. Despite a high median singles salary of $100K, expensive rent prices in Boston, MA continue to make things difficult. A studio in the city is now up to $2,400 per month, leading to a rent burden of 28.68% of income annually.
Most Affordable Cities for Singles
1. Albuquerque, NM is the most affordable city in the country for singles. Cheap housing, combined with strong incomes, means that the average single person would only need to spend 15.33% of their income to live alone. The median rent for a studio is just $700 per month, flat year over year.
2. Despite a sharp 19% increase in studio rent over the year, Wichita, KS remains cheap compared with cities across the country at a median of $595 per month. A single person can expect to pay a reasonable 16.04% of their annual income toward housing costs.
3. Minneapolis, MN jumped three spots from last year's ranking, taking third place. Minneapolis has a favorable combination of high incomes at a median of $72,359, as well as affordable housing at $990 for a studio.
4. Seattle, WA surprisingly comes in strong on affordability for singles. While studios are relatively pricey at $1,479 per month, high salaries of $106,369 outweigh any rent burden. A single income earner in Seattle only needs to pay an average of 16.69% of income in order to live alone.
5. Colorado Springs, CO takes fifth place on our affordable list, with studio apartments coming in at a low $925 per month, alongside median income of $64,479 for a non-family household.
How Housing Changed for Singles in 2022
It's no surprise that housing became more unaffordable this past year, but the extent is pretty shocking. All but two of the fifty cities we analyzed saw rent increases for a studio, with many jumping in the double digit percentages annually. And while decades high inflation can be to blame for some of the increase, many cities saw housing prices far outpace inflation numbers.
Highest YoY Rent Change for a Studio
1. Columbus, OH +35.84%
2. San Jose, CA +27.54%
3. Oklahoma City, OK +23.79%
4. Indianapolis, IN +23.15%
5. New York, NY +23.10%
6. Phoenix, AZ +20.37%
7. Wichita, KS +19%
8. Virginia Beach, VA +17.04%
9. Louisville, KY +17.04%
10. Los Angeles, CA +16.06%
While rare, there were a handful of bright spots for singles looking to rent this year. Two cities, Fresno, CA and Fort Worth, TX saw prices drop from a year ago. Eight other cities saw prices increase a modest 3% or less.
Lowest YoY Rent Change for a Studio
1. Fresno, CA -5.26%
2. Fort Worth, TX -0.32%
3. Albuquerque, NM — Even
4. Milwaukee, WI +0.64%
5. El Paso, TX +0.75%
6. Dallas, TX +0.91%
7. Denver, CO +1.16%
8. Philadelphia, PA +1.21%
9. Washington, DC +1.63%
10. Detroit, MI +2.27%
Full dataset
Methodology
The RentHop Singles Index analyzes both proprietary and ACS Census data to provide a snapshot of housing affordability for single income households across the 50 most populous cities in the country. To compile our housing price data, we pulled every listing for a studio apartment advertised on RentHop from January 1 to November 18, 2022, approximately 2.6 million. In theory, a single person can rent a larger space, but we chose this unit type to represent the minimum space in which one can live alone.
To calculate the index, the following statistics were used:
1) Average non-family household income from the U.S. Census
2) Median advertised prices for the "studio" unit type via RentHop data
3) Year over year price changes for the "studio" unit type based on RentHop data