Report: NYC Restaurant Health by Neighborhood
Originally posted on September 16, 2019 9:50 am
Updated on September 27, 2019 1:41 pm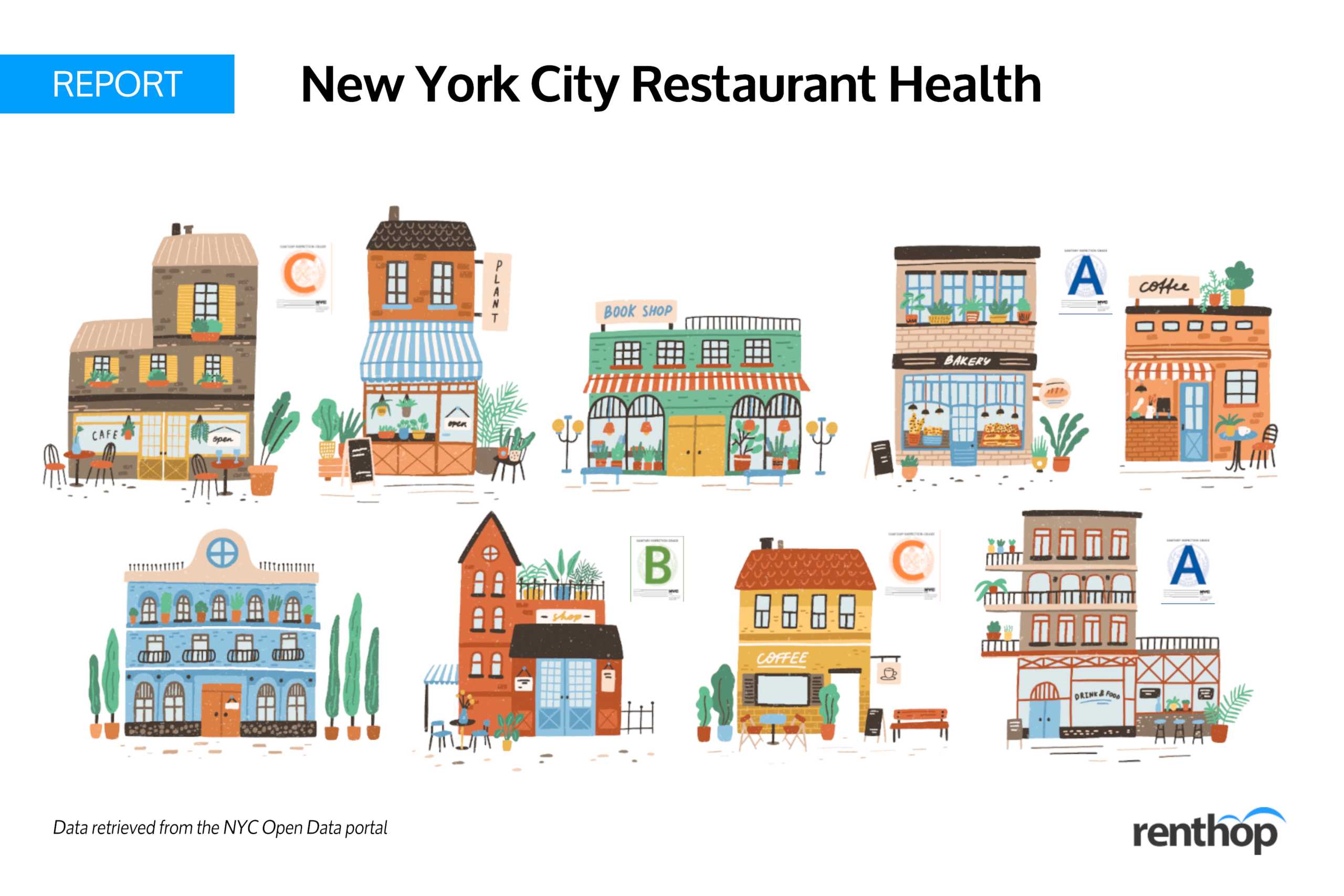 You are not alone if you've ever experienced something like this – you are sitting at a ramen bar, quietly enjoying your tonkatsu ramen. All of a sudden, an inspector walks in, talks to the restaurant manager, and starts taking the temperature of the seaweed sitting right by the stove. You wonder if the restaurant is in deep trouble and suspect that maybe something is wrong with the bowl of delicious ramen that you have been devouring until seconds ago.
Many signs of a bad restaurant, such as grimy tables, are easy to spot. But sometimes the problems are harder to notice: unclean cookware or other kitchen equipment, food stored at improper temperatures or not protected from source of contamination, etc. Since it's hard for us as consumers to spot problems leading to foodborne illness, we rely on the government to take actions.
In New York City, the Department of Health inspects restaurants to ensure that restaurant operators meet the Health Code requirements. Inspectors make unannounced visits at least once a year, and each violation adds points to the score. The higher the score, the worse the grading and restaurants receiving bad grading risk being shut down by the government. Did you know that 894 food establishments failed their cycle inspection and were closed by the Department of Health in 2018?
Inspired by the rodent study – Is Your City Rodent-Infested?" – we did last month, this month we investigated the restaurant health in New York City. Here are our key findings:
In Manhattan, 9,188, or 92.9% of the food establishments were given the top grade. StuyTown comes out on top, with all 10 food establishments graded A. Washington Heights North lands the bottom, with 15.7%, or 19 restaurants out of 121, graded B or C.
In Brooklyn, West Brighton tops all other neighborhoods to be the best place in terms of restaurant health, with 17 Grade A food establishments. Rugby-Remsen Village is the least healthy neighborhood, with 15.8% or 12 of its restaurants graded below A.
Restaurant health in the Bronx, unfortunately, falls below the city average (92.7%). Of the 2,059 food establishments in the Bronx, only around 90% of them are Grade A restaurants. Among all neighborhoods, Highbridge has the highest percentage (24.3%) of Grade B/C restaurants. Fordham South is not doing so well, either. Of the 56 restaurants operating there, 17.9%, or 10 of them, are below Grade A.
Edit: An original report compared violation counts across years. Unfortunately, the dataset contained survivor bias effects that makes an accurate analysis across years impossible.
---
The Bronx is Falling Behind
The table below shows the number of Grade A, B, and C restaurants in all five boroughs. While all boroughs have over 90% of their food establishments graded A, the Bronx is falling behind, with 9.1% of the establishments graded B or C, 1.8% higher than the city average.
| | | | | |
| --- | --- | --- | --- | --- |
| Borough | Grade A | Grade B | Grade C | % of B/C |
| Bronx | 2,059 | 167 | 40 | 9.1% |
| Brooklyn | 5,733 | 370 | 83 | 7.3% |
| Manhattan | 9,188 | 524 | 183 | 7.1% |
| Queens | 5,299 | 315 | 90 | 7.1% |
| Staten Island | 848 | 46 | 15 | 6.7% |
**********
Restaurant Health – Where Does Your Neighborhood Stand?
The interactive map below shows the grading results by neighborhood. The darker the shade, the more Grade B and C food establishments in the neighborhood. As indicated by the map, it seems that there's no clear correlation between proximity to city center and the grading results.
If clicking around on the map is a bit too much for you, here are the best and worst neighborhoods in each borough:
Borough
Best Neighborhood
Worst Neighborhood
Bronx
Co-op City
67 restaurants in total, 2 (3.0%) B/C grades
Highbridge
37 restaurants in total, 9 (24.3%) B/C grades
Brooklyn
West Brighton
17 restaurants in total, 0 (0.0%) B/C grades
Rugby-Remsen Village
76 restaurants in total, 12 (15.8%) B/C grades
Manhattan
Stuyvesant Town-Cooper Village
10 restaurants in total, 0 (0.0%) B/C grades
Washington Heights North
121 restaurants in total, 19 (15.7%) B/C grades
Queens
Lindenwood-Howard Beach
51 restaurants in total, 0 (0.0%) B/C grades
Ozone Park
50 restaurants in total, 9 (18.0%) B/C grades
Staten Island
Oakwood-Oakwood Beach
12 restaurants in total, 0 (0.0%) B/C grades
Grymes Hill-Clifton-Fox Hills
7 restaurants in total, 2 (28.6%) B/C grades
**********
Say No to Food Poisoning – Here's Where You Should Go for Your Favorite Cuisine
Flushing, Queens – 122 Grade A Chinese restaurants.
South Ozone Park, Queens – 39 Grade A Caribbean restaurants
Midtown-Midtown East, Manhattan – 51 Grade A Japanese restaurants
Borough Park, Brooklyn – 42 Grade A Jewish/Kosher restaurants
Murray Hill, Queens – 75 Grade A Korean restaurants
Jackson Heights, Queens – 46 Grade A Latin restaurants
Bay Ridge, Brooklyn – 14 Grade A Middle Eastern restaurants
Greenpoint, Brooklyn – 10 Grade A Polish restaurants
**********
Does Grade A Mean Absolutely No Violations?
Just because a restaurant earned the top grade, it doesn't mean that the dining and cooking areas are spotless. For those who don't know much about the restaurant inspection program, a food establishment can still receive an A even with Health Code violations. The restaurant operators, upon receiving a violation, will have time to improve, and since it's a score-based system, as long as the inspection results in a score of 13 points or lower, the restaurant will be graded A, which leads us to our next finding….
**********
Mice and Roaches, Critters You Can't Avoid in the Great City of New York
What would you say if we ask you what grosses you out more than the dreaded lipstick residue on a beer glass? Maybe you'd say hair in the food, or maybe you'd say… mice and roaches. As New Yorkers, we are trained not to "overreact" when rats and roaches crawl over our foot at the Port Authority subway station. But, it is a completely different story when we see them in the restaurant while taking a bit of the burger served just seconds ago.
Looking at the restaurant inspection results, we noticed many 04L and 04M violations. According to the violation code descriptions, 04L violations are related to "evidence of mice or live mice present in facility's food and/or non-food areas", and 04M violations are issued when inspectors notice "live roaches present in facility's food and/or non-food areas". In 2018, 10,280 Health Code violations during cycle inspections were related to mice. Meanwhile, 2,712 violations were related to roaches. Manhattan, among all boroughs, received the most violations, totaling 4,748 in 2018, followed by Brooklyn, where 3,399 violations were filed. This is not surprising, as Manhattan has more restaurants compared to other boroughs.
For those who dine out a lot, these are some of the worst offenders of the 04L (mice-related) and 04M (roaches-related) Health Codes from 2017 to September 2019:
New Shanghai Tide Restaurant (135-20 40th Road, Flushing) – Grade B, 17 violations in total. Recently inspected on 06/03/2019.
Greenwood Quality Bakery (111-02 Liberty Avenue, Jaimaca) – Grade C, 16 violations in total. Recently inspected on 05/08/2019.
Anka Grill (642 Lexington Avenue) – Grade B, 15 violations in total. Recently inspected on 05/13/2019.
Grand Sichuan (229 9th Avenue) – Grade B, 15 violations in total. Recently inspected on 05/22/2019.
J J Noodle (19 Henry Street) – Grade B, 14 violations in total. Recently inspected on 03/07/2019.
Golden Punjab Indian Restaurant (130-02 101st Avenue, Jaimaca) – Grade A, 13 violations in total. Recently inspected on 05/02/2019.
Cafe Con Pan Bakery II (137 Port Richmond Avenue) – Grade Z (Z = pending), 13 violations in total. Recently inspected on 07/09/2019
Chifa Restaurant (7320 Northern Boulevard, Flushing) – Grade Z, 13 violations in total. Recently inspected on 07/10/2019.
Esis (741 Allerton Avenue, the Bronx) – Grade A, 13 violations in total. Recently inspected on 06/06/2019.
Hong Kong Noodle Sariku Sushi (174 Lexington Avenue) – Grade Z, 13 violations in total. Recently inspected on 08/02/2019.
**********
How Did We Do This?
This restaurant health report looked into the New York City Restaurant Inspection Results made public by the City. To ensure that we obtain the most recent grading of each food establishment, we removed duplicates using the 10-digit identifier (CAMIS), inspection date, and the date when the grade was issued to the restaurant. We then grouped the restaurants by the neighborhood tabulation areas (NTAs) to analyze the results by neighborhood. As for the code violations, we looked at all violations from 2017 to 2019 from currently active restaurants, and separated them into two groups, pre-permit inspection violations, and cycle inspection violations. We then focused solely on cycle inspection violations.
**********
Find Your Favorite Restaurant and Its Grade Here

The interactive table below includes all restaurants in the restaurant inspection dataset. We show only the most recent inspection and grade since the grade tends to change on an annual basis depending on the inspections. You can sort by column or do a quick search using the search bar.