Originally posted on March 07, 2022 3:27 pm
Updated on March 07, 2022 3:38 pm
Vaccines and other Covid-19 precautions have brought New York back to its pre-pandemic levels. Now that schools and most offices are back in their physical spaces, if not split on a hybrid level, things have started returning to normal operating levels.
As people flock back into New York, rent costs have also started to reflect this and are soaring back up to pre-pandemic levels. Rental inventory in the city also hit all-time lows meaning rental supply is not where it has been in the past.
According to the RentHop Rental Report this quarter:
The median one-bedroom rent currently sits at $3,450, 3.73% higher than in March 2020, right before the pandemic hit New York. 

Manhattan neighborhoods with the most drastic increases in rental prices were Upper West Side ($3,900, YoY +44.4%) and Chelsea ($4,795, YoY +42.4%). 

In Brooklyn and Queens, the neighborhoods that saw the biggest price changes in each borough were Prospect Heights ($3,450, YoY +37.4%) and Long Island City ($3,900, YoY +43.8%)

Neighborhoods with the most inquiries this quarter were Greenwich Village, NoLita, SoHo, West Village, and NoHo. Back in Q1 2021, these same areas experienced drastic rent reductions as landlords offered concessions to fill vacancies.

Limited inventory due to renters finishing out their leases with lower than average market rates from pandemic concessions will begin to end. However, this will result in more renters flooding the market. We expect to see an even higher increase in rental prices as landlords work to make up for losses over the pandemic due to concessions and the rental eviction pause. 
NYC rental market has surpassed the pre-pandemic levels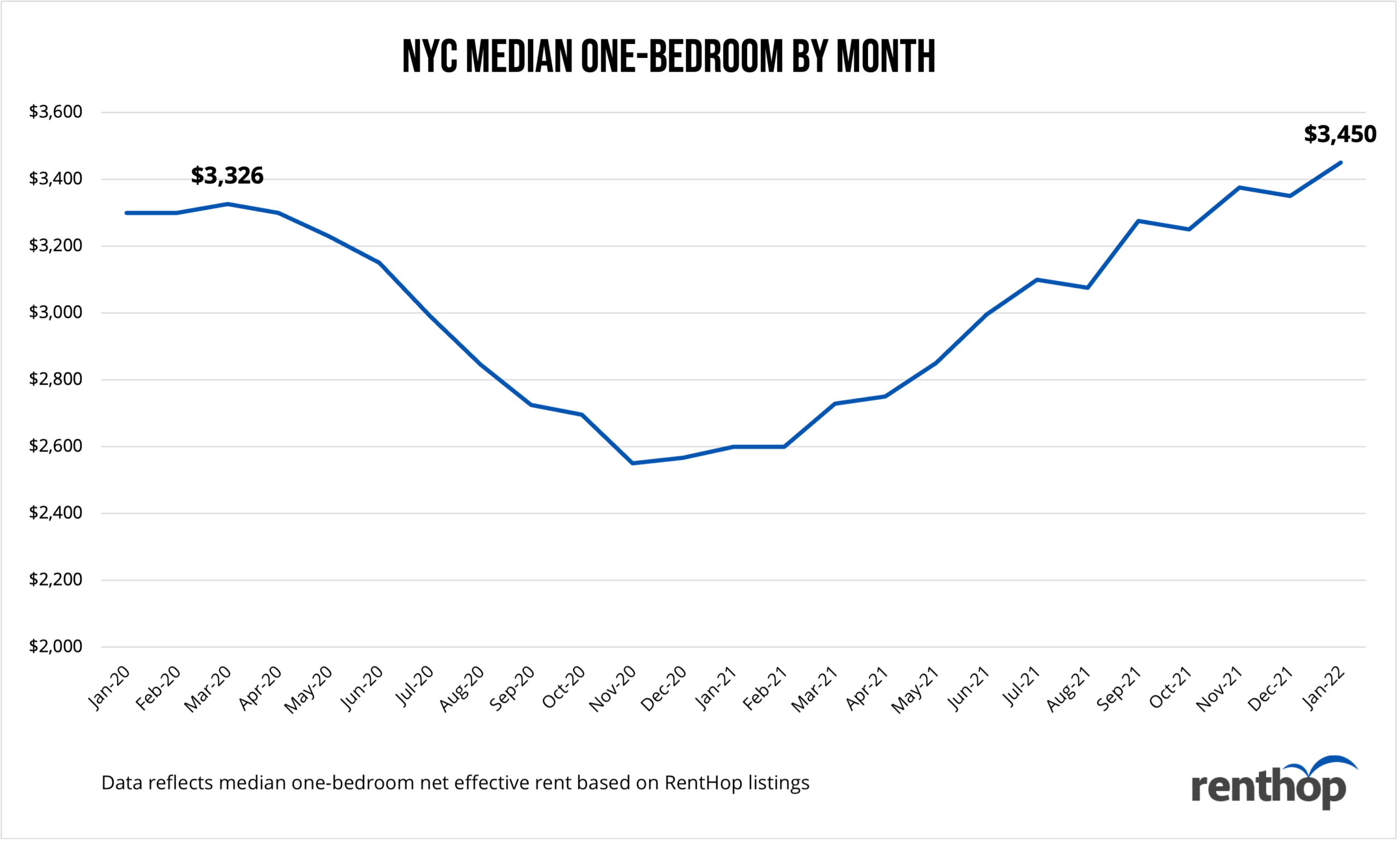 Manhattan Market
Now that special pandemic offers and concessions are mostly gone, neighborhoods with large luxury rental apartments saw a big jump in rent. Overall, rents in historically expensive neighborhoods are back to pre-pandemic levels.
Neighborhoods that have seen the largest increase in median one-bedroom net effective rent are: 
Upper West Side ($3,900, YoY +44.4%)

Chelsea ($4,795, YoY +42.4%)

Bowery ($3,550, YoY +40.8%)

NoHo ($4,073, YoY +34.6%)

Financial District ($4,097, YoY +34.5%)
Brooklyn Market
Major Brooklyn neighborhoods are becoming more expensive as demand soared. Many Manhattan dwellers migrated to the Brooklyn borough in search of larger apartments, outdoor spaces, and more amenities. Similar to Manhattan, rents in areas with no-fee rental buildings jumped over 20% year-over-year as landlords raised rates and no longer offered concessions. There was also a large presence of new high-rise developments as well as commercial construction that was finished in Downtown Brooklyn, which drove up prices in the surrounding areas.
Neighborhoods seeing the largest increase in median one-bedroom net effective rent are:
Prospect Heights: $3,450, YoY +37.4%)

Fort Greene ($3,635, YoY +34.8%

Clinton Hill ($3,100, YoY +30.0%)

Brooklyn Heights ($3,503, YoY +29.3%)

Downtown Brooklyn ($3,634, YoY +27.5%)
Queens Market
Long Island City saw the largest hike across Queens in the last year. The allure of a finished waterfront and accessibility to new businesses and Manhattan no doubt influenced the migration to the neighborhood.
Demand wise, renter inquiries shot up in Middle Village (YoY +631%), Woodhaven (YoY 265%), Ozone Park (YoY +130%), Briarwood (YoY +114%), and Rego Park (YoY +113%).
Neighborhoods seeing the largest increase in median one-bedroom net effective rent are:
Long Island City ($3,900, YoY 43.8%)

Ridgewood ($2,007, YoY +11.5%)

Astoria ($2,095, YoY +10.6%)

Forest Hills ($2,050, YoY +7.5%)

Rego Park ($1,950, YoY +5.4%)
Rents Jumped in these Neighborhoods
Manhattan neighborhoods saw more drastic increases possibly due to migration induced by the pandemic and the inflow of residents trying to rent apartments at a cheaper rate. Manhattan also has more rental buildings than any other boroughs that offered concessions or OP.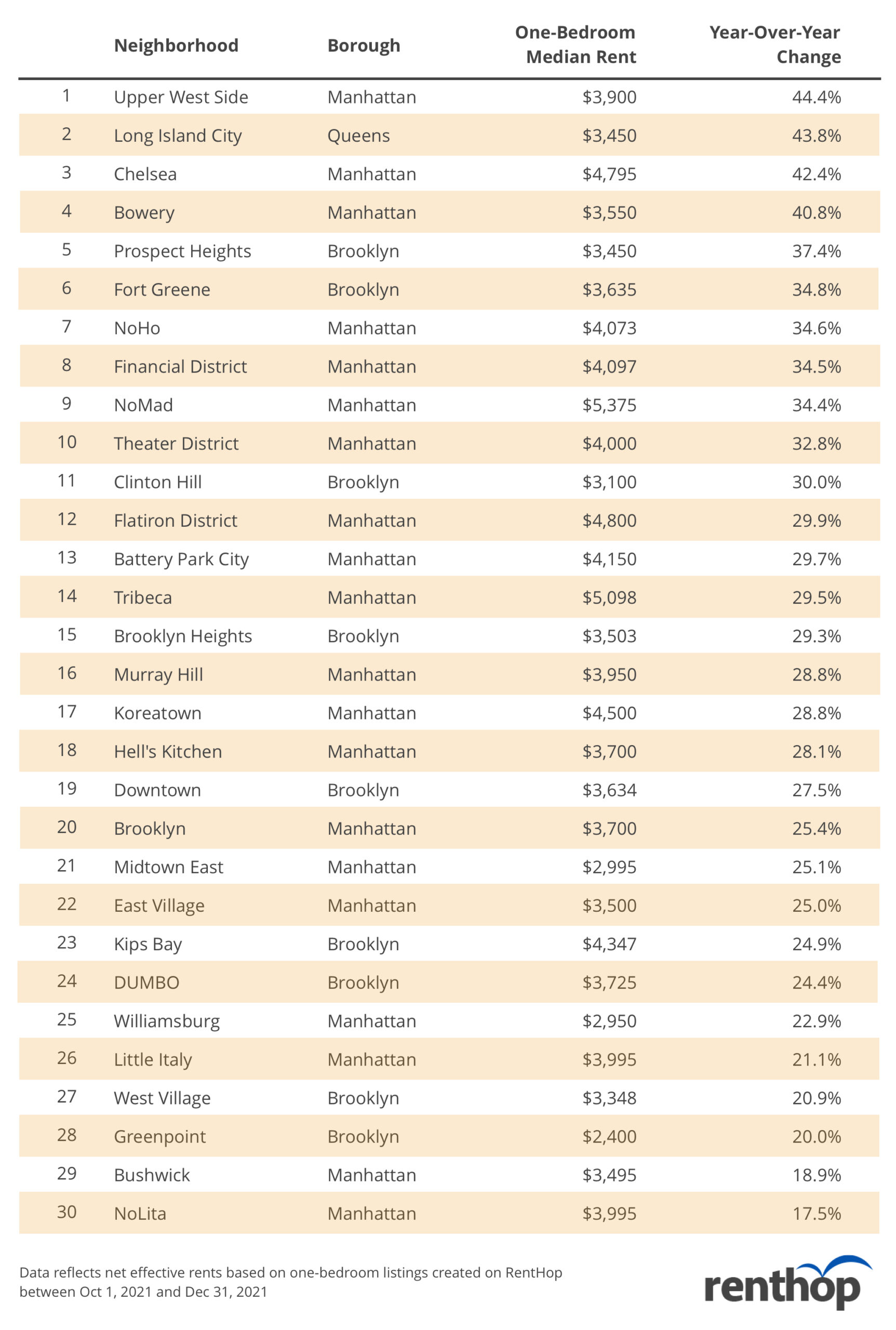 Most Popular NYC Neighborhoods by Lead Generation and How Competitive They Are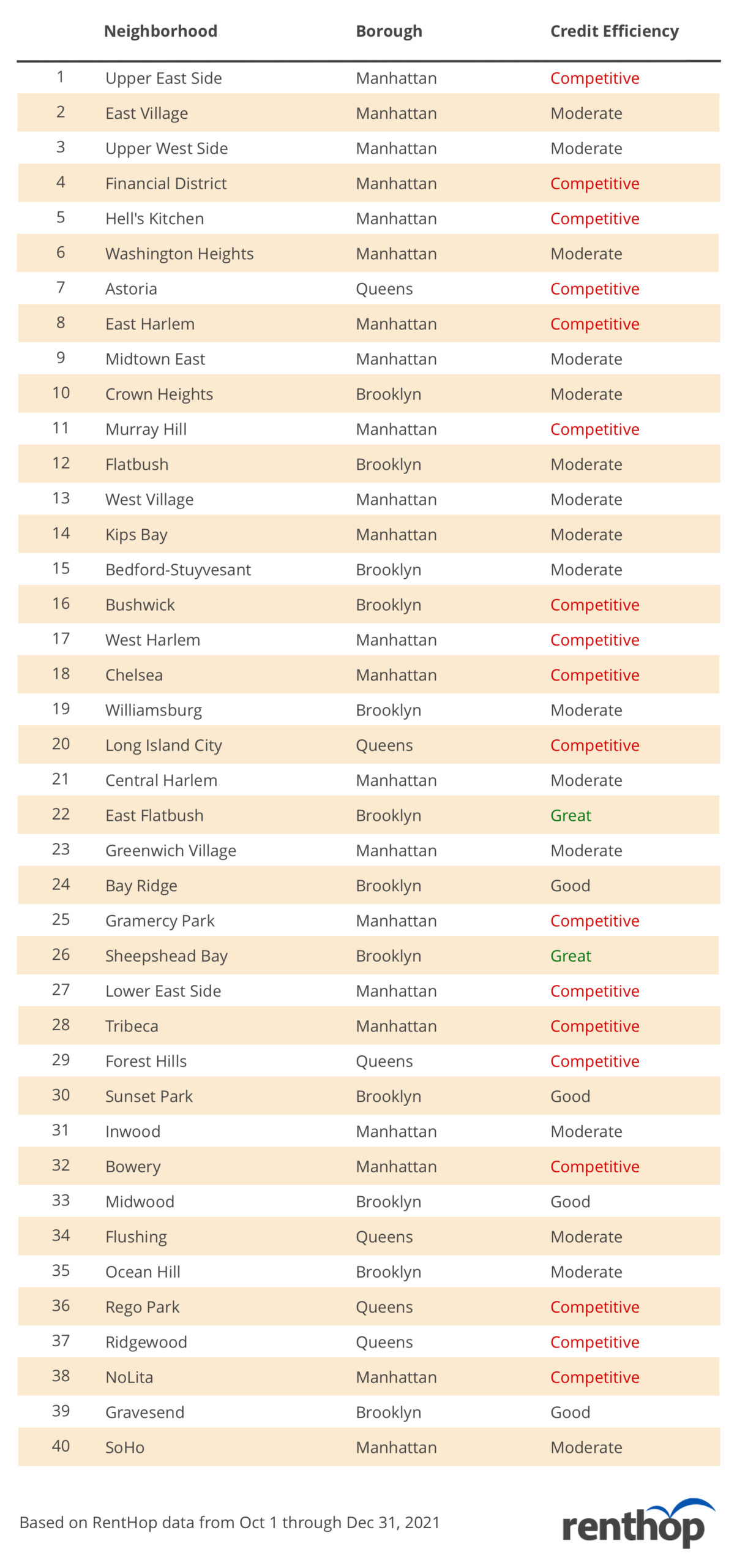 Top Growing Neighborhoods
Demand for full apartments in Manhattan has gone up significantly as people flock back to the city and look to move to easily accessible neighborhoods that saw the most transition during the pandemic. Neighborhoods that saw the biggest spikes in inquiries include Greenwich Village, NoLita, SoHo, West Village, and NoHo. Meanwhile, leads were up 196% in Brownsville, Brooklyn.
Top Declining Neighborhoods
Certain neighborhoods in outer boroughs experienced declines in terms of renter interest, for example, inquiries dropped 89.4% in Corona, Queens. Other neighborhoods experiencing lower lead volumes this past quarter compared to last year include Rockaway Beach (Queens), Far Rockaway (Queens), Roosevelt Island, Clinton Hill (Brooklyn), Ridgewood (Queens), and Red Hook (Brooklyn). This also may be due to the record low rental inventory across the board.
Methodology
Released on a quarterly basis, the RentHop Rental Report analyzes the NYC rental market using the platform's rental listings and traffic data. The lead volume, most inquired apartment type, and year-over-year changes are determined based on inquiries sent by renters visiting the RentHop site. The median asking rent is calculated using all listings created between October 1, 2021, and December 31, 2021, across all apartment types, whereas median 1BR rent is calculated using only one-bedroom listings created during the same time period. Please email press@renthop.com for a detailed report covering all NYC neighborhoods. Note that, unlike other RentHop studies that analyze and summarize data using the Neighborhood Tabulation Areas, the RentHop Rental Report adopts a more granular neighborhood shapefile for the analysis, which is consistent with the listing search criteria on the consumer side.