Boston's T is one of the largest rapid transit systems in the nation, behind New York City and Chicago and similar in size to Washington D.C. This means hundreds of thousands of people rely on the MBTA system to get them to and from work, school, yoga classes, and whatever else they may need. It is no wonder proximity to the T is one of the first things people consider when searching for an apartment in Boston. As important as it is, RentHop's data scientists want to give you a hand with your apartment search by mapping out median rents by each T train stop.
Our key findings this year include:
Overall, one-bedroom median rent in Boston went up 3.6% from 2019 to 2020.
Rents increased at 88 stops across all train lines and decreased at 27 stops. 6 stops experienced no change in the past year.
Median rent went up 14.6% at Heath Street (Green), mostly driven up by the newly launched 201 South Huntington Avenue, a high-end apartment building that's only 0.2 miles away from the stop.
Median rent went up 10.0% at both Boston University East and Boston University Central, mostly owing to 839 Beacon Street. This also resulted in a 8.0% rent growth around the Fenway station.
---
Our Interactive T Map Displays All Stops With Respective Rents and YoY Fluctuations


To calculate the median rent for the map above, we used RentHop rental data for one-bedroom apartments from October 2019 to January 2020 and from October 2018 to January 2019, as well as MBTA GIS data for T stops from Mass.gov. To get accurate prices near the subway stops, we looked first at non-duplicated listings within 0.62 miles of an MBTA stop and if there were 50 unique data points we calculated the median. If not, the radius from the stop was increased to 1.2 miles and the data was resampled to ensure enough unique listings were used when calculating the median.

Ride the Train to Savings

Would you travel an extra stop to save a couple hundred dollars? How about for $1,200? The list below represents the largest price disparities between each stop. This could be because the stops on the edge of a neighborhood and rents dropped at one stop while prices soared at the other, or all of the above. It is also possible that the typical one-bedroom apartment near one stop is very different from an apartment just one stop away.
Greater Boston remains to be one of the most expensive rental markets in the U.S. In total, 88 stops experienced rent growth this year, 13 more than in 2019. Tufts Medical Center continued to be one of the most expensive MBTA stops, with a median rent of $3,560, 4.6% higher than last year. Most stations in Cambridge experienced price increase, except for Porter (-2.8%) and Davis (-1.3%).

These stops saw the biggest rent drops on one-bedroom apartments
Eliot – Green Line: $2,100, YoY -6.7%
Prudential – Green Line: $2,900, YoY -6.5%
Roxbury Crossing – Orange Line: $2,248, YoY -4.3%
Longwood Medical Area – Green Line: $2,250, YoY -4.3%
Brigham Circle – Green Line: $2,250, YoY -4.3%
These stops saw some of the biggest rent hikes
Heath Street – Green Line: $2,350, YoY 14.6%
Boston University East – Green Line: $2,750, YoY 10.0%
Boston University Central – Green Line: $2,750, YoY 10.0%
Haymarket – Green/Orange Line: $3,125, YoY 9.6%
Saint Pual Street – Green Line: $2,670, YoY 9.0%
Turn your commute into extra cash at these stops
Save $1,247  between Aquarium ($3,397) and Maverick ($2,150) – Blue Line
Save $1,100  between Back Bay ($3,600) and Massachusetts Ave ($2,500) – Orange Line
Save $900 between Broadway ($3,300) and Andrew ($2,400) – Orange Line
Save $649  between Kendall/MIT ($3,149) and Central ($2,500) – Red Line
Save $600  between Copley ($3,100) and Hynes Convention Center ($2,500) – Green Line
---
Love Our Map? There is a Condensed Map for Easy Sharing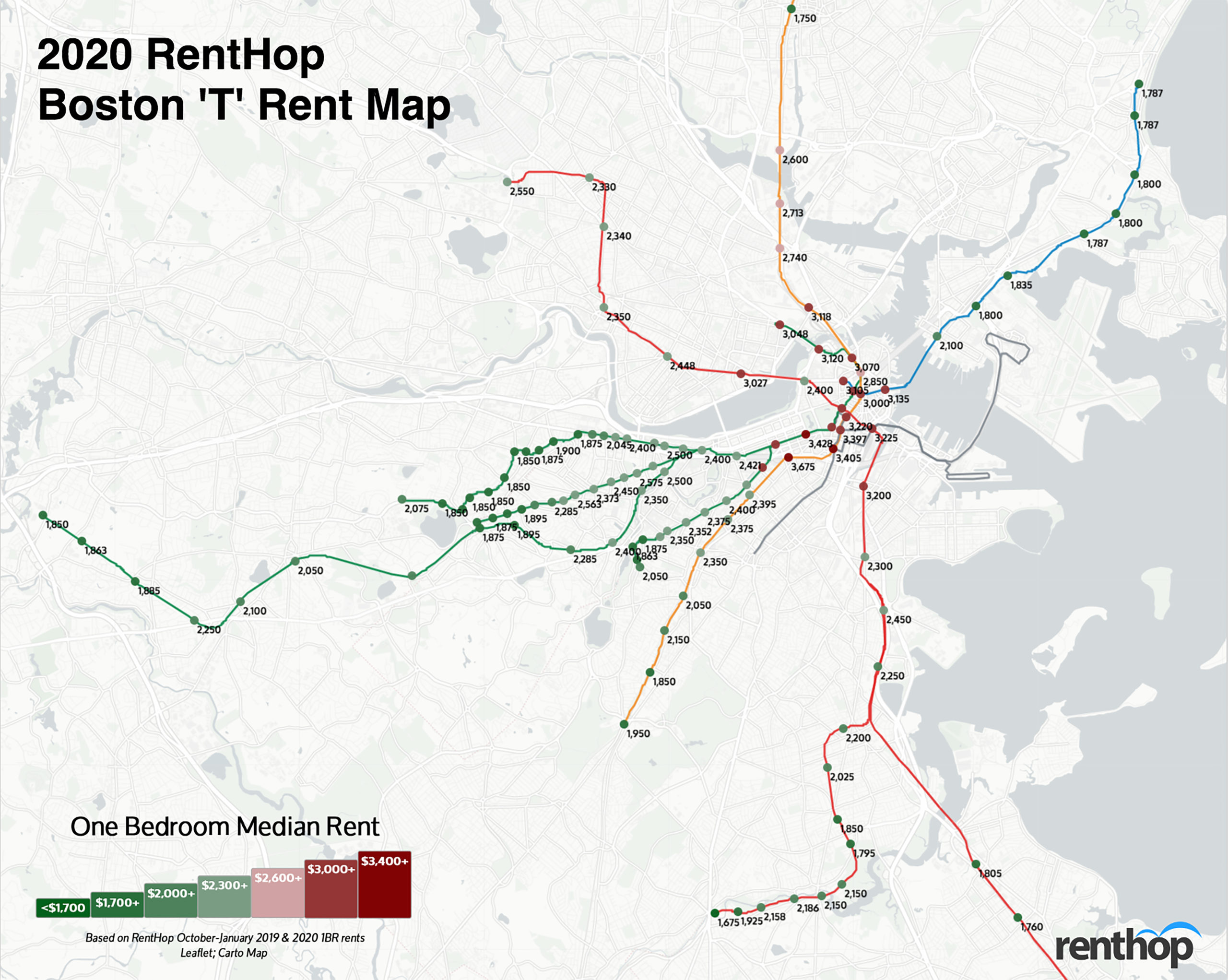 What Does This Mean for You?

Finding an apartment in Boston certainly isn't easy. Deciding where to live and starting your search can be the most difficult step. By giving you as much information about the market as possible, RentHop wants to point you in the right direction. This map is just one of the data-backed insights we offer. All of our Boston apartment for rent are ranked using available data to ensure that renters always see the best quality apartments.