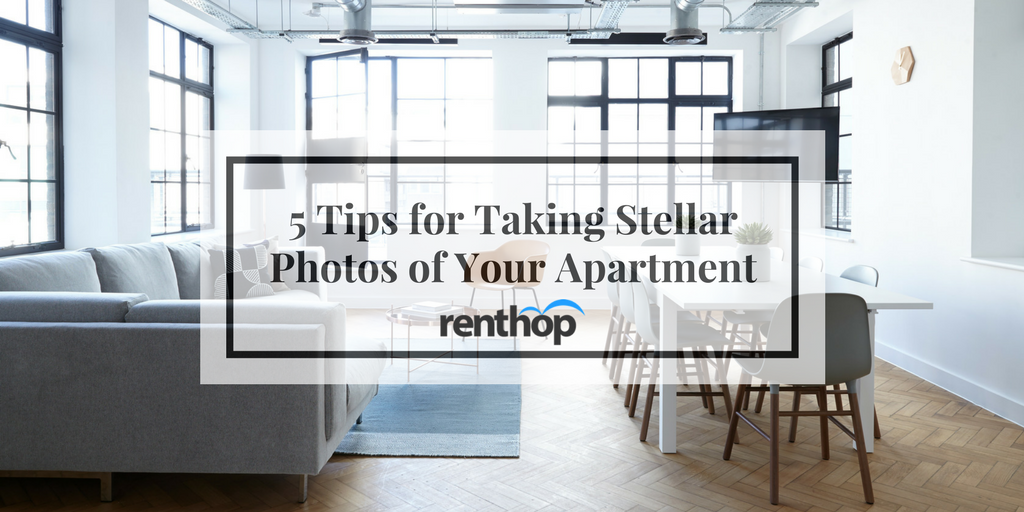 We all have experiences like this: as we browse through apartments on the Internet, we notice that some listings have bad photos, like REALLY AWFUL photos. While we may say to ourselves, "oh my god, I will never rent this apartment," when it's our turn to advertise our apartments, somehow our photos are no better than the horrific ones.
A renter's first impression of your apartment is often through the photos you put up. Without good photos to capture their attention, a renter will likely move on to inquire about another apartment. We recommend adding at least 3-6 photos per listing, preferably photos of high quality that showcase the listing's main living spaces, features, building amenities, and neighborhood.
Here are some tips that can make a huge difference in helping you take great photos.
How to Take Good Apartment Photos
1. Clean your lens.
Don't forget to clean your lens before taking photos to avoid blurry results. Use a gentle fabric such as microfiber to not scratch up your camera lens.
2. Clean up.
Take time to clean, organize, and declutter the apartment before taking photos. Furnished apartments tend to look bigger in photos, but if the apartment appears cluttered, dirty, or disorganized, it may turn off renters. If you have time after cleaning, add in some extra decor, such as flowers or a plant, to make the home seem more welcoming and cozy.
3. Remove personal items.
Many of us will have family photos or personal belongings around our homes. Before taking photos, take down any personal belongings you may not feel comfortable showing the rest of the world. Remove mail with your address or contact information on it, turn off computer screens that may show sensitive information, and more.
4. Take low-angle shots.
You'll notice that photos will look a lot better when your phone or camera sits lower than eye level. Taking photos from a low angle is a fundamental composition rule in photography — low angles can exaggerate the height of tall subjects or reveal unseen aspects of low-lying ones. The apartment will look more spacious.
5. Avoid wide-angle lenses.
Indeed, wide-angle lenses capture more things in the scene; however, they make objects close to the camera appear larger, objects far away appear smaller, and the entire apartment just looks unnatural. A standard lens or your phone is good enough – but remember to step away from your subject to get as much as you can into the shot.
6. Utilize corners.
Taking photos from the corners of rooms will help provide renters with a broader vantage point of the room without the need to utilize wide-angle lenses. When taking photos of a room, try to include only up to two walls and a little bit of ceiling and floor in each village to help the room appear less closed off.
7. Light. Light. Light.
Take advantage of daylight. If you can only take photos of the apartment at night, use as much artificial light as possible. But remember – turn off your flash. Flash creates glare, and things look more unnatural than they actually are. Natural light, however, makes the apartment look spacious and more inviting. The best times of the day to take photos include the early morning or late afternoon.
8. Clarity is key.
No worries if you don't have a tripod or if you prefer to take photos using your phone, but make sure that you take a test shot and adjust the focus if necessary to avoid blurry shots. It is also crucial that you mark the spot where you take the photos from (or where you place your camera), so it'd be easier for you to move props or furniture around to ensure the best results.
9. Pay attention to alignment.
Use your phone or camera's grid function to see both vertical and horizontal lines so you can make sure your photos are straight. In addition, you can utilize the lines to make sure you are adhering to the rule of thirds, an important compositional guideline for photography.
10. Photo editing apps are a plus.
Contrast, brightness, structure, warmth, saturation, highlights, and shadows…. thanks to technology, it now only takes seconds to improve your photos digitally. Don't be lazy – if a photo is too dark, adjust the exposure before uploading it. If the photo isn't focused enough, use the cropping tool to cut out blank walls or empty spaces. Good photos increase your visibility and encourage renters to click on your listings.
You can also use a photo editing app to resize your image. Note that on RentHop, photos should be 1108 x 640 pixels to properly display on your listing.