As a modern, real estate driven startup, RentHop understands how much people care to live in a neighborhood with like-minded individuals. That's much easier said than done, but what if you could find out the political views of your Washington neighbors before you're waiting for the Metro next to them? Well our data scientists crunched the numbers from FEC.gov on the D.C. area's campaign contributions, so you can do that!
Find your zip code, choose your candidates, and explore the city and suburbs.
To create the map, we picked up where we left off with the nationwide data we prepared for our Trump Map here. We took the FEC's disclosure reports detailing individual contributions to candidates. The data from the most recent national filing on February 20, 2016 contained a smidgen over 1.17 million documented contributions, totaling nearly $300 million for all candidates' campaigns nationwide. To make this data more usable, we cleaned it up a bit first, grouping together line items from people with the same name, from the same zip code and with the same occupation, effectively removing duplicated entries for the same person. It is important to note that individuals giving less than $200 during the election cycle are not required to disclose their personal information, but some will do it voluntarily. Although this stipulation affects the data for each candidate differently, it is not intrinsically biased and we feel the data is still statistically relevant for comparing them to one another.
With the resulting data, we set out to see where the donors are in D.C. and whom they support. Candidates like Jeb Bush and Ben Carson collected significant amounts of money, but have since dropped out, so they have been grouped together with the rest of the former candidates. At the moment we've left Rubio's data in to show where he stood, and emphasize the gap that currently exists in GOP support. The interactive pie chart will always show candidates proportionate to each other, whether showing all or just your selected candidates.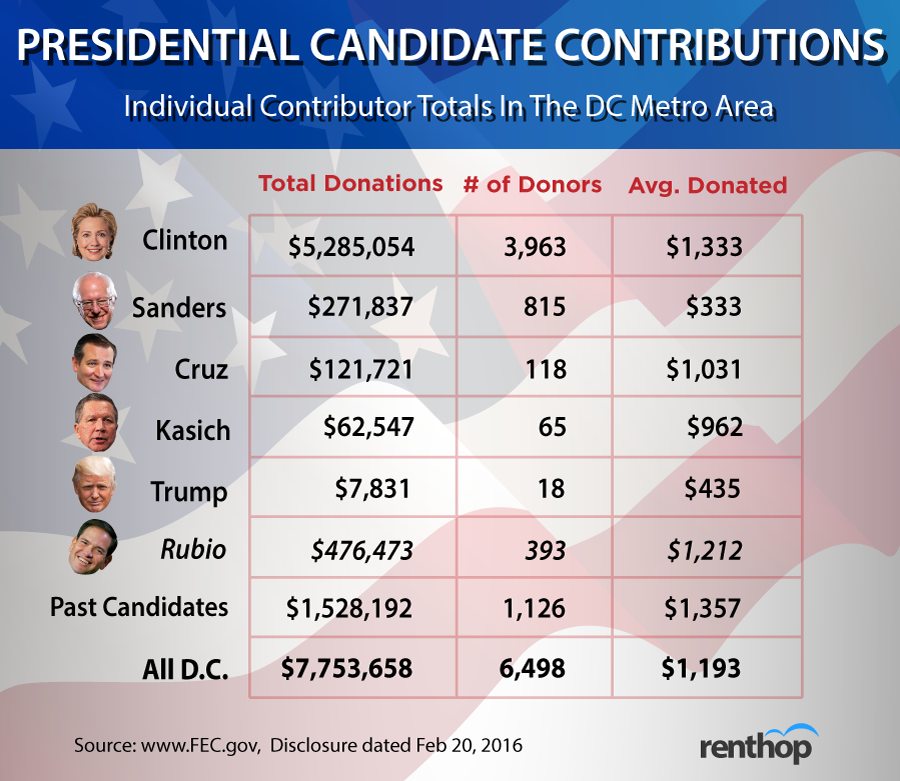 Clinton absolutely trounces all of the other candidates in both money raised and number of unique donors. Of the $7.75M raised in the DC area through the most recent deisclosure, Clinton took well over $5M of that. Who was the closest 2nd of all the other candidates? It is Marco Rubio, except his total is only one tenth of Hillary's, clocking in at $476K. In fact, all the remaining candidates combined total less than $1M. With Marco Rubio now dropping out, that number is cut in half. Surprisingly, about $2M of donations went to candidates who have now dropped out of the race (Jeb Bush, Marco Rubio, and Ben Carson in particular). Guess who came up basically empty-handed in DC? Donald Trump, who only received about eight thousand dollars from 18 unique donors.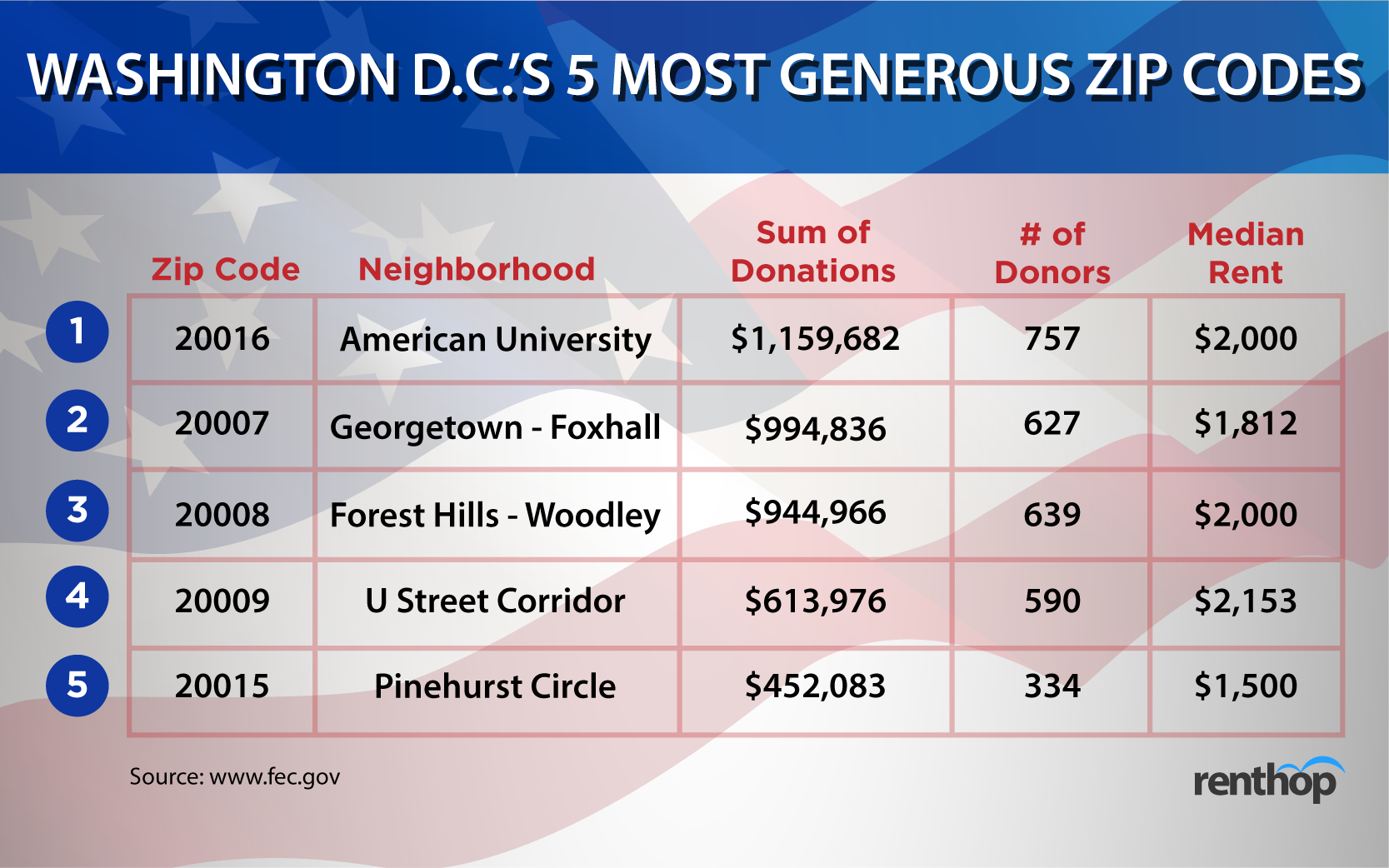 The most generous donors seem to live in 20016 (American University), 20007 (Georgetown), and 20008 (Forest Hills), each clocking over $900K donated. Although the median rent at U Street Corridor is higher than the three most giving zip codes, they came in 4th with only $614K in donations.
We analyzed where each has the strongest show of support based on percentage of donors choosing them and total dollars collected there. When tablutaing our data, we used the zip code range of 20001-20064 of the District of Columbia as well as 22201-22214 of Arlington, Virginia. The map will allow you to explore all of Virginia and Maryland as well, but we chose to restrict the data used for the charts to just the inner DC region.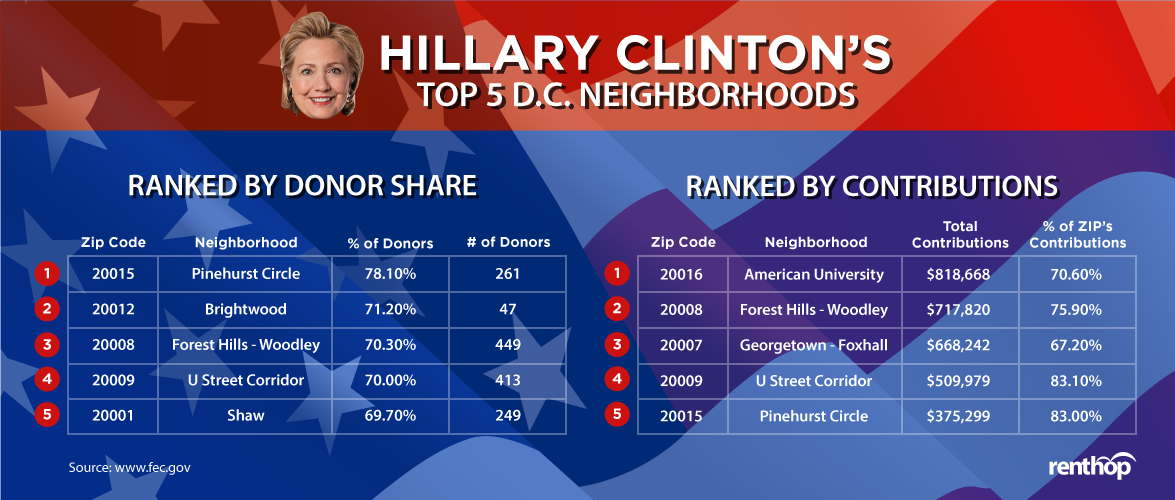 As expected from the metro wide numbers, Clinton has a strong showing of monetary support in all the major neighborhoods. Interestingly, she dominates Pinehurst Circle and Brightwood in share of unique donors, even though the money raised from both areas is significantly less than in Georgetown. It would seem that the resident of washington are looking to have the former first lady back and are willing to pay for it.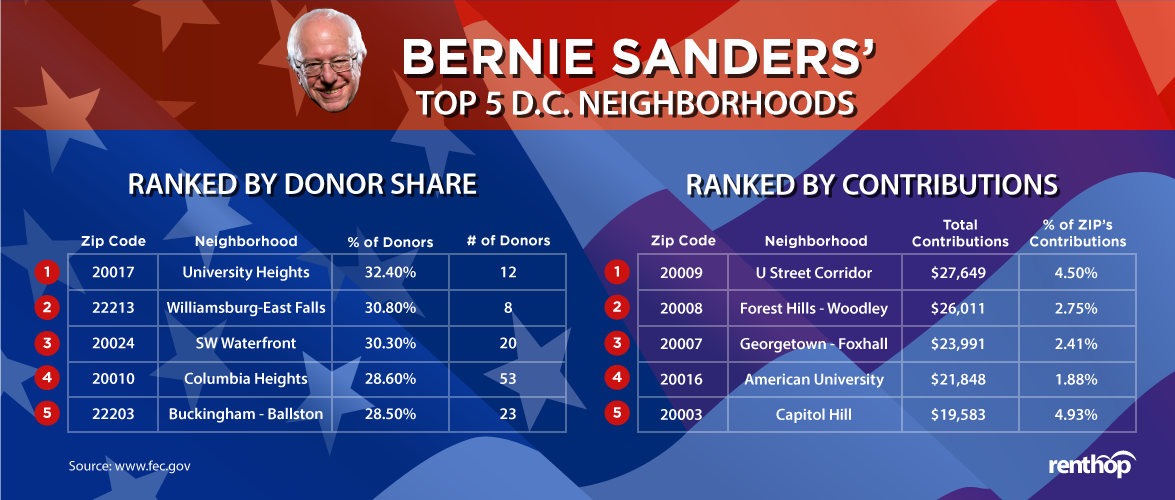 Sanders received far less money than Clinton; only $272K vs Clinton's $5.285M. The numbers show when weighting by dollars donated. He has 2.4% of the Georgetown money donated, 4.93% in Capitol Hill, and only 1.88% in 20016. The picture looks very different when weighting by unique donor count. In the less donor-dense regions, Sanders finds much more support. For example, in Columbia Heights, his 53 unique donors represent 28.6% of the donations across all candidates.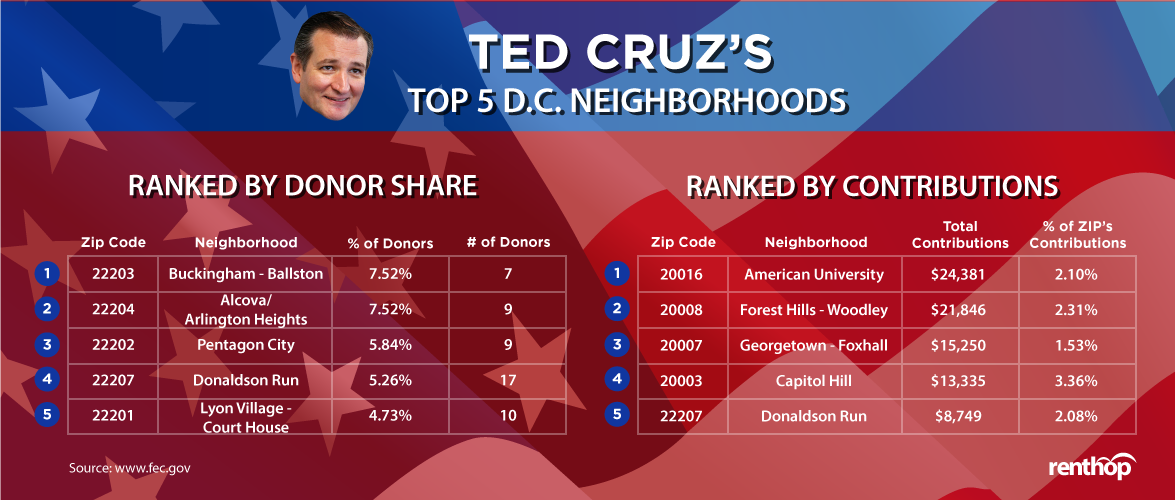 Ted Cruz raised similar amounts of money as Sanders in Forest Hills, Georgetown, and the American University neighborhoods. However, unlike Sanders, he does not have pockets of strong support in unique donor count. There is not a single zip code where Cruz takes over 8% of the unique donors. His top 5 neighborhoods range from 4.7% to 7.5% of the unique donor count.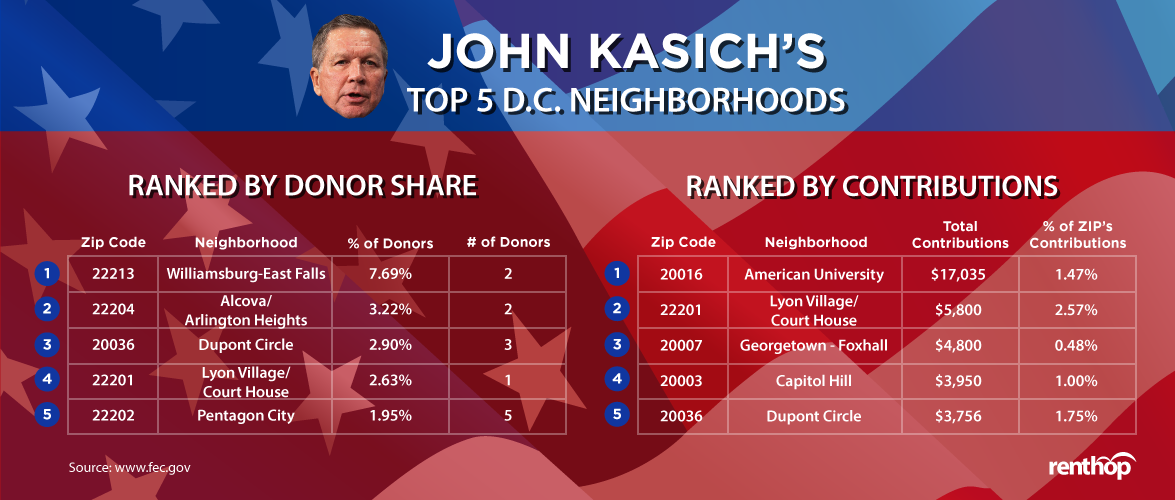 Despite enticing just 65 unique donors, we saw in the primaries that Kasich is certainly a contender. John raised just under 1% of the Metro total at $62,547. Kasich is certainly not raking in the sums that Hillary Clinton has, but it's enough for an eight-fold increase over the Trump campaign war chest. Donors are also willing to give him significantly more than they are giving to Sanders and Trump. With the most recent win, it will be interesting to see if he attracts a greater number of donations, as he picks up momentum and people look for any other option.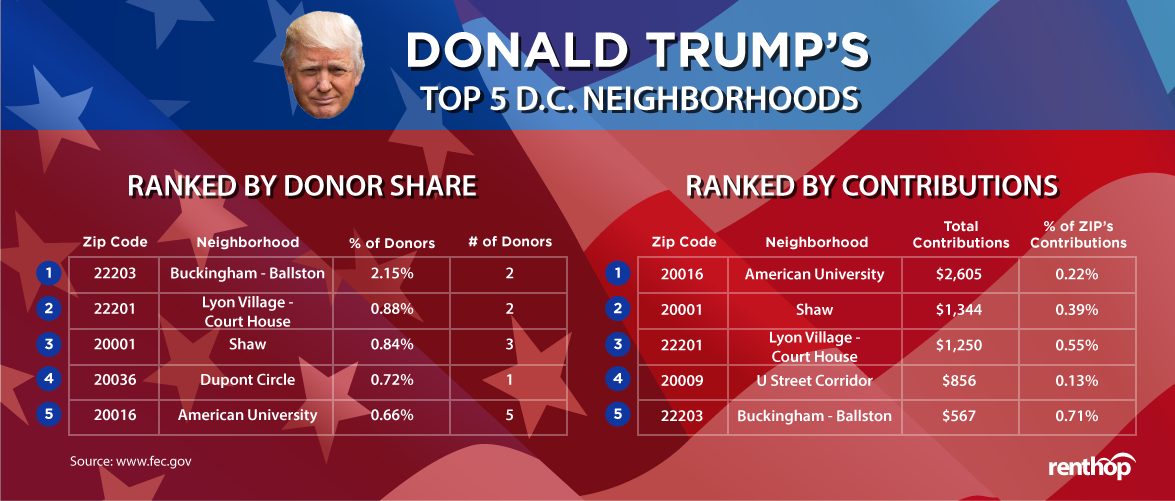 The numbers for Trump are extremely scattered, even more so than they were for John Kasich. With only 18 unique donors across Washington, and $7,832 in funds raised, it wouldn't take more than a donor or two to drastically change these stats. Trump's average take per donor is something of a tell as well, at $435, it's only slightly higher than Bernie Sanders, Which might signal the type of audience that he is appealing to.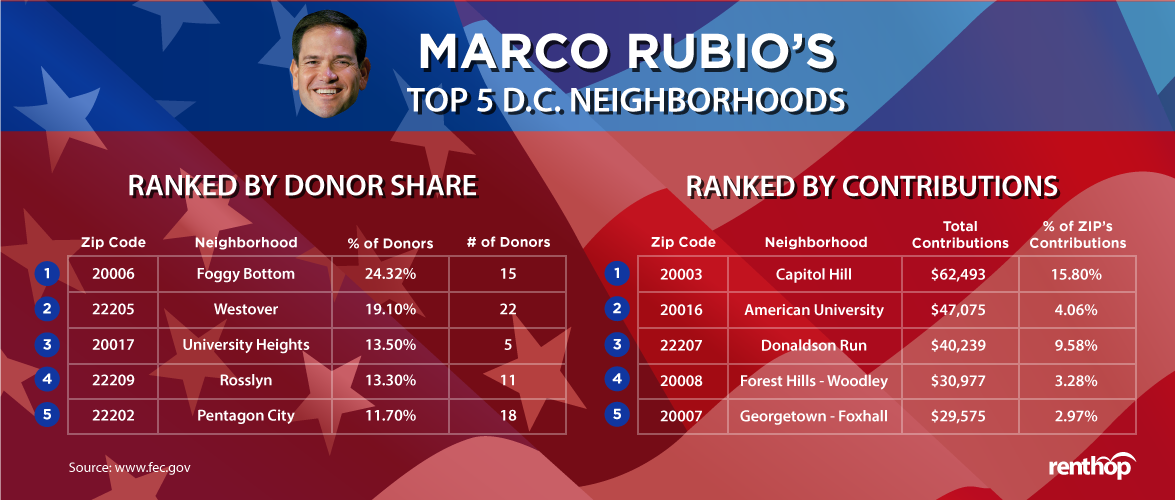 Rubio saw the most concentrated group of supporters at Foggy Bottom and Westover. Even though most of the money still went to Clinton, Rubio took 24% of the unique donations from Foggy Bottom. Weighted by dollars given, Capitol Hill was Rubio's strongest showing with $62.5K raised. That amounts to a bit over 15% of the dollars donated from the 20003 zip code.
If you're in the market for a new apartment, or were just influenced to move because of this study, be sure to check out the extensive selection of DC apartments for rent.
RentHop, it's like apartment hunting.. but smarter.
"2016 Presidential Campaign Finance, Contributor Data Download, All Candidates", FEC.gov, Pulled on February 24, 2016, http://fec.gov/disclosurep/PDownload.do.
"CartoDB Map Tiles", www.CartoDB.com.