Unless you've been living under a rock, you've seen Donald Trump's face everywhere; in every paper and headline, banner campaigns and billboards, and now this map too. Despite the loud and audacious tone, his words are hitting voters' ears with incredible impact. Outspoken views and brashness are the cornerstones of a campaign that continues to pick up steam.
Hurricane Trump is winning caucuses left and right (very far right), despite seemingly unanimous condemnation by everyone from the Pope to the President and even Fox News. Virtually everyone except Vladimir Putin has expressed their disdain but he's made it very clear that he doesn't need anyone's money or respect to be successful. And yet people are giving him money anyway.
Check out the map below to find out where they are. Bigger heads represent a larger proprtion of Trump donors.
Interactive Map of Donald Trump's Donor Data
To map where these real diehard Trumpers live, we looked at the FEC's disclosure reports detailing individual contributions to candidates. Using data from the most recent filing on February 20, 2016, there were just over 1.17 million documented contributions, totaling nearly $300 million for all candidates' campaigns. It's important to note that data is not required to be collected about individuals that give less than $200 during the entire election cycle, but since this stipulation affects the data for each candidate, we feel it is still statistically relevant for comparing the candidates to each other.
Of the $298,257,279 in documented contributions, just $1,773,226 (.6%) were attributed to Trump. From the 1.17 million contributions only 5,549 were for the Trump campaign. To better analyze the data and negate the effect of individuals making many donations, we de-duped (removed duplicates from) the contribution data, grouping together donations made by people with the same name, living in the same state and zip code, while also having the same occupation. Donors that changed names, jobs or location and also made multiple contributions may be wrongfully counted separately.
This left 399,009 unique donors, of which 3,782 are supporting Trump. Perhaps not surprisingly, Trump is most popular in southern states like Mississippi and Louisiana, where his "build a wall" rhetoric hits close to home.
Donald Trump's Top Ranking States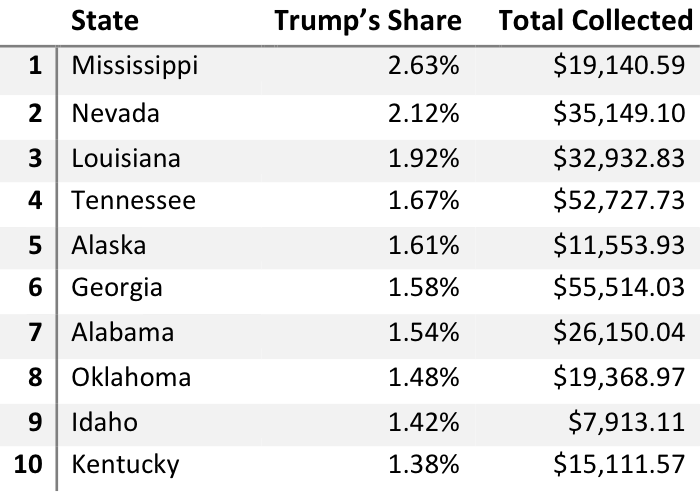 Vermont's virtual snub of Trump is likely attributed to the state's own outspoken candidate, but still comes as a surprise considering his performance in the primaries in the neighboring state of New Hampshire. The rest of Trump's low-support states are also northern states, with the exception of New Mexico, supporting a hypothesis that Donald is most popular among rural demographics.
Donald Trump's Lowest Ranking States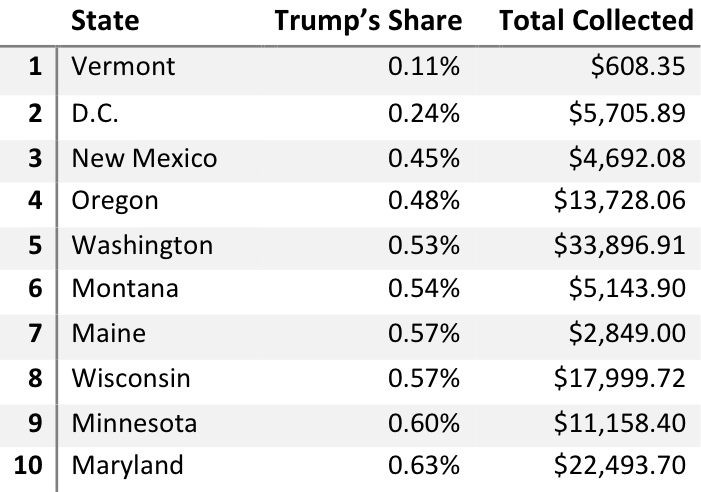 Trump has it made very clear that more money doesn't necessarily mean more votes, unless, of course, he's talking about his own personal wealth. Maybe people just don't feel compelled to donate to his campaign because he doesn't seem to need it, but we believe that Mr. Trump's campaign is relying on his resourceful way of commanding situations - whether it be a tweet, interview, or presidential debate. His supporters don't seem too worried about the health of his campaign, but a glimpse at his expenditures shows that he might be.
Some food for thought: Why is Donald Trump suddenly spending $6 million on a media campaign from Rick Reed Media?
If you're in the market for a new apartment, or were just influenced to move because of this study, be sure to check out the extensive selection of nyc apartments for rent.
RentHop, it's like apartment hunting.. but smarter.
"2016 Presidential Campaign Finance, Contributor Data Download, All Candidates", FEC.gov,Pulled on February 24, 2016, http://fec.gov/disclosurep/PDownload.do.
"2016 Presidential Campaign Finance, Expenditure Data Download, Trump, Donald J.", FEC.gov,Pulled on February 24, 2016, ftp://ftp.fec.gov/FEC/Presidential_Map/2016/P80001571/P80001571D-ALL.zip.