Survey: How Coronavirus Is Changing the NYC Real Estate Landscape
Originally posted on March 19, 2020 11:02 pm
Updated on March 31, 2020 12:55 pm
In light of the ongoing COVID-19 crisis, we at RentHop wanted to understand the effect the outbreak has already had on renters and real estate agents in New York City. Has the process for renting an apartment changed? We surveyed agents across 22 of the largest brokerages in New York and gathered responses aimed at answering this question. While agent experience ranged, 67% of respondents had worked in real estate for over 3 years, and 42% over 7 years.
---
Key Findings
Demand Post Outbreak in New York City
The vast majority of agents surveyed have seen a sizable drop in demand since the outbreak. While all respondents noticed a decrease in demand for tours, 58% have seen more than a 60% drop, while 37% have experienced an 80% drop or more.

Virtual vs. Physical Touring
Given the shift toward social distancing, touring practices have unsurprisingly changed since the outbreak. 58% of agents said they were now offering virtual tours, including live teleconferencing (FaceTime, Skype, etc), and/or recorded videos.
Additionally, of those tours happening now, roughly 50% were being completed virtually.

Renters Expressing Health Concerns
Agents noted that a sizable portion of renters have expressed health concerns related to viewing apartments in person.

Precautions Taken to Ensure Health When Touring

Agents and Firms

Every agent surveyed mentioned that they were taking some level of precaution to ensure the well-being of themselves and their clients. The most common practices were not shaking hands (79% of respondents), using hand sanitizer (63%), and not showing currently occupied units (42%).
Some firms were also cautioning agents to stay six feet away from others at all times and to suggest virtual tours instead of in-person tours.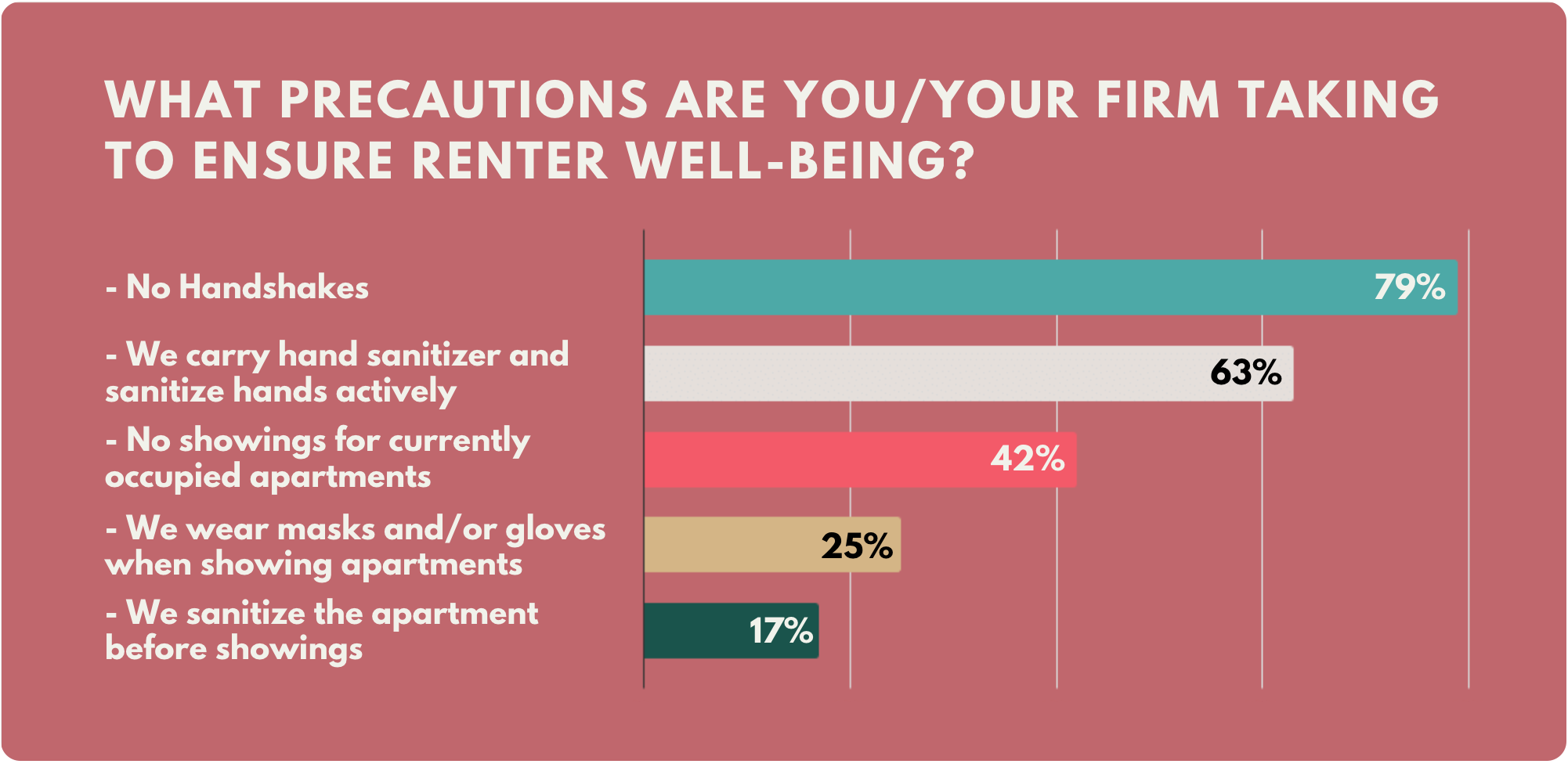 Renters

Renters at the same time have been taking increased precautions when touring. The most common practices for renters were to sanitize their hands on tours (58% of respondents), request virtual tours in lieu of in-person showings (54%), and cancel showings because of a potential illness (50%).
Some firms were also cautioning agents to stay six feet away from others at all times and to suggest virtual tours instead of in-person tours.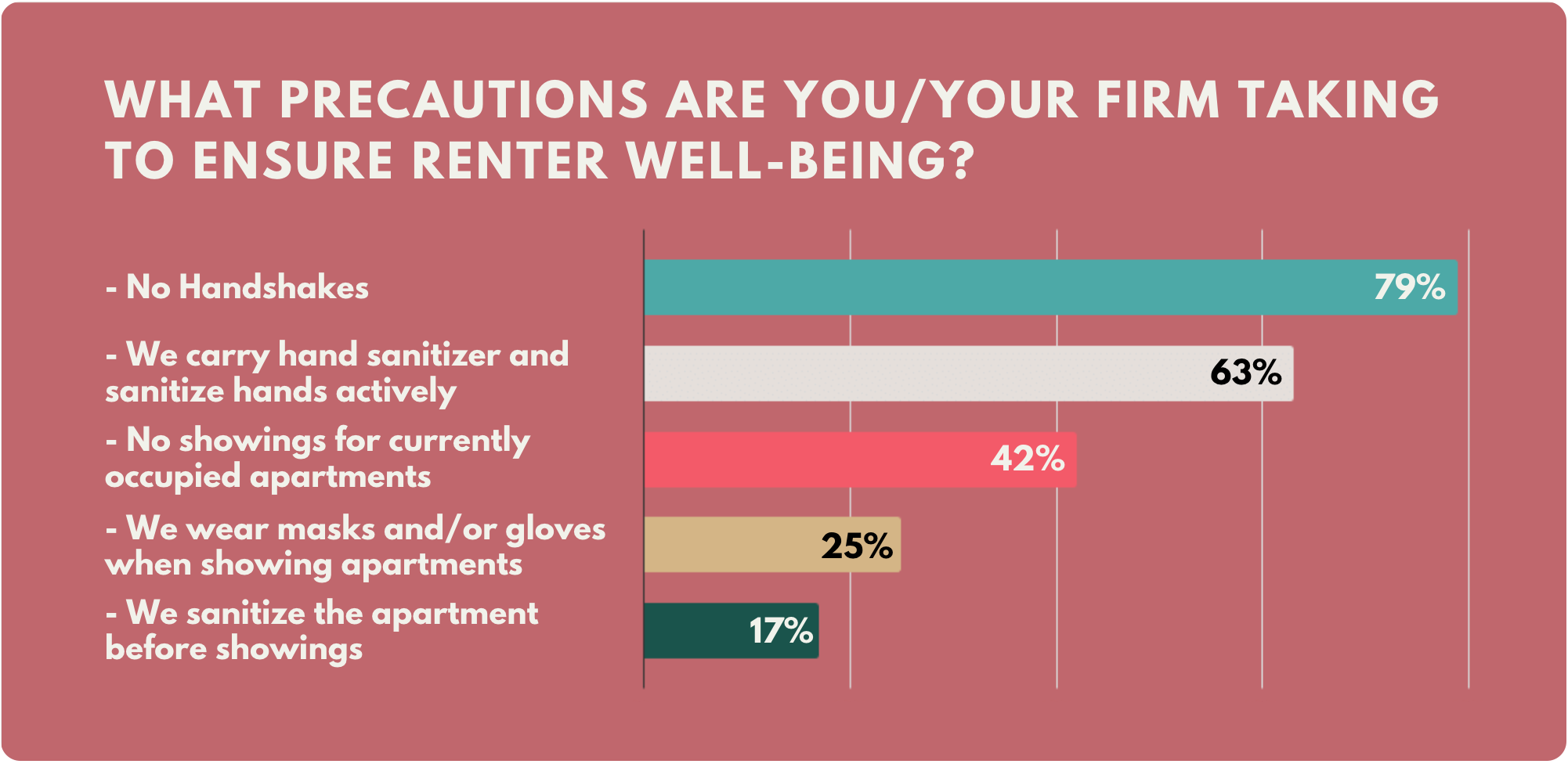 Effect on Landlords
The majority of agents surveyed noted that landlords have begun to change showing practices. A handful of large landlords in the city are not allowing showings in person, while employees in management and leasing offices have now started working from home.
When asked about if landlords are considering offering concessions or reduced rents given the decreased demand, 19% of respondents said they have seen some landlord concessions due to the crisis, including rent reductions, more free months, and waived late fees.
However, the overwhelming consensus is that landlords will begin to offer incentives including multiple free months of rent, as well as increased OPs in the near future as the crisis develops.
Conclusion
While it is still early to understand the full impact COVID-19 will have on the real estate industry in New York, processes have already started to change. Tours are becoming increasingly virtual, landlord policies are updating, and both agents and renters are taking additional precautions to ensure health.
As demand for tours has waned, agents have justifiably expressed concern. We think it is important to remember that as the market changes, new opportunities arise for agents who are flexible. Short term housing is an option, particularly amongst students at Columbia and NYU who have found themselves in need of housing after abruptly losing college accommodation. Additionally, as landlords tighten showing policies, agents with access may possess a competitive advantage to show units that renters would otherwise not be able to see on their own.
Perhaps the most salient takeaway of this survey is that the rental business is moving virtual. Agents who stay at the cutting edge of this trend could potentially stand out from the rest. We at RentHop have just introduced live video touring to better assist in this changing environment, given this increased demand. To learn more about this feature, visit our agent guide for live video touring.
Finally, it is important to note that these conclusions stand at the time of this writing. Policies change rapidly given the nature of this pandemic. Shelter in place remains a looming possibility in New York City, and may further accelerate the shifts in our industry seen from this survey.
Methodology
To compile the dataset used for the report, RentHop surveyed and received responses from agents across the 22 largest real estate brokerages, covering multiple boroughs of New York City, over the period of March 17-18, 2020. Questions centered around the ongoing COVID-19 crisis and its effect on the rental market. The survey included a mix of multiple-choice, Likert scale, and open-ended questions. All responding agents were users of the RentHop platform.
---
Here's a visual summary of our findings for easy-sharing.