Even with severe impacts from COVID-19 on ridership, the Metro Rail system in the Washington D.C. metropolitan area is one of the busiest metro systems in the nation, serving riders living in the District of Columbia, as well as parts of Maryland and Virginia. The sprawling Metrorail transit system provides a backbone for the metropolitan area while stimulating business and real estate development. It is no wonder Metro proximity is one of the first things renters consider when looking for an apartment. It is almost always the case that the closer you are to a metro stop, the more expensive your apartment is. There is, however, still ways to save on rent. In fact, you might be able to save hundreds by moving just a couple of stops away from the center core, as shown in our 2020 D.C. Metro Rent Map.
Some of our findings this year include:
Overall, median 1BR rent in Washington D.C. went up 2.9% from 2019 to 2020.
Rent increased at only 39 stops, compared to 65 in 2019. 46% of the stops, or 42, experienced rent drops (compared to 32 stops in 2019). 10 stops saw no changes in median 1BR rent.
Median 1BR rent went up 8.3% at L'Enfant Plaza and Federal Center SW (Blue, Green, Orange, Silver, Yellow), mostly driven up by 1331 Maryland Ave SW, a new luxury rental building with 1BR apartments for rent starting from $2,290.
Our Interactive D.C. Metrorail Map Shows Median Rent for all Metro Stops
Find our map useful? Check out the static map at the bottom for a quick snapshot of the data and for easy sharing.

To calculate the median rent for the map above, we used RentHop's rental data for one-bedroom apartments from April 1 through June 30 2019 & 2020 as well as WMATA GIS data for Metrorail stops from DC.gov. To get accurate prices near the Metro stops, we looked first at non-duplicated listings within 1.2 miles of a WMATA stop and if there were 25 unique data points we calculated the median. If not, the radius from the stop was increased and the data was resampled to ensure enough unique listings were used when calculating the median.
Ride the Metro to Savings
Using rental data from April 1 through June 30, median 1BR rent around the D.C. metro area went up 2.9% year-over-year despite impacts from the Coronavirus outbreak. However, things are quite different compared to last year when looking at rental rates around the metro stops. Of all 91 stops, only 39 stops experienced rent growth, compared to 65 in our 2019 study. Meanwhile, rents dropped at 42 stops, 23 more than 2019. 10 stops experienced no change in rental rates.
These stops saw some of the biggest rent drops on one-bedroom apartments
Fort Totten (Green, Red, Yellow) – $1,363, YoY -7.6%
Potomac Ave (Blue, Orange, Silver) – $2,182, YoY -7.1%
Pentagon (Blue, Yellow) – $$1,900, YoY -7.1%
West Hyattsville (Green) – $1,300, YoY -6.8%
Noma-Gallaudet U (Red) – $2,200, YoY -6.4%
Median 1BR rent spiked around these stops
L'Enfant Plaza (Blue, Green, Orange, Silver, Yellow) – $2,600, YoY +8.3%
Federal Center SW (Blue, Orange, Silver) – $2,600, YoY +8.3%
Ronald Reagan Washington National Airport (Blue, Yellow) – $2,038, YoY +7.2%
Naylor Rd (Green) – $1,278, YoY +6.5%
Vienna (Orange) – $1,595, YoY +6.3%
However, one-bedroom median rents are still over $2,400 at many stops, specifically in and around the center core. To help you save on rent, we dug deep into the data and found some of the best single stop rent savings this year. You can, in fact, save a few hundred dollars by traveling an extra stop. The list below represents some of the largest rent drops between a single stop. Sometimes, this is because the stops are in different neighborhoods, rents fell at one stop, prices soared at the other, or all of the above. It's also possible that apartments near a particular stop aren't apples-to-apples with the apartments just one stop away. We may have left some out due to miles-long stretches between stops.
Save on Rent by Adding a Little Time to Your Daily Metro Commute
Save $1,024 between Stadium-Armory ($2,250) and Minnesota Ave ($1,226) – Orange Line
Save $950 between Stadium-Armory ($2,250) and Benning Road ($1,300) – Blue and Silver Lines
Save $935 between Navy Yard-Ball Park ($2,200) and Anacostia ($1,265) – Green Line
Save $288 between Ronald Reagan Washington National Airport ($2,038) and Braddock Rd ($1,750) – Blue and Yellow Lines
Save $225 between Virginia Sq-GMU ($2,200) and Ballston-MU ($1,975) – Orange and Silver Lines
Love our map? Here's a static version for easy-sharing.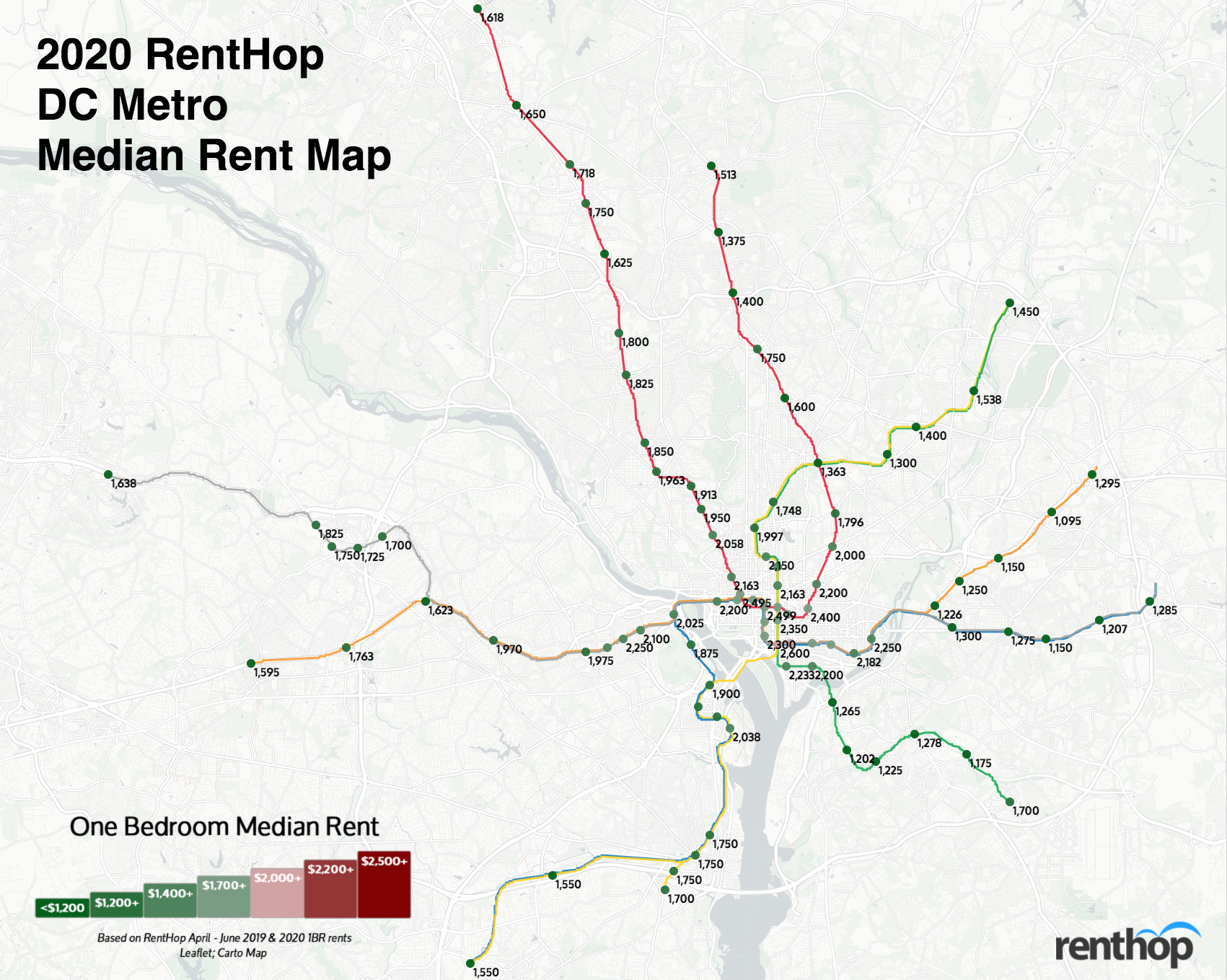 How Has COVID-19 Changed D.C.?
COVID-19 has greatly impacted rental markets in major U.S. cities and their surrounding metro areas in many ways. In Washington D.C., we noticed a big drop in inventory this year – the number of rental listings created between April 1 and June 30 in the D.C. metro area was 20% fewer than the previous year. This is likely due to drastic changes in company remote and on-site working policies, government agencies shutting down or reducing capacity temporarily, and renters holding off moving to lower the risk of contracting the coronavirus.
While the rental rates have remained relatively stable at the metro level thanks to decreased supply, more stops experienced rent drops as the metro ridership dipped more than 50% since the start of the pandemic. It is, however, unlikely that the coronavirus would have a long-term effect on rental rates along the metro stops. After all, residents across the metro area heavily rely on public transit in their day-to-day lives.
What Does This Mean for You?
Finding an apartment is not easy – deciding where to live and starting your search is one of the most challenging parts of life. By giving you as much information about the market as possible, RentHop hopes to point you in the right direction. Maps like this are just one of the data-backed insights we offer. All of our Washington D.C. apartments for rent are ranked using available data to ensure that renters always see the best quality apartments.