It's A Renter's Market In Manhattan
As a New Yorker, there are a few things that one just comes to accept: crowded subways, unpredictable weather, and rising rents. That last one seems to be reversing course, at least for Manhattanites. RentHop's latest research using nearly 200,000 monthly listings shows asking rents for luxury units dropping across the board, while fluctuations in non-luxury rents seem to indicate an exodus from lower and mid-Manhattan as well as the more expensive parts of Brooklyn.
The map below shows luxury and non-luxury price changes side-by-side. This allows us to see not only where prices are changing, but also for which types of apartments. For this analysis, "luxury" apartments feature a doorman and / or a fitness center and are generally in high-rises. Buildings like this have always been concentrated in Lower Manhattan, but new developments across the city, and especially in Northwestern Brooklyn and Long Island City, seem to be adding supply as fast as it can be rented.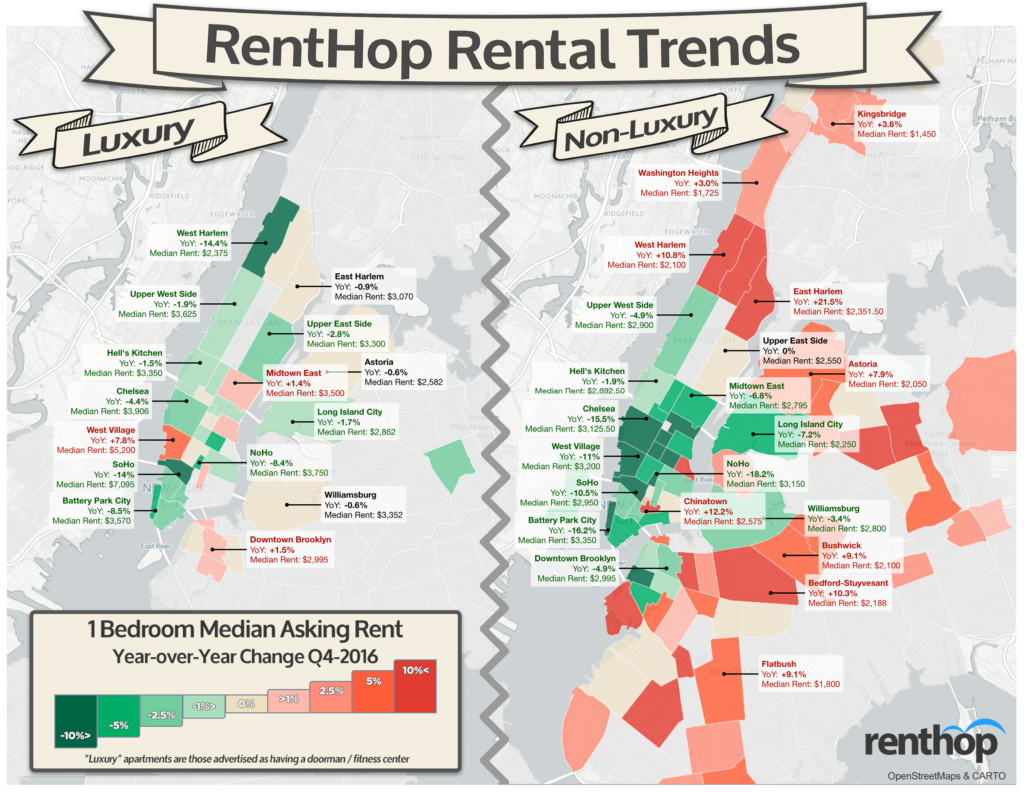 Market Snapshot

Referencing the map above and the table below, we see that rent for luxury one-bedrooms fell in 24 neighborhoods across the city. Just 11 neighborhoods posted increases in luxury rents. West Village, where the median asking rent for a luxury one-bedroom is now $5,200, posted the only large increase, with a 7.83% gain since end of year 2015. Boerum Hill, DUMBO, and Downtown Brooklyn posted minor increases. This was enough to offset drops in other parts of Brooklyn and keep the borough as a whole's median price the same as last year: $3,150 for a luxury one-bedroom.
Manhattan and Queens each posted small dips in prices going into 2017, falling 1.55% and 1.99%, respectively. Grouping apartments with similar amenities has allowed us to get a more accurate pulse of the market, ensuring that we're comparing apples to apples. Asking rents for luxury units in all bedroom sizes also dropped, as you can see from the table below, which will give you a complete report of rent fluctuations in New York.
Apartments in buildings without luxury amenities such as a doorman or fitness center dropped 4.76% across Manhattan, while posting large gains in all other boroughs. Bronx rents went up 7.41%, while Queens jumped 8.33%. Not to be outdone, Brooklyn rents went up 9.09% for a one-bedroom apartment without a doorman or gym.
When looking at non-luxury units: our analysis showed 46 neighborhoods making gains across the city while only 34 dropped, and 5 remained the same since 2015. It's not unusual to see much larger swings in price for non-luxury units due to individual units having much variation between them.  A renovated church like the Spire Lofts in Williamsburg may have a two bedroom renting for $7,000+ while another two bedroom nearby may go for half that. Large swings in price signal a change in the housing stock, preempted by increased demand. It's a bet by developers and landlords that construction or renovations will pay off. It's also a clear sign that gentrification is taking hold.
Biggest Pops & Drops
West Harlem posted the largest drop in luxury prices, plummeting over 14% to $2,375 for a luxury apartment there. A price cut like this can be attributed to many new developments, since adding new supply generally drops the price of existing stock. It's also not uncommon for new developments to offer incentives to renters in the form of discounts. A 10.9% jump to $2,100 for units in buildings without luxury amenities juxtaposes the luxury price drop.
Hot neighborhoods seem to be reaching a glut, with prices diving for all units in Chelsea, Long Island City, and even Williamsburg. A one bedroom non-lux apartment in Chelsea plunged a whopping 15.5% to $3,125. Rent in a Long Island City non-luxury apartment fell 7.22% to $2,250, while luxury units shaved off 1.73% to $2,862. Williamsburg's "hot" status may be fading, with prices dropping 3.41%  to $2,800 for apartments without luxury amenities. Luxury apartments also inched downwards for luxury units, even if only slightly (down 0.62% to $3,352).
Rents for Battery Park City apartments also declined drastically, down 8.5% to $3,570 for luxury and down 15.2% to $3,300 for any non-luxury units. SoHo also saw huge declines, with luxury one-bedrooms slipping 14%, although they're still asking $7,095. Non-luxury units fell 10.5% to a median asking rent of $2,950.
East Harlem had the biggest luxury pop, with median asking rent soaring 21.5% to $2,351.50 for a one-bedroom apartment. Landlords seem to be betting on the 2nd Ave subway line and people's willingness to bypass the Upper East Side in search of larger apartments and cheaper rents.
Bed-Stuy, Central Harlem, Corona, Chinatown; it's not exactly the bucket list of dream neighborhoods… for now. All of these neighborhoods posted double-digit rent hikes in 2016, while still offering one-bedroom apartments for around $2,000 per month. That's for non-lux units since there are not many luxury high-rises in these neighborhoods yet.
We Have Stats For All Apartment Configurations

Use the table below to see how your rent compares to current asking rents or to see where you could afford to live. You may discover that you're just $200-300 per month away from having a doorman.
Most of the discussion above regarded one-bedroom apartments, as they're the most listed, but data for two-bedrooms is quite extensive as well. Statistics for three or more bedrooms show much higher variability due to the lower sample sizes.
Most of the same migration patterns repeated in studio, two, and three(or more) bedroom configurations. Non-luxury units in the Bronx and Brooklyn are inflating bigly while Manhattan plunges. Luxury apartment prices are down in all configurations – when looking at boroughs overall – except Queens three-plus bedroom units.
This may be an opportune time to sign a new lease in Manhattan, although there's no guarantee that the trend will continue. A quick market correction is a very possible explanation. Years of rising rents pushing renters into the arms of another borough. After a short outer-borough dating period, renters may come running back to the island they love.
In the meantime, move around a little. New York has so many great places to live – RentHop can help you find yours.