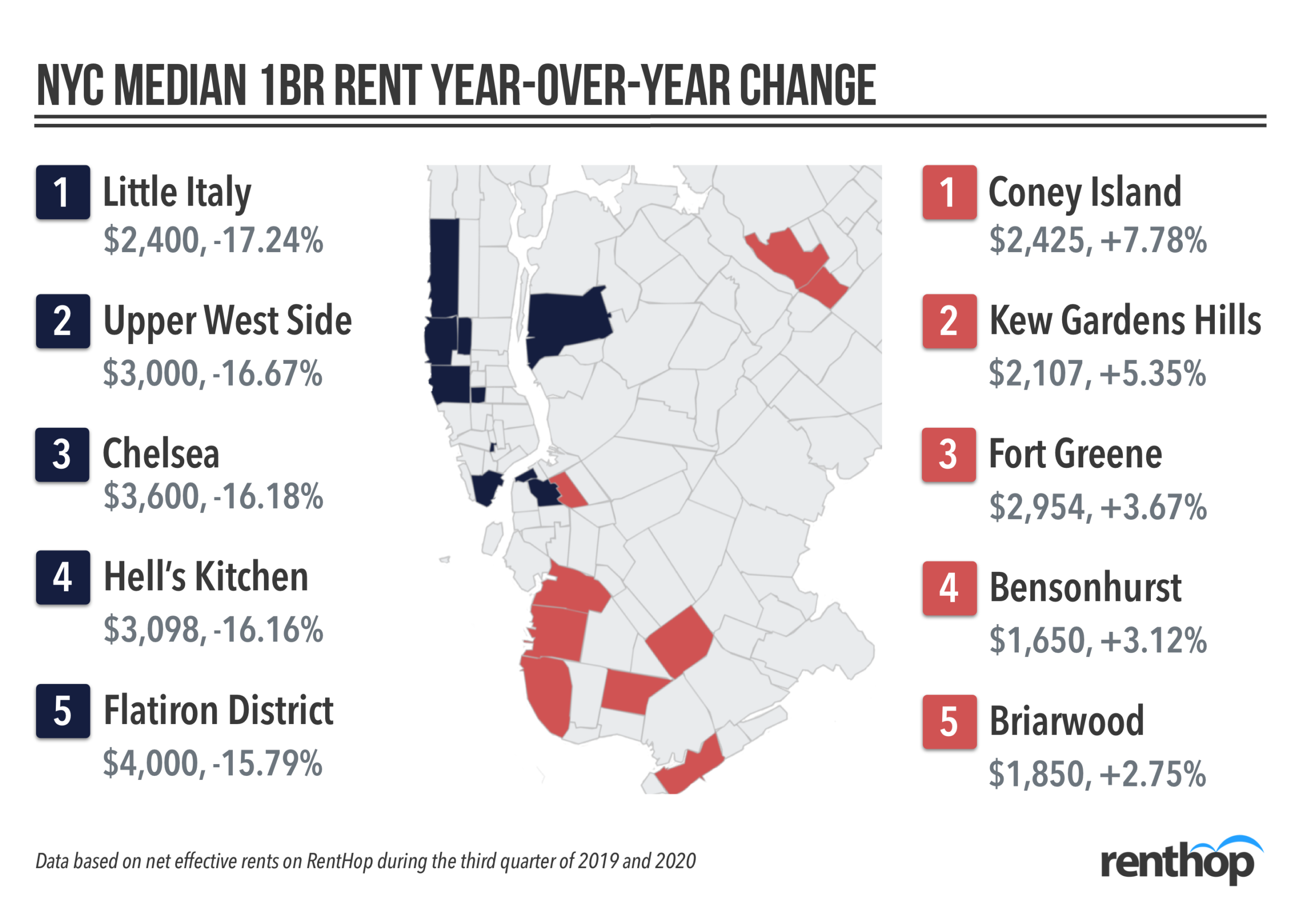 As the pandemic continues to drastically change the New York City real estate landscape, we at RentHop wanted to explore how rent prices have been affected this past year. To do this, we analyzed rental price data from every neighborhood in the city and compared these prices to this same period last year. Our results shed light on the current dynamic of the market and uncovered the few neighborhoods that have surprisingly weathered the storm.
Summary of Findings
We compared 1-bedroom median net effective rent prices in each NYC neighborhood between Q3 2019 and Q3 2020.
Rent prices dropped an average of 6.25% across all neighborhoods we studied.
86% of neighborhoods saw rent prices decrease over the year.
Only 11% of neighborhoods saw a rent increase; Inwood was the sole Manhattan neighborhood to see an appreciation.
Coney Island was the hottest neighborhood of the year, with prices increasing 7.78%.
Little Italy was the coldest, with prices decreasing 17.24%.
New York City renters have strong negotiating power, with many landlords doubling their concessions since last year.
Discussion
Overall, our report painted a bleak picture for real estate across New York City over the past year. As landlords scrambled to drop rents and offer concessions to keep tenants during the pandemic, prices fell across the vast majority of New York neighborhoods. In fact, out of the 85 neighborhoods we looked at, only 11% saw rents increase. Inwood was the lone Manhattan neighborhood to see an appreciation.
On average, across every neighborhood we studied, rents dropped a significant 6.25%. This was an even steeper decline when compared to the 5% average decrease that we reported on in July.
While rent drops were widespread across the city, pricier areas in Manhattan were hit the hardest. Places like the Fort Greene also saw a modest 3.7% rise. Coney Island saw the most growth with a 7.8% increase, though much of this was due to the opening of 1 Ocean Drive, a 22-story, 211-unit luxury oceanfront rental building. This building launched in December 2019, driving median neighborhood rents upward.
NYC Renter's Market
The current climate strongly dictates a renter's market. Our dataset shows that landlords across the city have been open to dropping gross rent prices, offering considerable concessions like free rent or reduced deposits, and in some cases even both. In particular, many luxury high rise buildings have increased their incentive schemes, doubling concessions since pre-COVID times.
Renters in New York should know that they have increased negotiation power at this time, and should always consider their options.
Neighborhoods With the Largest Rent Increases
Coney Island, Brooklyn — +7.78%
Kew Gardens Hills, Queens — +5.35%
Fort Greene, Brooklyn — +3.67%
Bensonhurst, Brooklyn — +3.13%
Briarwood, Queens — +2.75%
Neighborhoods With the Largest Rent Drops
Little Italy, Manhattan — -17.24%
Upper West Side, Manhattan — -16.67%
Chelsea, Manhattan — -16.18%
Hell's Kitchen, Manhattan — -16.16%
Flatiron District, Manhattan — -15.79%
Methodology
This report analyzed the New York City rental market using millions of rental listings drawn from the RentHop database during the third quarter of both 2019 and 2020 (July 1 – September 30, 2019 and July 1 – September 30, 2020). Median one bedroom rent prices for each year were then compared to calculate the yearly percentage change in price.
Data was gathered for every neighborhood in NYC, excluding those with fewer than 50 rental listings over the respective quarter. It should be noted that given the low listing density in Staten Island, neighborhoods from this borough were excluded as they did not meet the minimum 50 listing sample size criteria. Sub-neighborhoods, such as Koreatown and Rose Hill, were combined into larger neighborhoods to ensure consistent comparisons and listing counts.
For more information on our methodology, or to contact our data team, please email press@renthop.com.
Full Dataset