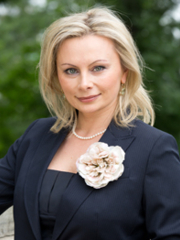 Nicole Manners
Bond New York
nmanners@bondnewyork.com
(718) 650-9868
Agent Profile
Nicole Manners understands that buying, selling or renting a home is a life-changing event for any family or individual. "I approach every client with a personal commitment to quality, care and the utmost attention to every transaction." To Nicole, "being of service is not a profession-it's a lifestyle."

Pairing a personal passion for New York City living with 20 years of professional experience in New York City real estate, along with a background in finance and economics, Nicole is a full-service broker who is known for creative thinking, knowledge and deep understanding of the market. Nicole has proven to be a reliable bridge-builder between her clients and other business professionals in the industry. Her everyday clients are investors from all over the world, homeowners, renters; people who are moving to New York City for the first time, as well as New York-born residents. "Assisting people in finding a perfect home and making the right investment decision is an honor. I enjoy tremendously helping and navigating my clients through the complex processes of real estate transactions."

Years of experience and degrees in Economics, Finance, and Accounting, provides Nicole with an ability to understand each client's unique situation and guide them to value-sensitive solutions. "As a real estate broker, I take pride in serving as a trusted resource for each of my clients." Languages Spoken: English, Russian, French, Arabic.
Apartments for Rent in Top Cities

Fair Housing and Equal Opportunity
© 2009 - 2023 RentHop.com™