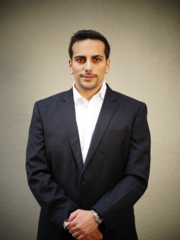 Aviv@SpireGroupNY.com
(646) 415-0051
Agent Profile
Aviv Kedem fell in love with the vibrant New York landscape and Real Estate market from the first time he landed on US soil.

He brings a fresh and unique approach to the New York real estate market. Having moved from Israel in 2019, Aviv hit the ground running. He embarked on a comprehensive survey of the
state's real estate practice and today boasts a solid understanding of the New York Real estate market.

He seeks to incorporate 21st century digital marketing strategies, inspired by industry leaders to enhance the real estate experience for his clients.

Aviv holds a bachelor's degree in Economics and Management from the Academic College of Tel Aviv, Israel. He has also served as commander in the Israeli Army as a Senior Sargent and has excellent people management skills. A solution-oriented person, Aviv has been fascinated by the unique New York real estate market.

He seeks to apply his value for honesty, bespoke customer experience passion, for the myriad of existing and prospective buyers and sellers in an ever-evolving market. Aviv also believes in the ripple effect that hard work provides to those who invest in their trade and clients.

Using innovative techniques, and consistently delivering to his clients' expectations, Aviv will hold the client's hand and guide through the entire transactional process. His background in Economics and Management guarantees professional services, transparency, and value for their money.

At a personal level, Aviv has a passion for genuinely helping people and helping them achieve their goals. He has encountered the struggle many have to endure while looking for an apartment in New York and is keen on helping people find their dream apartments. Aviv is always keen to stick to his clients' needs and
satisfaction.

A unique aspect about Aviv's approach will have you find an apartment within the shortest time. He enjoys seeing his clients have a seamless transition. Whether it is navigating the way for first timers or finding the next property for you - you can always trust Aviv will have your needs met in record time.

In his free time, Aviv enjoys soccer, surfing, and Footvolley, activities he admits refresh his mind to give him ample time to serve his clients. Neighborhood Expertise: Hell's Kitchen, Chelsea, Upper East Side Languages Spoken: English, Hebrew.