Rent Stabilized vs Rent Controlled Apartments
More than likely, you'll come across the two following terms during your search: Rent-Stabilized and Rent-Controlled. In New York, these are the current two forms of rent regulation. How are they different? Let's take a peek.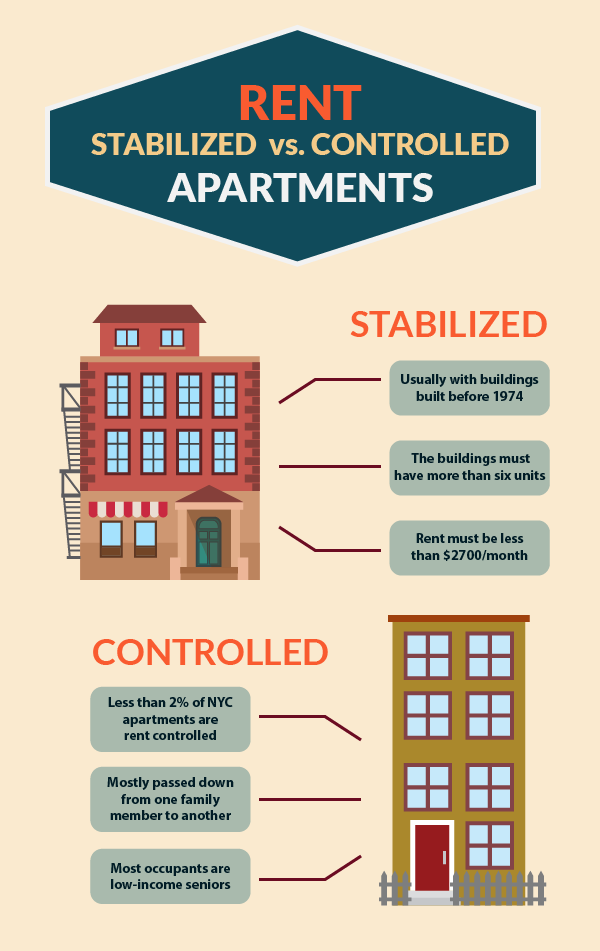 ---
Rent Stabilized
Rent stabilization sets maximum rates for annual increases in rent, and entitles tenants to receive services from their landlords and to have their leases renewed.
Rent stabilized apartments can generally be found in buildings that were built prior to 1974. The buildings must have more than six units and the rent must be less than $2,700/month. Though most rent-stabilized apartments will not be advertised as such, it's easy to tell by looking at the listing price, building age and the lease. The lease for a rent-stabilized apartment will usually come with a rider that states financial concession to the rent.
---
Rent Controlled
Rent controlled apartment started in 1920 after WWI to combat the high rents and rent strikes caused by a severe housing shortage in New York City. Nowadays, rent control is no longer in use and less than 2% of NYC apartments are rent-controlled. Only people currently living in rent-controlled apartments are able to do so if it is inherited from a family member. These apartments are then essentially passed down from one family member to another. Most occupants of these apartments in New York City are an elderly, low-income population.
---
Finders Keepers
Check out the New York City Rent Guidelines Board for a complete list of these apartments.