Types of Apartments
Just as there are many options of who to live with and areas within New York City, there are also various types of apartments. Depending on your price range, choice of neighborhood, and living situation, you may also need to decide on what type of apartments to live in.
It is important to note that in New York City, a bedroom is a living space used to sleep. A bedroom must meet the following criteria:
A minimum floor space of 80 square feet,
At least one window,
It cannot be counted as a bedroom if you must pass through it to reach other parts of the apartment.
The following is an example of an illegal bedroom that does not have a window or 80 square feet of space.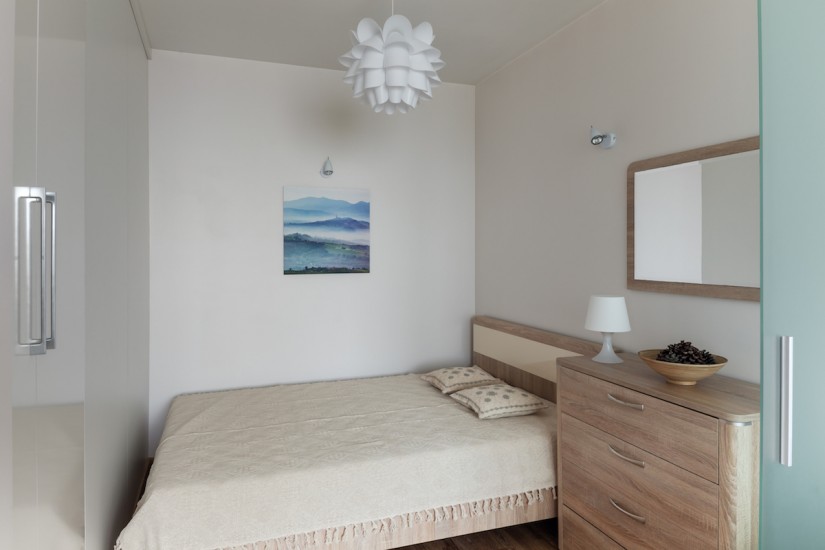 Image Credit: "What is considered a legal bedroom in NYC?" Brick Underground
To learn more about the average price of different apartments, refer to RentHop's stats and trends.
Here's a list of common apartment-type terminology you'll come upon:
Types of studio and single occupant apartments
Studio
A studio apartment is a one-room space with a kitchen and a full-size bathroom. A studio apartment does not have a separate bedroom, and tenants place all their belongings in a single room. Some renters may get creative with how they utilize their space and use murphy beds, extendable couches, or day beds to serve as both bedroom and living room furniture.
While a typical studio consists of a single rectangular-shaped room, there are variations in a studio that may appeal to certain renters.
Alcove Studio
Instead of a rectangular room, an alcove studio has an L-shaped layout, where the extended portion serves as a sleeping nook. Some people may use a room divider to create a separation between the living and sleeping space. Additionally, this arrangement may be more popular with couples who co-occupy a studio, allowing them to occupy different areas of the unit if needed.
Convertible Studio
Similar to an alcove studio, a convertible studio has the potential for a separate sleeping area. With a convertible studio, though, tenants have the option to put up a wall that physically separates the space. Again, this arrangement is good for couples or even two roommates looking to split space.
Micro Studio
While a studio apartment is typically on the smaller side, a micro-studio takes this idea further and consists of a small amount of living space. Sometimes, a micro studio unit may have high ceilings and unique storage possibilities, allowing residents to get creative with how they organize their area. Some micro studios may not have bathrooms in the unit but communal bathrooms in the hallway. While this living situation is not ideal for everyone, those staying in the city for a short period or students without a lot of belongings may find this lifestyle appropriate.
Junior 1 Bedroom
This setup is a step between a studio and a one-bedroom apartment, where a small separate room can serve as a bedroom or other space, like an at-home office.
Loft
A loft apartment is usually one large room that has high ceilings. These units exist in buildings that developers renovated from commercial purposes into residential apartment units. Initially, these old units were popular among artists and creatives who wanted a space to work and live. Loft units are now popular among various renters, as they have an appealing amount of space.
Loft units are standard in neighborhoods like SoHo, Williamsburg, and DUMBO.
Types of multi-bedroom style apartments
Convertible (Flex)
A convertible is an apartment with enough space to add a bedroom, typically by turning the living room into a bedroom. For example, a large one-bedroom apartment with a significantly-sized living room can qualify as a two-bedroom flex, meaning there is one bedroom with the potential for a second bedroom. When looking for apartments online, a one-bedroom/two-bedroom flex may be cheaper than a two-bedroom apartment, as you essentially compromise the space of a communal area to turn it into a bedroom.
Some apartments may charge a fee to install drywall for the new bedroom. Some may not let you install a wall at all, so gather this information while communicating with the landlord or agent before applying.
RentHop allows those advertising apartments to disclose if a unit has a flex option or not. Additionally, the site's compliance team regularly checks listings to ensure advertisers correctly market their flex listings to provide renters with accurate information. You can also filter your searches to exclude flexes.
Duplex/Triplex
A duplex or triplex indicates the number of levels in the apartment, where the second or third-floor levels serve as bedrooms. An entire family may use a duplex or triplex, or a landlord may purchase the whole apartment and then rent out the floors. Each floor may then become a space for an individual resident.
Railroad Apartment
Railroad apartments typically exist in smaller, older buildings with straight floor plans. Three or four rooms are usually connected without a hallway, forming a long and thin rectangle. Bedrooms can be on either side or in the center. This type of apartment is not as popular with roommates as you may have to cross through one room to get to the other, but it can be advantageous among families with younger children.
Wing Two Bedroom
A two-bedroom apartment with a living room in the unit's center separates the two bedrooms. Roommates enjoy this style as it allows them to have a separate side of the apartment.
Floor-Through
Popular in brownstones, this kind of apartment spans the entire length of a building. Typically, windows at both the front and back of the home allow air circulation and natural light.
Additional kinds of apartments
The following apartments may simultaneously fall under one of the apartment types discussed in the above categories. For example, you may rent an alcove studio in a cooperative building.
Garden Apartment
A garden apartment has access to a backyard and almost always is on the ground floor, but sometimes can also be on the basement level. While this may sound appealing to some, you should consider that living on the first floor or below presents challenges in New York City.
An apartment on the ground floor is more susceptible to pests and rodents. Additionally, this kind of unit poses a security risk, as it is significantly easier to break into a window at ground level than to try to scale a fire escape to get into a higher-up unit. Therefore, you should consider extra safety precautions and pest control if you plan to rent this style of apartment.
Pre-War
A pre-war apartment was built between WWII, from 1900 to 1939. The communal areas and individual units may have intricately patterned floors, molding, and other unique decorative features in this building style. For this reason, many renters like pre-war apartments as they do not look like modern units and do not include typical modern finishings that most management companies use.
These buildings are usually walk-ups without elevators that have smaller bathrooms and closets. If that doesn't bother you and the style of a pre-war aligns with what you're looking for, this may be an interesting unit to seek out.
Walk-up
A walk-up building is one without an elevator, meaning you must walk up flights of stairs to get to your apartment. While most walk-up buildings are six stories or less, there may some older buildings with more stories and no elevator. Under current regulations, any newly constructed building over six stories must have an elevator.
If you have not lived in a walk-up building before, you should recognize that you will have to move into your apartment without an elevator. If you hire movers, they may charge extra to accommodate this move, especially if your unit is on a higher floor. Additionally, living on a walk-up's fifth or sixth floor will impact your day-to-day. You may need a hand carrying groceries or other items. If you do not have a washer or dryer in your unit, you must transport your laundry up and down the stairs.
Condo
Renting is condo unit is different from renting an apartment unit, as you will likely interact directly with the owner of that individual condo, as opposed to a landlord or management company who rents out every unit in the building. When you rent a condo, you will usually rent a high-quality unit that is well maintained and cared for. However, your landlord may not rent out many units and may be inexperienced, which could work in your favor if they are overly attending to your needs or turn into a problem if they cannot efficiently deal with complaints and repairs.
Condos and apartments can look very similar. The main difference is their ownership style and who you will communicate with to pay rent and report issues.
Co-operative (co-op)
In a co-op unit, someone rents from a small landlord instead of a management company. Renters benefit from shared amenities and well-maintained areas and they likely become a part of the building community. Rent may be on the lower end compared to units in the area, but you may have to pay co-op fees to help keep the building in good condition. Some landlords may work the co-op fees into the monthly rent to make the monthly payment process easier. Additionally, the rental application process may take longer and require more paperwork than another building type.