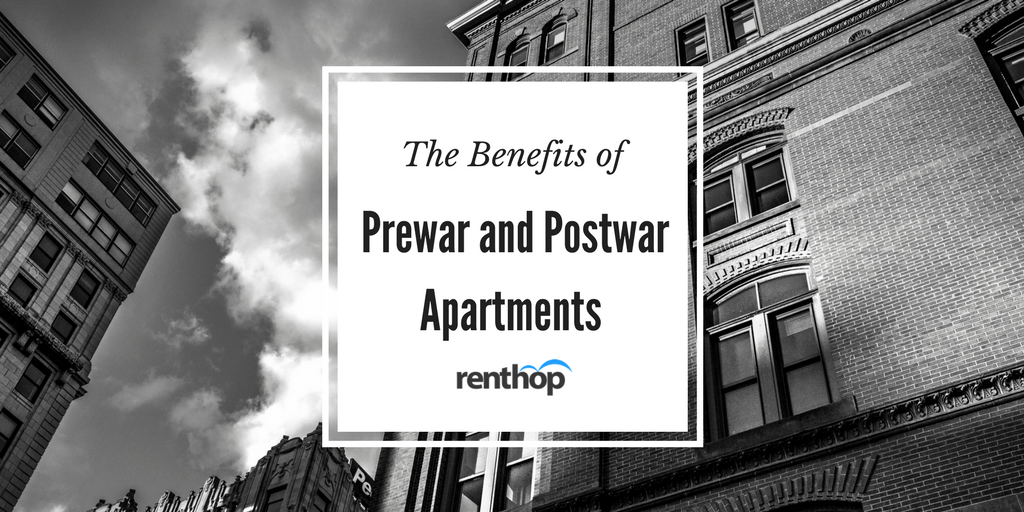 When it comes to renting an apartment in NYC, there are two main choices you have in terms of architecture. The two choices are a prewar apartment and a postwar apartment. These styles each have their own intricacies and nuances. In general, a prewar apartment is one that was built before World War 2, and a postwar is one that was obviously built after it, but generally before the 1990s or so.
Each of these styles has their own unique benefits and selling points, which you will learn about within this article. Some people prefer prewar, while others swear by postwar. Either way, the benefits included in this article should help you to decide which you prefer. So without any further ado, here are some of the many benefits of a prewar vs. a postwar apartment.
Benefits of a Prewar Apartment
1. They have more character
One of the biggest selling points and benefits of a prewar apartment is the fact that they aren't "cookie cutter" like most new apartments are. Most postwar apartment units all look quite similar and many in a similar building will have the same layout. Prewar apartments often have higher ceilings, unique layouts, thick walls and more space. They are sometimes easier to see as "your own" as opposed to postwar, in which your unit is just one of many in a huge building. While many like prewar character and layout, others will prefer the more modern style and design of a newer apartment, it all comes down to personal preference.
2. Often have more structural integrity
You always hear about older buildings, homes, and apartments being better built than newer ones, and most of the time, that is true. Many prewar buildings have solid concrete floors, plaster walls, thick doors, and other design choices that are high quality and meant to last. These can go through decades of abuse and still come out looking good, while most newer apartments are fairly fragile under the surface. There is a reason why these prewar apartments are still liveable and in good condition after nearly 100 years of use, and that is because they were built well.
3. Often quite a bit quieter
Because of the aforementioned structural integrity and quality build, most prewar apartments are quite a bit quieter than newer postwar apartments, as the materials between each unit are often thicker. This isn't to say that more modern apartments are noisy, but they are generally more economical and efficient to build, which might sacrifice some of the quality that these near 100-year old prewar buildings possess. While the postwar buildings might have better soundproofing technology, they are simply constructed with cheaper, thinner, and more economical materials. Of course, you will find some prewar apartments with little to no soundproofing (and can also find postwar apartments with great soundproofing), but generally, older construction has better protection from you having to hear your neighbors guitar solos.
Benefits of a Postwar Apartment
1. More amenities and features within and near the apartment
Perhaps the biggest benefit and selling point of postwar apartments is that they often have more amenities than the older units. Whether this is an elevator, a fitness center on-site, a doorman, or a variety of other amenities, newer postwar buildings have the edge. Technology and standards have also approved, which means your postwar apartment might have a number of other features within the apartment that a prewar might not have such as central A/C, in-suite washer and dryer, bigger windows, dishwasher and more. They often also have a more modern design, which is definitely something that many people prefer over the older prewar apartments.
2. Often less costly in terms of rent
While many would think a newer building would be more expensive in terms of rent, this isn't always the case. In fact, most prewar apartments are actually more expensive as there is a fairly limited supply of good ones and a demand that far exceeds that supply. As a result, renting in a prewar apartment can cost you an arm and a leg. There are many more postwar apartments out there, which means they operate closer to an equilibrium, which means cheaper apartments for you for the most part! Of course, there are millions of apartments out there, so of course, you will be able to find cheaper prewar apartments and pricier postwar apartments as well.
3. More energy efficient/cheaper bills
In addition to often paying less in rent, you will often pay less in utilities in a newer building as well. This is because most new buildings take into account how energy efficient their units are, while many prewar buildings were not built with that being taken into account. Things like energy efficient windows and appliances can help to dramatically lower your utility cost each and every month. This can help a lot especially during cold winters where your heater/furnace is running day in and day out.