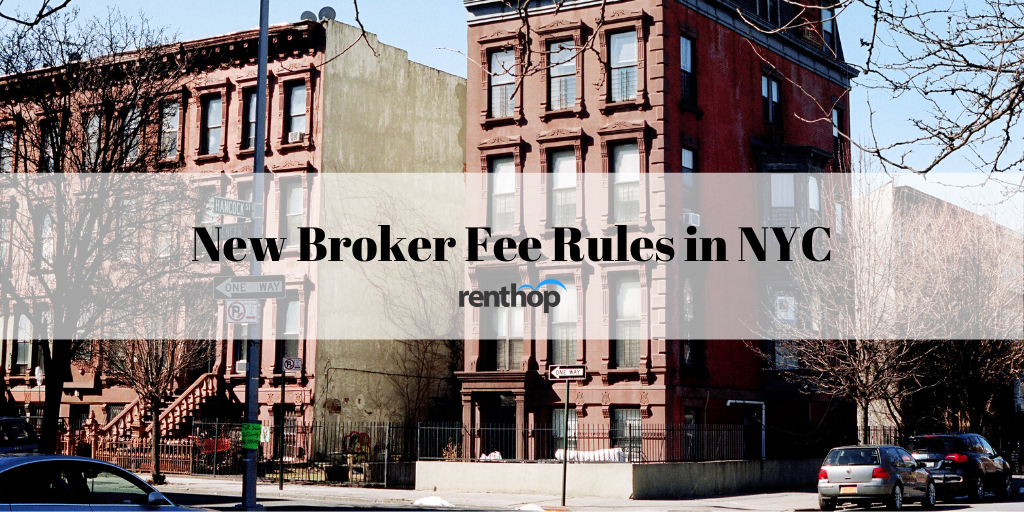 UPDATE August 10, 2020 – In light of the legal battle currently being fought over the legality of the new broker fee rules, a NY State Court has temporarily barred the new broker fee rules from going into effect. The real estate industry and state regulators have postponed the court date to adjudicate the legality of the new broker fee rules until September 2020, at the earliest. As of this update, and until the NY State Court comes down with a final decision, both tenant's and landlord's agents are permitted to collect broker fees in NY State.
On January 31, 2020, the New York Department of State issued guidance holding that a "landlord's agent" may no longer collect a broker fee from a tenant. Below is an excerpt of the guidance itself:

Despite click-bait headlines proclaiming "No More Broker Fees," a key point often overlooked in media reports is that the guidance only applies to landlord's agents, meaning that an agent who represents a tenant (rather than the landlord) can still collect a broker fee from that tenant.
From a renter's point of view, it can be difficult to tell whether they are working with a "landlord's agent" or a "tenant's agent" when looking for an apartment.
The clearest example of a landlord's agent would be an agent who has an exclusivity agreement with the landlord, meaning that they are the only agent permitted to market and rent the apartment. Such an agent would almost certainly be prohibited from collecting a fee from renter under the new guidance.
However, the majority of apartments in New York City are "open listings" — meaning that no single agent has an exclusive right to advertise and rent the apartment. Open listings are generally shown by "tenant's agents" — these are agents that don't have a preexisting relationship with the landlord.
While a tenant's agent is technically allowed to collect a fee from a renter even under the new rules, it's important to note that many (if not most) open listings are "no fee" because the landlord has agreed to pay a broker fee (an "OP" — owner pays) to the first agent to bring them a viable tenant.
If an agent states that an apartment is no fee, the tenant shouldn't be concerned about whether they're working with a "landlord's agent" or a "tenant's agent" because they won't be paying a fee regardless of the agent's classification.
That said, some open listings may not be offering an OP to the agent, and in those cases, because the renter is working with a tenant's agent, the tenant may be on the hook to pay the agent's broker fee.
Given the recent guidance, agents are incentivized to be extremely clear at the outset of their relationship with a tenant that they are acting as a "tenant's agent" and are permitted to a collect a fee from the tenant.
And from a renter's point of view, it's always best practice to ask your agent whether they'll be showing you apartments that carry a fee before heading out.
All that said, the dirty little secret of NYC rentals is that apartments charging a fee are often the best deals on the market. "No fee" apartments generally carry a higher monthly rent because the landlord bakes the cost of paying the broker fee into the rent price. In many cases, apartments with fees carry lower monthly rents and can be incredibly good finds, particularly if the tenant doesn't plan on moving for a few years and can offset the cost of the fee over several lease renewals.