Which NYC Neighborhood Should You Move To?
Originally posted on May 30, 2019 11:37 am
Updated on May 30, 2019 12:12 pm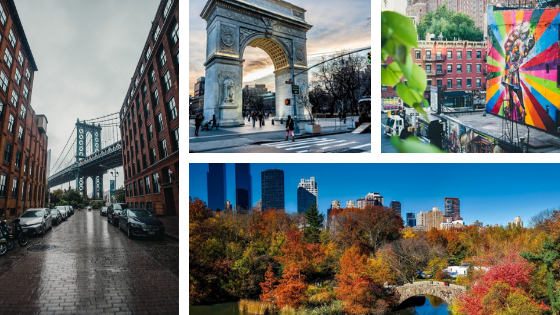 We all have different needs, and if you're a New Yorker, you're lucky in that you can get literally anything you want in this city. In this article, we go over which New York neighborhood are best for particular interests.
---
Which New York neighborhood is best for people who are obsessed with convenience?

UNION SQUARE

Union Square is well connected to everything in the city, as 14th Street – Union Square Subway Station has the 4,5,6 (fastest trains to get to the Upper East Side), the L (your ride to Williamsburg or to the West side), the N (which will take you to 33rd St station if you're looking for PATH or 34th st for NJT), the Q (which will take you to Queens or all the way to Coney Island), and the R and W (various stops from Brooklyn to Queens).

Union Square itself is a hub, boasting shopping, fine dining, bars, yoga studios, a cinema, and grocery shopping at Trader Joe's or Whole Foods. In the summertime, Union Square Park comes to life with parades, street artists, and vendors. At the heart of everything, but not in the center of the busiest districts like Times Square or Financial District, Union Square is one of the easiest places to enjoy the best of the city.
Which New York neighborhood is best for Weekend Warrior?

CHELSEA

If you aren't the type to Netflix on the weekends, Chelsea might be the spot for you. Here, you can find an almost never-ending list of great weekend activities. When the weather is right, residents of Chelsea can step out to The High Line, NYC's 1.5-mile-long elevated park that looks out over the Hudson River. If the New York winter has set in, you can explore Chelsea Market, nearby museums such as The Rubin, or one of the many art galleries. For late nights, head to the Meatpacking District's swanky clubs, and for boozy brunches check out The Standard Grill and Bagatelle.
Which New York neighborhood is best if you need nature?

PARK SLOPE

Park Slope borders the 526-acre Prospect Park, which is one of the best places in the city to get lost in nature for the day. You can fish, paddle boat, wander along the trails for over 3 miles, or go bird watching to try to spot one of the 250 species of birds passing by. If the New York chill has settled into your bones, check out the Desert Pavilion, Tropical Pavilion, and Warm Temperate Pavilion (all toasty all year long) at the Brooklyn Botanic Gardens. If the beach is more your thing, you can get to Coney Island direct on the F line from 7th Avenue Station.
Which New York neighborhood is best if you want to have the classic New York experience?

UPPER EAST SIDE

If you're looking to live the classic New York life you've seen in the movies, look no further than the Upper East Side. Take a stroll in the iconic Central Park, go luxury shopping on Fifth Avenue, and see some of the most famous artifacts in the city at Museum Mile. This neighborhood, which reaches from 59th street to 96th street, features Beaux Arts mansions and French Renaissance townhouses, with the East River just a walk away.
Which New York neighborhood is best for summer fun?

DUMBO
Home of the best rooftop views in the city, you'll be able to chill outside all summer long. If rooftop access isn't in your price range, you can head down to Brooklyn Bridge Park to spend a day in the sun or at a free event, check out an al fresco show at Bergemusic, or climb The Cliffs at DUMBO. You can easily catch the ferry from Pier 6 to Governor's Island, NYC's carless escape, for some relaxation time or to check out one of the island's festivals.
Which New York neighborhood is best for freelancers and remote workers?

WILLIAMSBURG

Williamsburg is home to some of the best co-working spaces and coffee shops of the city, all pretty much within walking or bike-riding distance of each other. Check out Devocion on Grand for its natural lighting, Variety on Graham Ave for its spacious seating options, and Sweatshop on Metropolitan Ave for its interesting design features and avocado toast. All have WiFi and plenty of space to spread out and work. If a proper coworking space is more your thing, head to The Brass Factory or one of the two WeWork or The Yard locations in Williamsburg.
What New York neighborhood is best for the health-obsessed?

UPPER WEST SIDE

If you don't mind navigating the stroller-filled sidewalks and health is a top priority for you, consider the UWS. Here, you have two locations of the ever-popular Equinox, Pure Yoga West, FlyWheel, two SoulCycle locations, Pure Barre, SLT, Refine Method, Fhitting Room and a plethora of other yoga and fitness studios. If going your own way is more your style, head to Riverside Park or the Waterfront Greenway Bike Path, which will take you all the way around the island. For eating options you have plenty of healthy cafes, including fast and delicious Sweetgreen salad shop, vegan Peace Food Cafe, and two Juice Generation locations.
Which New York neighborhood is best for finding unpretentious but awesome eating and drinking spots?

ASTORIA
This Queens neighborhood has all the hot spots, without all the highbrow people. Located right alongside the East River, north of Long Island City, Astoria is most-well known for its Greek population. However, in recent days it's seen a huge influx of varied food and drink options. For drinks, head to Sweat Afton for their whiskey list, Sek'end Sun for their craft cocktails and Instagrammable Queens sign, or the institutional outdoor Bohemian Hall Beer Garden for a summertime chill. For eating, try The Strand Smokehouse, a cool garage-feeling open-air BBQ spot, The Bonnie for a boozy brunch, and Telly's Taverna for amazing Greek fare and seafood.
Which New York neighborhood is best for thrifting?

BUSHWICK

For some, thrifting might not be a reason to move to an area, but if you're serious about buying preloved fashion, you know that to get the best finds, you have to show up, a lot. As Brooklyn's most trendy spot of the moment, Bushwick is the surefire place to give you the best in thrifting right now, without the expense. Urban Jungle is one of the best vintage spots for men, Collections is a tiny shop that boasts designer dresses on the cheap, and Worship supports local artists by hosting pop-ups and intimate concerts.
What New York neighborhood is best for seeing comedy shows?

GREENWICH VILLAGE

If funny every night of the week is what you're looking for, you got to be in Greenwich Village. Here, you can find The Comedy Cellar, which is one of the most famous comedy hubs of NYC and has comedians such as Amy Schumer and Chris Rock stopping by. The Greenwich Village Comedy Club also has famous guests during their nightly All Star Stand Up Comedy Shows. Other stand up spots include The Grisly Pear Comedy Club, The Lantern Comedy Club, and Comedy Village.