Originally posted on August 30, 2017 1:38 pm
Updated on September 05, 2017 1:05 pm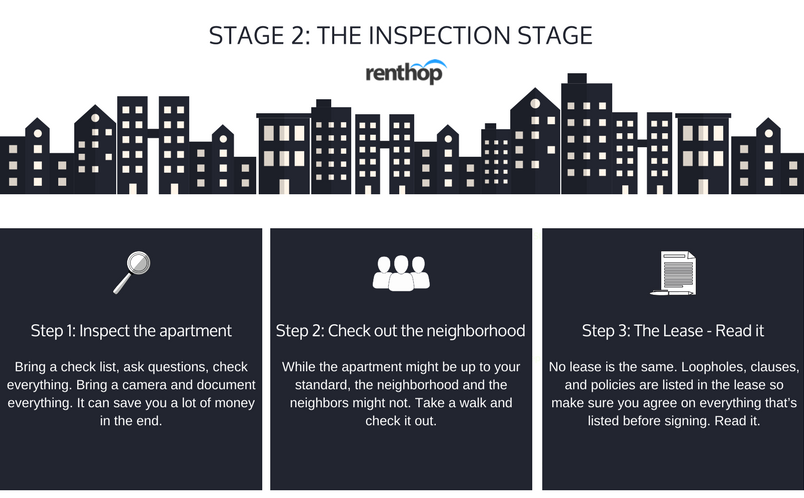 Last week, we went over stage 1 in the rental process, the research stage. As a recap, always make sure you do your research when it comes to your own finances and your credit history. Those two things are going to secure you an apartment, so you need to be aware of how much you can afford and how good or poor your credit history is. If you missed the article where we went over the research stage, don't worry. We have it right here. Now, we'll move on to stage 2: the inspection stage.
Stage 2: The Inspection Stage
---
Step 1: Inspect the apartment thoroughly
Make sure you inspect the apartment thoroughly, and when we say thoroughly we mean "get down on the floor and look at that tiny crack" thoroughly. The landlord is responsible to disclose anything that might be wrong with the apartment. But that doesn't mean they always will. Ask questions and bring a checklist with you when viewing the apartment for the first time. There are several free resources for this as well online but some important questions to ask are:
Has the apartment ever had any history with rodents? And when was the last time the apartment was exterminated?

Is there any history of mold, infections, etc?

How thin are the walls? Soundproof much?

When was the last renovation?

Have there ever been any issues with the electric, the heat, etc?
When viewing the apartment for the first time, bring a camera. Be sure to document any cracks or broken doorknobs that can come back and haunt you later. You do not want to end up paying for repairs that were there before you even moved in. Make sure you move into a fully functioning apartment, not a fixer upper…
---
Step 2: Check out the neighborhood (aka the neighbors)
So the apartment checks out, what's next? The neighborhood and the neighbors of course. While the apartment might be all up to standard, a landlord or an agent rarely give you any information on the neighbors. You might be able to get some information on the neighborhood in general, but assume this is just the good stuff.
If the landlord/agent won't give you any information on the neighbors or the neighborhood, walk around and see if you can't bump into any neighbors. The apartment itself might be great but the majority of us don't want to sign a 12-month lease for an apartment located in a rough neighborhood or where your neighbors are too loud for your liking. After signing that lease there's not much you can do about it so be proactive.
---
Step 3: The Lease – Read it, don't skim it
The lease might be one of the more important documents you'll ever read so make sure you read it thoroughly. Loopholes, clauses, and policies are listed on the lease and you want to make sure you agree on everything that's listed in the agreement before signing it. A lease agreement can include many things, but normally there are certain things any lease agreement has in common, such as:
Rent: Make sure you read this part so you know what will happen if you happen to be late paying rent. Also, it's smart to check if the landlord allows late payments.
Repairs and maintenance: Who is responsible for what when it comes to repairs and maintenance? And also, who pays for what if something is broken?
Pets: This might be specific but you never know if you might get a pet further down the road. You might want to check if your apartment allows pets.
Renewal clauses and policies: Will rent increase if you sign a renewal clause?
Subletting: Are you legally allowed to sublet your apartment? You might want to check this section before subletting your apartment, as it might be illegal to do so.
Renovations: Are you allowed to make any renovations and alterations to the apartment? If so, get it in writing. You don't want to pay to get the apartment back to its previous condition when moving out.
Security deposit:

When will you receive your security deposit when moving out?
There are tons of things you need to cover when going over the lease. If you don't, you might end up signing something you didn't agree too and that might put you in a pickle later on.
***
The rental process is a process you shouldn't take on lightly. If you want everything to go smoothly, prepare yourself. Calculate your maximum rent and know what you can afford and be aware of your credit history before you start searching for apartments. Then, when you find one you like, make sure you inspect both the apartment and the lease before signing anything. You won't be sorry you invested a decent amount of time into the rental process in the end.