Things you need to think about before renting an apartment: Part 1
Originally posted on August 30, 2017 1:38 pm
Updated on August 31, 2017 10:30 am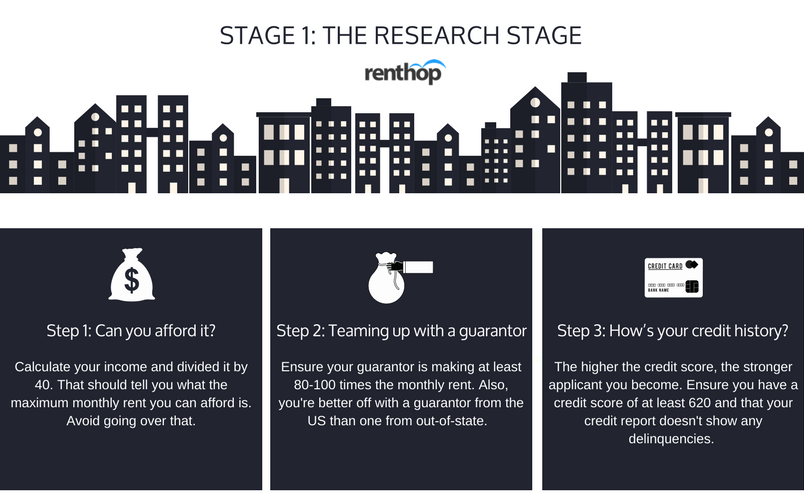 Renting an apartment is easy. Or is it? Renting an apartment is more than just signing some papers and then getting handed the keys. Usually, there are more people than just you interested in the apartment. There are also requirements of you as an applicant that you need to be aware of. The rental market moves fast, especially in the bigger metropolitan areas, which might force you to act fast to secure an apartment. So be aware what the rental process requires from you as an applicant to make sure securing an apartment won't be harder than necessary.
Basically, you can divide renting an apartment into two stages; the research stage and the inspection stage. The research stage being the stage before you actually view an apartment. Stage number two, the inspection stage, is the stage when you've found an apartment you like and you're ready to sign the lease.
Stage 1: The Research Stage
---
Step 1: Can you afford it?
If this is your first time renting an apartment there are several things you need to consider. The number one thing being; Can you afford it? We get it. You want the best, you want the a-typical bachelor pad with all the amenities. But can you afford it?
There is something called the 40-times rule that you need to acquaint yourself with if you don't already know about it. When looking at apartments you will be asked if you can show that you will be making 40-times the rent. This is normal. Some even ask for 50-times the rent! So calculate your income, pre-tax, and divide that by 40. That will help you calculate the maximum rent of what you can afford. If you can't make 40-times the rent you might have to use other resources, such as using a guarantor.
---
Step 2: Teaming up with a guarantor
So you got someone who is willing to be your guarantor, great! All set then, right? Not that fast. Just as a landlord/agent will be demanding you as a renter meet certain requirements, the same goes for a guarantor. Usually, a guarantor, also known as a co-signer, have to meet certain requirements because they take on the responsibility of covering the cost of rent if you as a renter for some reason can't. Normal requirements for a guarantor are usually as follows:
A guarantor is required to make at least 80 to 100-times the monthly rent to ensure they are financially stable to cover any outstanding debt if you as a renter can't.

A guarantor from out-of-state is less likely to be accepted as a guarantor than a guarantor from the US.

Most landlords and agents only want one person to appear as the guarantor.
If you can't find someone that covers those three requirements, all hope is not lost. There's always the option of using a guarantor service. Take note that such services usually charge a high fee.
---
Step 3: How's your credit history?
If you are looking to rent an apartment by yourself and no roommates, and not use a guarantor, you need to be aware of your credit score. Don't book any appointments to see apartments if you're not sure what your current credit score is. A high credit score is a requirement for most agents/landlords. Most landlords and agents will not accept renters without a credit score and they also want renters to have a credit score of at least 620, but preferably higher.
Usually, an apartment rental credit check is just as important of a requirement as making sure you can vouch for 40-times the monthly rent. There are tons of free options to check your credit score online, where you can check your credit score as well receive your credit report.
The higher the credit score, the more of a qualified applicant you become. But does that mean you can't rent with a bad credit score? No, not necessarily. While a high credit score is very valuable in the rental process, there are other tips you can take a note of:
If your credit report shows delinquencies and negative info, be upfront about it. If there's a backstory be sure to disclose it.

Provide alternative proof that shows your ability to pay your rent and bills on time. Print out phone, utility, and insurance bills. Anything that can showcase that you on a regular basis pay your bills on time. Printing out your bank statement is also not a bad idea.

Find rentals in a low requirement area. Not all areas are going to have the same requirements.

Paying more up front, or a higher deposit, shows financial stability and some landlords and agents might consider a higher sum of money up front over a bad credit score.

Get a roommate with a high credit score while you take a year to work on your score.
***
Make sure you prepare everything before starting the search for an apartment. Know what you can afford and know your credit score. There is no point in looking at apartments you can't afford. Next week we'll take a look at stage 2: The inspection stage.