Many New Yorkers have experienced running into a film set, but for those that haven't, our newest data study will show you where to go to increase your odds of coming across your favorite actor/actress. Using 2012-2016 film permit data collected by the Mayor's Office of Film, Theatre, and Broadcasting from the NYC Open Data, we were able to determine seasonal trends and neighborhoods that hosted the most filming for TV shows and feature films (aka movies). As we dug through the data we found a steady increase of about 15% over the years in permits filed for television filming. Feature film permits varied wildly, with a large dip in permits during 2014. This lines up with the dip in yearly box office totals that was seen in 2014 from Box Office Mojo.
A production crew is required to apply for a film permit when using production equipment more than a hand-held camera or camera on tripod, requesting parking priviledges, and/or asserting exclusive use of City property, prop weapons, prop vehicles, actors in police uniform or stunts on set.
Permits are reviewed and processed 3 to 4 days before a shoot with the exception of shoots located in Times Square where permits have to be submitted at least 7 business days prior. Production crews are required to submit one permit per shoot date, regardless of the number of filming locations.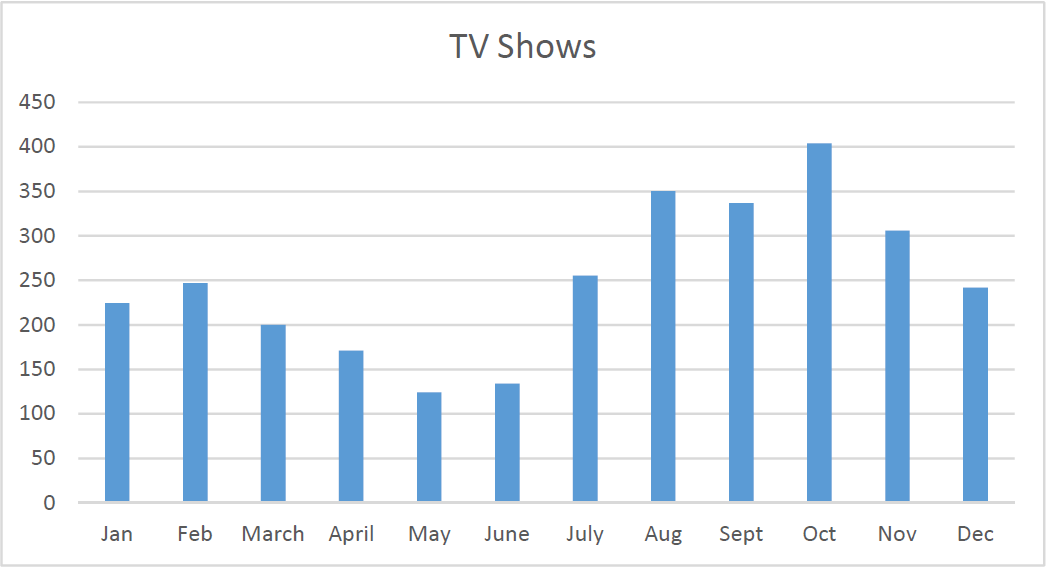 *Average number of film permits filed for TV shows each month of the year using film permit data from 2012 to 2016
Depending on the show and network, TV shows generally premiere around fall. TV shows that are picked up for 13 episodes begin their filming in July and usually complete filming before winter. Similarly, 22 episode TV shows (rarely picked up, but do happen) also begin filming around July but continue fiming well into springtime with a seasonal break during winter for the holiday season.
A quick glance at our graph shows that:
October is the busiest month for production crews with an average of 403 film shoots occurring during the month.
May and June have the least amounts of TV shows being filmed. With an average of only 124-133 film shoots occurring these months. Normally, most production crews are waiting on standby for the networks to announce which TV shows they'll be picking up.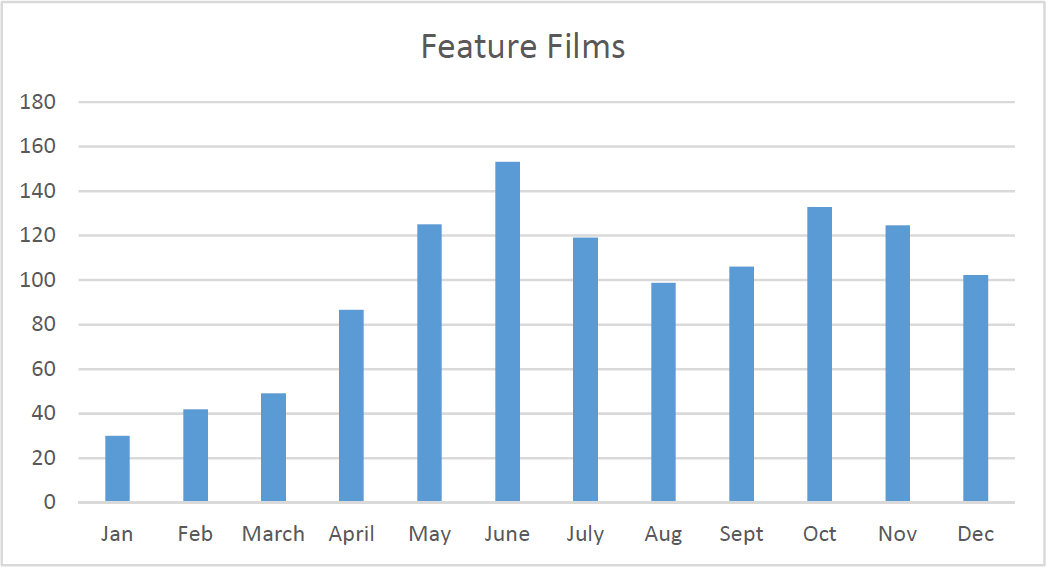 *Average number of film permits filed for feature films for each month of the year using film permit data from 2012 to 2016.
While movies aren't restricted to the same network production timelines as TV shows, directors do face pressure to complete filming before dump months in January and February (occasionally August and September) where there are lower commerical and critical expectations for new movie releases. As evidenced by the data, it's clear that there are slumps of film permits submitted for movie shoots in the dump months mentioned.
With an average of 153 movies filmed, June is the month when you'll see the most movie production crews running around New York.
October comes in second place with an average of 132 movies filmed.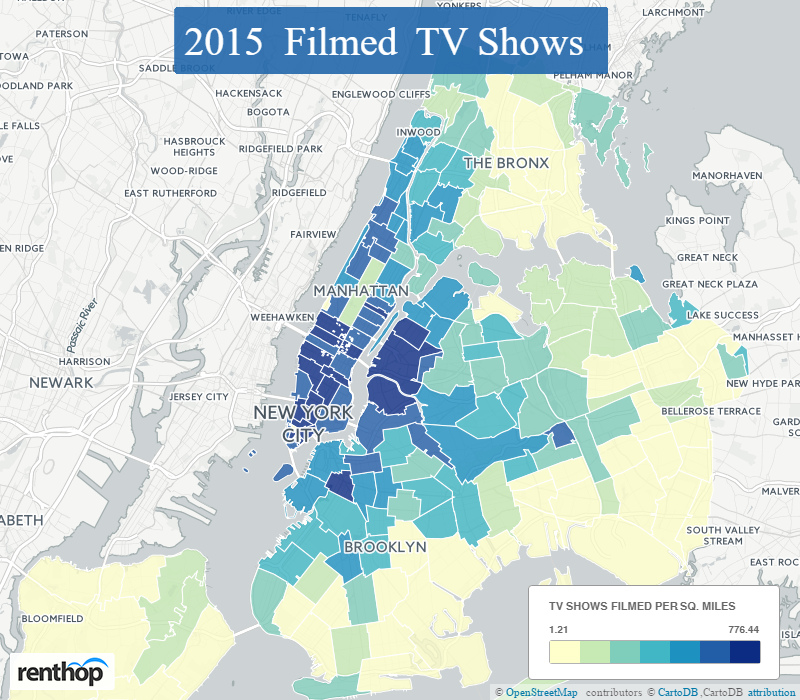 Factors that impact the location of a film shoot include: price, the screenplay, neighborhood atmostphere, and foot traffic in the area. A quick glance at the map reveals that zip codes located in Lower Manhattan and along the East River in Brooklyn were highly desired locations for TV show producers to film at.
10005 (Financial District)
11222 (Greenpoint)
10007 (Civic Center)
10075 (Upper East Side)
10012 (West Village)
Fun Fact: Shows such as Boardwalk Empire and Girls were both filmed in Greenpoint, Brooklyn. The longest running crime drama on TV, Law & Order is predominantly filmed at Foley Square and 1 Police Plaza located in the Civic Center area in lower Manhattan. Other popular shows include Sex and the City and White Collar.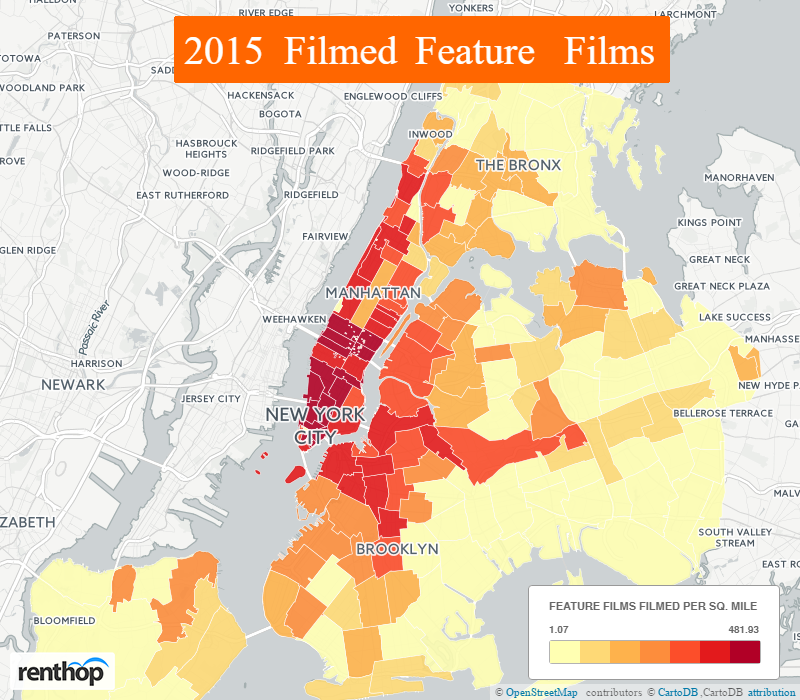 The most desired zip codes to film movies are mainly found within Manhattan in the Financial District, Hell's Kitchen and Penn Station.
10005 (Financial District)
10121/10119 (Penn Station)
10041 (New York Vietnam Veterans Memorial/tip of Fidi)
10036 (Hell's Kitchen)
10006 (World Trade Center)
Fun Fact: Popular movies that were filmed in New York include The Wolf of Wall Street, The Amazing Spider-Man serires, The Big Short, etc.
Mr. Robot: Hell's Kitchen, Whitehall & Bridge St, 25th St & 5th Ave
Girls: Greenpoint in Brooklyn, Silvercup Studios in Long Island City, and Emmons Ave & Norstrand Ave in Brooklyn
Law & Order: Foley Square, 1 Police Plaza, Chelsea Piers
Limitless: West 35-36th St & 7-8th Ave, Ridgewood in Queens, and Waverly & 6th Ave
Elementary: 121st St and 453 West 23rd St in NYC, 42-22 22nd St in Long Island City
Gotham: 630 Flushing Ave and Steiner Studios in Brooklyn, Bay St & Vanderbilt Ave in Staten Island
The Blacklist: 1 Hanson Place, 11th Ave & West 20th St, and Rugby & Beverly in Brooklyn
Blindspot: 16 Waverly Ave and 284 Clermont Ave in Brooklyn, and Ludlow St btw Stanton & Rivington St
Shades of Blue: 62-27 Fresh Pond Rd and 15th Ave btw 117-119th St in Queens and Broadway Stages in Brooklyn
Orange is the New Black: Kaufman Astoria Studios and 39th Ave & 52nd St in Queens, and Rockland Children's Psych Center in Orangeburg
Unbreakable Kimmy Schmidt: 79th St & Amsterdam, Crescent & Ditmars Blvd in Long Island City, and Central Park West & West 80-84th St
Person of Interest: 116th St & Morningside Ave, Monroe & Market St, and 18th St & 5th Ave
Billions: Bingham Rd & West 252nd St in the Bronx, 8th Ave btw Union & Berkley in Brooklyn, and West 4th St & Broadway
Inside Amy Schumer: West 123rd St & Lenox Ave, 30th St & 30th Ave, and Bleeker St & Christopher St
Growing incentives in the form of up to $420 million annual rebates to the film industry and free police assistance from the state of New York have resulted in the growth of the state's growing TV & movie production business. So whether you're looking to bump into your favorite celebrity OR trying to avoid film crews, be sure to look forward to an abundance of film sets around the fall in lower Manhattan (particularly in the Financial District) or neighborhoods along the water such as Greenpoint, Brooklyn.
"Film Permits 2012-2016", NYC Open Data, https://data.cityofnewyork.us/City-Government/Film-Permits/tg4x-b46p.
"Daily Filming Locations", OLV, http://www.onlocationvacations.com/