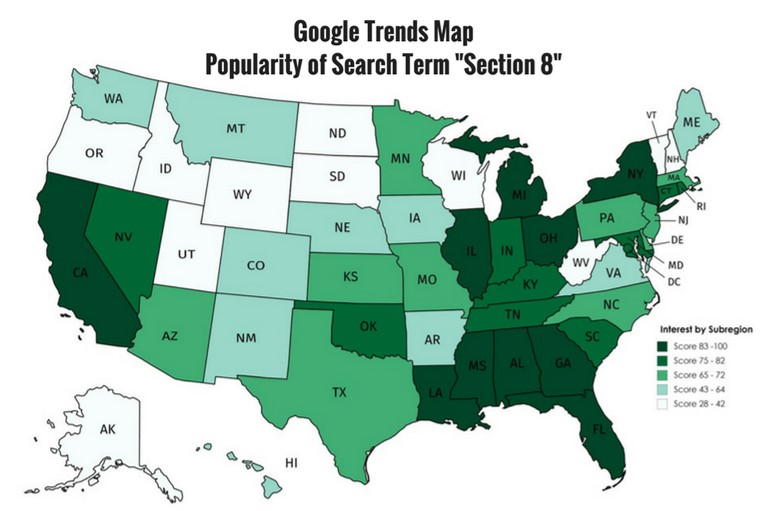 Section 8 is a term most of us have heard being through around in conversation or mentioned on the news. But what is actually section 8? The Section 8 program is a national rental housing assistance program in the United States. It works similarly to the public housing one in that it allows tenants to live in apartments and pay only 30 percent of their income to rent. The section 8 voucher pays the difference. So if you live in an apartment with a rent of $1,000 and you make $30,000 a year, you would be responsible for paying $9,000 a year or $750 a month and the voucher would make up the rest.
Who can get section 8?
The individuals who can be a recipient of section 8 is based on the family's gross annual income and family size. The program works as a rental subsidy that allows families to pay a reasonable amount of their income toward their rent. Usually, this comes out to no more than 40 percent of their monthly income. There is a waiting list to receive section 8. Check to see if you qualify for Section 8 vouchers here.
How do you use a section 8?


If you have received a section 8 you can use it when searching for housing. There are both landlords and agents who accept section 8, alongside with those who don't. Once you find someone who will accept your section 8, NYCHA will pay the remaining amount (also knowns as the Housing Assistance Payment) to the owner of the apartment on the family's / individuals behalf.

Where can you use a section 8?


You can use the section 8 voucher when looking for apartments in either a specified complex or in the private sector. It's not always easy to know which apartment complexes, agents, or landlords accept section 8, so simply ask when inquiring.

What are affordable housing lotteries?
Low-income individuals or families will often find themselves pushed out of the running for apartments due to issues such as low combined income and poor credit scores. The goal of affordable housing lotteries is to ensure the less fortunate don't get left behind. NYC Housing Connect offers lotteries in regards to affordable housing opportunities and the site provides information about how to apply, who is eligible, and currently available housing opportunities throughout the city. Before applying, applicants should review the eligibility guidelines provided by the website. You can read more about finding affordable housing on our site here.
Can I be denied an apartment because I have section 8?


There are plenty of articles out there discussing section 8, and the benefits of renting to people with section 8 and vice versa. Having section 8 is not a bad thing, on the contrary. Section 8 has a purpose, which is to help people who can't pay the full rent. Who accepts a section 8, however, can vary as a landlord can refuse section 8 tenant if they are allowed to by state law (this differs state by state).

Some of the common arguments for renting to people with section 8:


Having section 8 means consistent rent payment. This is a strength and it should make you a good applicant for an apartment. More good things come with having section 8, such as consistent tenant base and pre-screened tenants for the landlord and targeted marketing.
Map explained
From the map shown above one can see the interest over time for the search term "section 8". We used data from Google Trends to showcase the interest over time on a subregion level, with the data going all the way back from 2005 to now. Google Trends scores search queries from 0 to 100, with the value of 100 being the most commonly searched query, 50 being a query searched half as often, and so on. Using the same metrics as Google Trends, we have mapped the popularity of the search term "section 8" by subregion. The subregion where the search term was the most popular was Georgia and Louisiana with a score of 100. The subregion where the search term was the least popular was Alaska who had a score of 28.
***
Section 8 is a helpful tool for those who need it. If you are having issues paying rent, check to see if you qualify for Section 8 vouchers, as this could help you out as a renter tremendously. Check to see if you're eligible to receive the rental assistance voucher. Also, check the links provided in the article for more information on finding affordable housing.