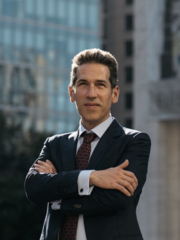 dominique.lavoie@compass.com
(929) 216-0266
Agent Profile
A native French-speaker from Montreal, Dominique moved to New York City in 2004 to pursue graduate studies in philosophy at the New School for Social Research. Real estate in the Big Apple then became a passionate interest of his and a source of ongoing fascination. Before committing to an exciting and demanding career in real estate, he worked in sales, in the service industry, and as a teacher in the New York public school system.
Dominique believes in building lifelong relationships with clients. He offers outstanding customer service and is dedicated to ensuring that clients find their house of dreams in a timely manner. With his background in philosophy and experience as a teacher, he educates clients organically and transparently at every step of the rental, purchase and sales process. His keen understanding of people from diverse backgrounds and his intuitive grasp of client needs and wishes mean that he will support you all along the way as you navigate an extremely complex market. With Dominique at your side, a stressful task will turn into a delightful adventure.
He holds B.A. and M.A. degrees in philosophy from the University of Montreal. Prior to that, he studied visual arts, music (classical guitar performance) and musicology. He loves foreign languages (Spanish, German, Italian, and Russian), reading literary classics and cycling and running along the Hudson River. Dominique is also an art photographer and is now preparing his first book and exhibition.
Neighborhood Expertise: Hell's Kitchen, Upper West Side, Chelsea Languages Spoken: English, French, Spanish, German.