A Guide to NYC Movers: Pros, Cons, and Who to Hire
Originally posted on August 03, 2022 3:00 pm
Updated on July 27, 2022 2:13 pm
Move-in and move-out days are two of the most dreaded days in property history. Even if by the time move-out day comes along and you absolutely cannot wait to get out of there, the exercise itself will still be a hassle. Having a helping hand to assist you through either process is certainly more attractive than doing it alone. Luckily, there are many moving companies in the NYC area.
Hiring a moving company, however, can be very tricky. There are a lot of rules and regulations to abide by, whether set by your property or the moving company itself. Moving companies also offer different rates depending on a few factors such as the size of items, accessibility of the items, and the number of items you need to be moved. Some companies can pack up for you for an extra cost, while others may require you to have everything packed up beforehand. The ins-and-outs can be difficult to navigate. Read our guide to ensure all planning goes smoothly, and learn about the most trusted moving companies in the area.
Pros and Cons of Using a Moving Company
Like most decisions—especially when they cost money—it's helpful to make a list of the pros and cons. Some decisions are easy to make on whim without considering possible negative or positive outcomes, but bigger choices should be thought out. Using a moving company is definitely something that takes careful consideration, because in some cases it may not be worth it.
Pros of Using a Moving Company
No Heavy Lifting When Working With Movers
First and foremost, the most obvious benefit of working with a moving company is that you do not have to move your items yourself. Moving is a very physical task, and it's not practical or even possible for everyone to do it themselves. Lifting heavy isn't for the faint of heart—especially up and down walk-ups, maneuvering large items through the street or into tiny ancient elevators.
Hiring Movers Can Save Time and Stress
If the moving company offers a packing and unpacking service it will alleviate a significant amount of the hassle. This means that you will essentially not have to lift a finger, just be present to decide what needs to be packed up or unpacked and where it will go. Packing and unpacking can take up a lot of time and preparation, and if you are busy with work, raising kids, or anything else that may occupy your time, moving can certainly get in the way.
Cons of Using a Moving Company
Movers Can Be Expensive
Using professional movers is not cheap. You do not want to go with just any moving company, and will want to choose one that has been in the game for a while to ensure quality. There are a lot of factors that go into the total cost and will differ based on what you need. However, at a base cost, expect a number above $1000—maybe not ideal after putting money into your new deposit and rent or mortgage.
Moving Companies Keep A Tight Schedule
Lack of flexibility is another con when it comes to hiring a moving company. First, if you are moving during peak times (summer, weekends, holidays) then it may be difficult to find a reputable company that is available. This requires you to consider your needs and schedule far in advance. Once you make the booking, it won't be very easy to change it. Most movers are on a tight schedule and won't be looking to alter it for you.
Damage Or Loss of Property
Items breaking is a looming fear when moving. If you are not careful, you can easily end up with a few broken glass items here and there. Or even a box that is missing a few kitchen items you swore you packed. With a reputable moving service, your home won't be their first rodeo, so ideally, they'll know how to pack items safely. There's always a risk, though.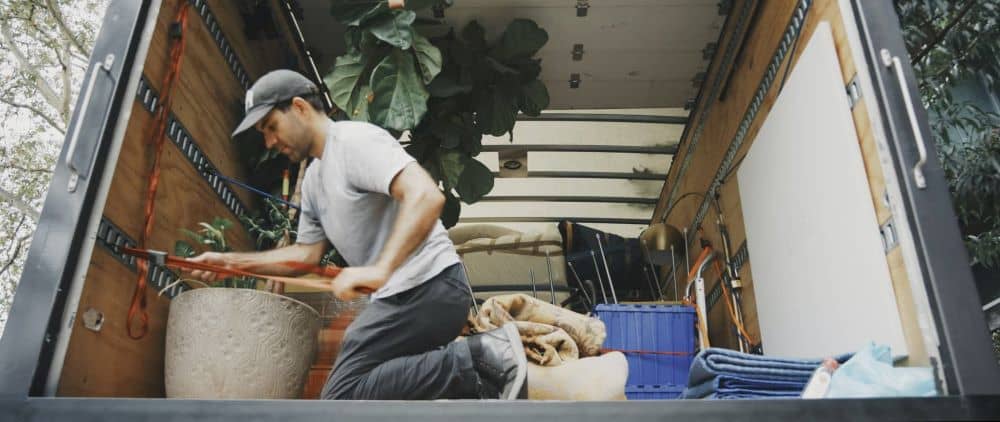 What to Expect When Working With a Moving Company
You have done the research and have made the definitive decision of what moving company you are going to go with. But now what? What is the process going to be like?
Consultation
Well, first the company will go through a consultation to assess what will need to be done and how to organize it. That may require you filling out a form, emailing the company answering specific questions, having a phone call with a team member, or someone actually coming to your place to map things out.
Move Day
The next step is the move itself. If you have paid the cost for movers to pack up your belongings, they will come with their own moving supplies and get everything done. This means securely packaging fragile belongings, disassembling furniture then making sure it is transferred safely, and loading or unloading the moving truck that they provide and transport themselves.
Delivery
Then comes the delivery of your belongings, which they will carry out whether you are across the street from your new place or across the country. The cost to you will depend on how far they will be required to travel and what sort of heavy lifting will be needed when they get there. For example, are you living in a five-story walk-up where the movers will need to carry a bed frame up a ton of stairs? Or do you live on the 27th floor where an elevator will take them to their destination? These are questions that will be asked of you during the consultation so make sure you know all details about both your current and new place. Once everything is delivered they will then unpack (if they are a full-service moving company) and then dispose of all packing materials.
Tipping Guidelines
In the U.S., it is typical to tip as a thank you after receiving a service. After the moving crew leader does a final walkthrough of your place to make sure everything has been fully completed, it is proper etiquette to hand them a cash tip. This will be for the entire team and will then be distributed at a later time. However, tipping is not required. This is a choice you will have to make based on your own comfortability. Most companies value their employees and make sure they are paid adequately for their time and energy. A tip from the customer is an extra thank you for a job well done. According to NewCityMovers, the industry standard tip is $5 to $10 per crew member, per hour.
How Long Will the Move Take With a Moving Company?
During the consultation, you and the moving company will be able to decide on dates where everything will take place. Some moves can be done in a day or two and others may have to be done over the course of a few weeks. It really depends on how much you need to move, where your belongings are going, how many crew members are available, and if the moving company will be packing and unpacking on your behalf.
Figure a 3-bedroom space may take around 3-4 hours for a team to pack up. The loading and unloading process is the quickest part and shouldn't take too long at all. Maybe an hour to two hours maximum. Then unpacking should be around 3-4 hours as well for a similarly sized space. Again, this is if everything goes smoothly and according to plan. Keep in mind any issues that may arise.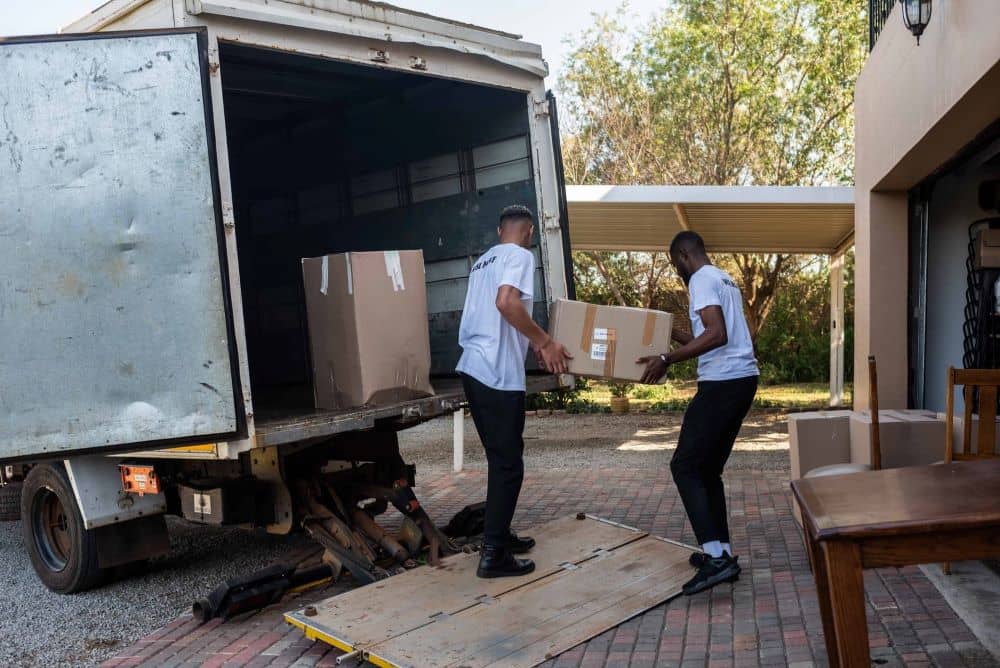 Reputable Moving Companies to Contact
As promised, we have already done some research on what moving companies in the tri-state area are ones that you can count on.
Dumbo Moving and Storage
Dumbo Moving and Storage has been around since 2007 and since then has gained over 55 trucks and an army of movers to help out. They serve primarily in the New York City area and will move to whatever location is necessary. Moving costs are estimated based on square footage, the moving load, distance, and required services. Dumbo Moving and Storage has different options for packing and unpacking. The first option is a bin (17" x 27" x 12") rental system that they will deliver to your home and pick up once you are done packing them. There are also box sets available for a set price. To get a quote and learn more about their company, you can visit their website here.
Roadway Moving
With 4.9 stars out of 5 and over 1,000 reviews, Roadway Moving is one of New York's favorite moving companies. They do local moving, long-distance, commercial, and offer storage space. Roadway Moving has highly trained and vetted movers, a personal moving concierge, climate-controlled trucks, a box scanning tech, full packing and unpacking options, media takedown and set up skills, the ability to do cable and ConEd hookups, and the option for art moving and hanging. These services are all offered to ensure the highest quality of moving for a reasonable price. The estimate for a short-distance move within New York City is anywhere between $1,100 and $2,500. For a long-distance move, the prices will differ depending on a lot of things, so it is hard to give a base price. For a free quote, visit their website.
Piece of Cake Moving & Storage
Piece of Cake Moving & Storage has received stellar reviews ever since their very first move. They are the only moving company within NYC that will offer any day, any time moving services regardless of the size of the move. This means 24/7/365 days a year. You name a date and time and they will do what they can to make it work. They also do both local and long-distance moves regardless of location. Pricing wise, Piece of Cake Moving & Storage offers a guaranteed, all inclusive flat fee before your move-in day. This will avoid any sort of hidden fees that other moving companies may hit you with at the end of your move. To get a quote, visit their website.
Alternatives To Hiring a Moving Company
Paying for a moving company is not always within the budget and that is OK. Or maybe you do not want to take the risk of using a moving company no matter how reputable because your items are so dear. That being said, there are DIY options available at your convenience if you find yourself in this position.
Ask a friend or family member to help out! This will be a big ask, but you might have people out there willing to help. When they're done you can treat them to dinner or desert as a thank you for their help. Try and choose someone with a bigger car if they are available as this will make things a lot easier and cut down the amount of trips you will have to take back and forth when moving.
Pack up your stuff on your own and rent a moving van to transport everything. This option will cost some money, but there are a lot of reasonably priced options out there through U-Haul, and many moving companies will just rent you the van.
Search TaskRabbit for people willing to help within the area for a couple of hours. Note that this is not always a secure option because it involves inviting strangers into your home who may or may not be qualified to move your belongings safely. It will cost some money, but definitely not as much as a moving company.