Originally posted on February 24, 2020 12:01 pm
Updated on February 26, 2020 12:53 pm
One of our favorite personal finance and lifestyle blogs is Financial Samurai. Perhaps Financial Ronin would be the better name. Among many topics, probably the most heavily discussed is early retirement and financial independence. Anyway, Sam laid out his arguments for why 2020 is a great time to buy property, even in the coastal tech hubs.
Re-Election Year?
Among the many lengthy arguments, a few are particularly unique to this year. It's an election year, and presidential candidates know it's important to keep the economy, stock markets, and housing markets running smoothly. Almost all recent re-election failures occurred because the economy soured leading up to re-election day (George H. W. Bush, Carter, and Hoover certainly count).

However, isn't that more an argument to buy stocks? And the recent 2019 and early 2020 all-time stock highs must have priced that in somewhat (alongside the nice coronavirus backdrop). Everyone knows real estate horizons SHOULD be relatively long. Flipping houses with low down payments is notoriously difficult, even during the bubble years. You always need to overcome a 10% round-trip transaction cost – doable during a powerful run, but hard any other time.
Tax Shock Over
Sam argues the market over-reacted to limitations on SALT deductions. This was part of the Trump tax cuts that helped many business owners and corporations. It also helped people with not much to deduct, because the standard deduction skyrocketed. It supposedly hurt residents of blue states – California, New York, Massachusetts: basically places with high state and local taxes, and high property taxes!
Truth is, those SALT limits are not great for homeowners, but they were much more impactful on high WAGE workers in those areas. In the end, deducting your property taxes and mortgage interest on your primary residence is not going to break the bank. For investors, as long as you become a landlord and actively manage your property 365 days of the year, the new tax treatment as minimal impact. Perhaps vacation home owners were the worst hit!
The Timing Is Right?
We go to the last big argument, that the timing is right. Prices peaked around spring 2018, but went sharply cold by July. Not all parts of the country peaked at the same time, but eventually the different geographies caught up.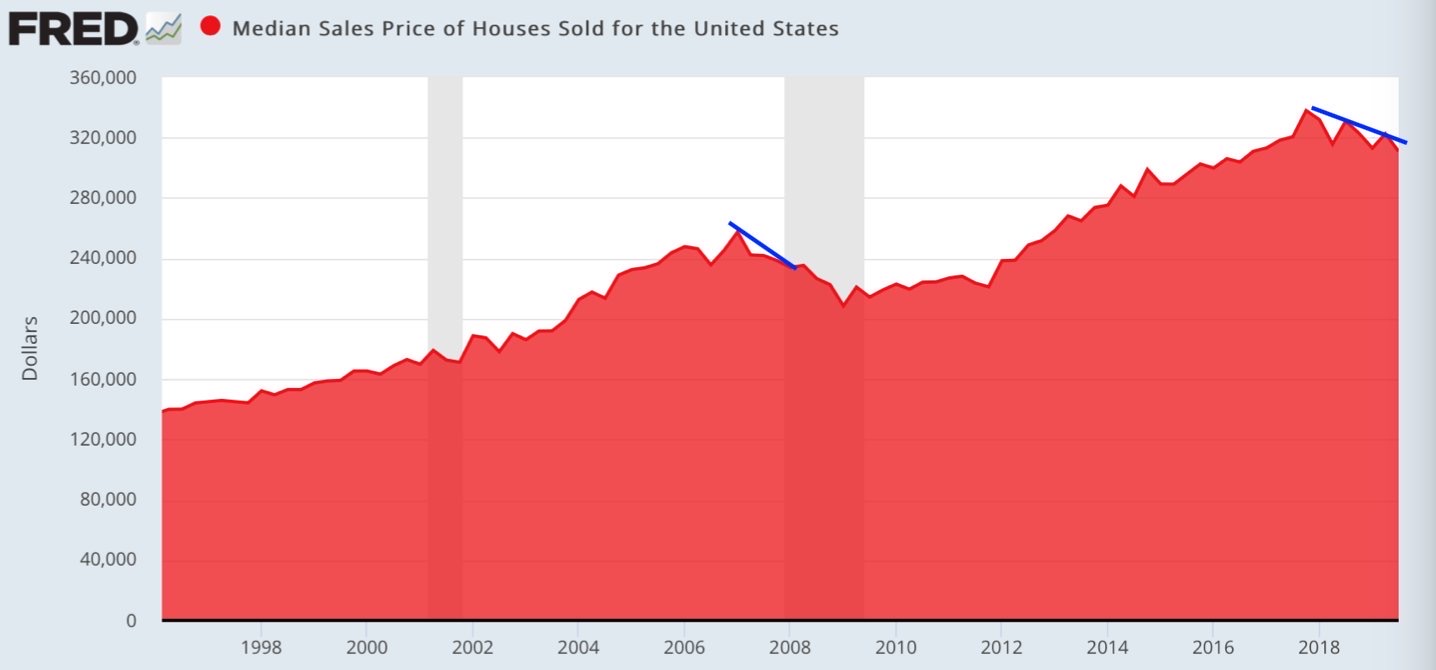 Found on financial samurai
Real Estate Prices in Seattle and Redmond, WA
One of the markets I personally follow closely is Redmond, WA. That's because I got my start investing in Redmond, looking at condos with ZipRealty agents when I should have been focusing on my software engineering job at Microsoft. It tends to lag California by 12-18 months. This was true during the 2003-2006 bubble run up, through the 2008-2010 crash, and ultimate recovery. Redmond peaked closer to late 2007, then bottomed later, closer to 2011. The recovery didn't begin until late 2013 and was only fully back to pre-crash highs in 2016. You can track the pricing for any particular complex on RealtyHop..
Is Now The Time To Buy?
Back to the most important topic, is now the time? We will need to talk through a few more interesting points next time – in particular a tech hub favorite: that IPO liquidity will unlock soon and shower the lands with deep pockets. Also, what sort of capital outflows will flee back to the US as worldwide supply chains and international trade deal with coronavirus and trade war fears (and increased xenophobia)?