Which Brooklyn Neighborhood is the Best Match for You?
Originally posted on May 15, 2019 4:00 pm
Updated on May 15, 2019 4:28 pm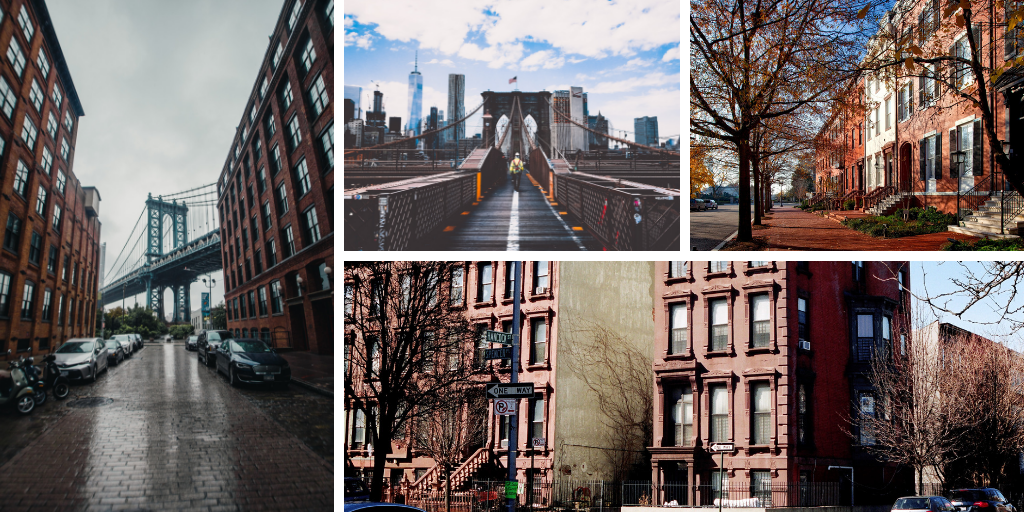 Whether you're fleeing the craze of Manhattan or transplanting to NYC, a move to Brooklyn is as exciting as moves come. However, in Brooklyn, the neighborhoods are as different as the people that live in them, with a huge range of prices. So which Brooklyn neighborhood is best for you?


Arguably the birthplace of the hipster, Williamsburg promises rooftop views over the East River, a plethora of trendy restaurants and bars, and thrifting options galore. As one of the most developed places in Brooklyn, most of what you can find in Manhattan, you can find in Williamsburg. Lately, Williamsburg has begun to be divided into north and south sides, separated by Grand St. Find multi-million dollar condos in "North Williamsburg" and co-op walk-ups in "South Williamsburg."
Downsides: While the latest news is that the L train isn't fully shutting down, renovations to the tunnel may still affect riders on nights and weekends.
Good for: Techies and freelancers who don't have to commute to the city–take advantage of some of the coolest coffee shops, cafes, and co-working spaces in the city.

In Bushwick, you can still find some real Brooklyn grit and inspired street art. Residents enjoy a new coffee shop every week, edgy bars and warehouse parties, and lots of quirky dining options. If you're lucky, you can snatch a coveted warehouse apartment for a reasonable price. Bushwick Food Co-Op and Bushwick Farmer's Market provide the neighborhood with fresh grocery shopping options.
Downsides: Also situated on the L, Bushwick is likely to be affected by the partial shutdown as well. If you need to commute to the city at odd hours, look into living on the J or M lines.
Good for: Young people who want to be near nightlife and those commuting to the lower east side–the J and M will get you there in roughly 20 minutes.

Carroll Gardens is one of the cleanest and quietest of the Brooklyn neighborhoods. Think beautiful tree-lined streets, gardens that give it the latter half of its name, and turn of the century brownstones. In Carroll Gardens, you'll find a mix of younger transplants, a new French population, and Italians-Americans that have lived there for generations. Around the neighborhood, you can enjoy upscale dining, private label fashion, and locally-owned grocers. The F and G trains run out of Carroll St. Station and provide good connectivity to the rest of Brooklyn.
Downsides: Not well-connected to the city via public transit.
Good for: Families looking for a safe neighborhood that's walkable.

DUMBO (Down Under the Manhattan Bridge Overpass), has some of the best rooftop views of the Brooklyn Bridge and the Manhattan skyline. Despite its new developments, it still maintains some of its old Brooklyn charm with its cobblestone streets and older brick buildings. Lucky for DUMBO residents, three parks on the waterfront–Main Street Park, Hillside Dog Park, and Brooklyn Bridge Park–are all within walking distance. It's a quick, one-stop train ride to Manhattan on the A, C, or F lines.
Downsides: Because of its well-connectedness, proximity to the city, and luxury highrises, DUMBO is the most expensive place to rent in Brooklyn, with average rent at $5,400.
Good for: Those who aren't worried about costs and want great connectivity.

Kensington is a super diverse neighborhood comprising mostly of residential housing. Here you can find detached houses, Victorian-era row houses, and brick apartment buildings. It's located relatively close to Prospect Park and is connected to the city by the F, G, and Q, and will take you 20 minutes on the train to lower Manhattan. The best part about this quiet residential area is the prices for homebuyers. The median home cost is $515,000, with the median rent price at $2,100.
Downsides: Not one of the most beautiful, charming, or trendy neighborhoods in Brooklyn.
Good for: Those looking for a great price, more space, and fewer crowds.

This unpretentious neighborhood is often described as feeling like 'a small town in a big city.' With a melting pot of cultures, Bay Ridge has a great food scene where you can find almost any type of cuisine you want (check out Elia Restaurant's Greek food and Shobu Sushi). Community involvement is big here, while nightlife is not. It also tends to be one of the cheaper housing options in Brooklyn, with the average rent price at $2,200 for a two-bedroom.
Downsides: Expect a long commute to the city (1 hour to midtown) with the R train being the only line that goes to Bay Ridge.
Good for: Those looking for an oasis away from the city, a community feel, and cheaper rent.

Located to the east of Prospect Park, this neighborhood has a good blend of accessibility (B, Q, S, 2 trains), shopping and dining options on Flatbush Avenue, and great connectivity to the parks, museums, and Botanic Gardens in Brooklyn. The area is known for its Caribbean Community and cuisine, so if jerk chicken is your thing, this might be the place for you. Rental prices are pretty affordable here still ($2,725 for a 2-bedroom) and you can find some beautiful Romanesque Revival, neo-Georgian and neo-Tudor style architecture.
Downsides: Not a lot of nightlife options in these parts.
Good for: Those wanting to live near Prospect Park but not wanting to pay Park Slope prices.

More commonly known as Bed-Stuy, this up-and-coming neighborhood touts street after street of beautiful, old brownstones and some of the best rental prices in Brooklyn ($2,460 on average for a 2-bedroom). Scattered hot-spot bars and coffee shops spring up in the middle of city blocks here and it has its own vibey music venue (C'mon Everybody). It's connected to the city by the A/C and also has a G train for easy connections in Brooklyn.
Downsides: Commuting to uptown Manhattan from Bed-Stuy can be pretty brutal, especially if you're heading to the Upper East Side, expect a travel time of more than 1 hour.
Good for: Those looking for a good mix of old-Brooklyn feel, cool nightlife, and trendy eating options.

One of the most expensive spots to rent in Brooklyn, at an average of $4,000 for a 2-bedroom, you'll find mostly brownstones and large brick buildings in this neighborhood. Located nearby Downtown Brooklyn, this well-connected spot can have you to the city in 10 minutes via Atlantic Terminal (2, 3, 4, 5, B, D, N, Q, R, W) and you can find anything you want on Atlantic Avenue (Target!). On Smith St, you'll also have high-end shopping and dining options, along with Trader Joe's on Boerum Hill's North East Corner.
Downsides: Not so close to any parks and it's expensive.
Good for: Families and young people looking to get the best of everything in Brooklyn who don't mind paying for it.