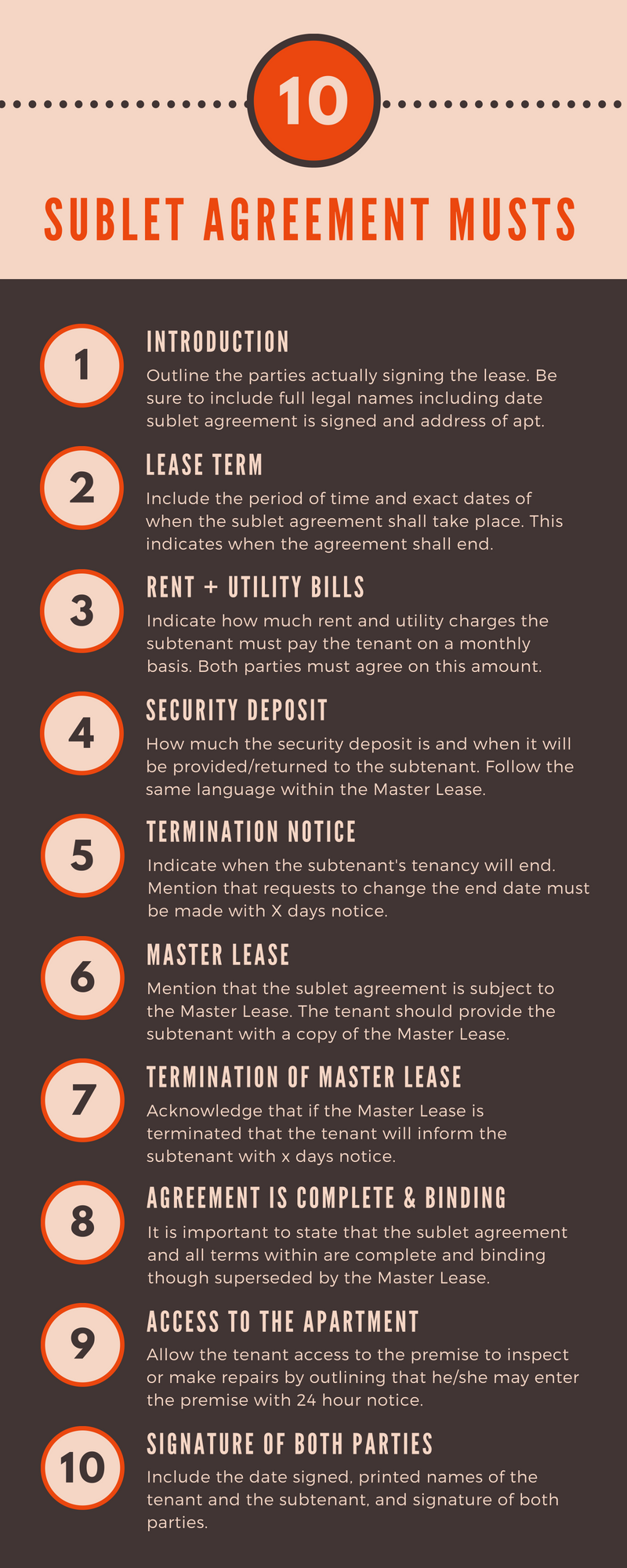 You've signed a lease with your landlord but prior to the end of the lease, you need to move. What do you do!? This is when the important topic of a lease break and sublet come into play. While lease breaks and sublets both require a third party to enter a lease which you originally signed with your landlord, they are in essence very different leasing arrangements. We've listed the exact differences below with the hope that this will enable you to decide what works best for you:
Lease breaks:
When breaking a lease completely, the new tenant will sign a brand new lease with the landlord directly. Meaning, the new tenant will form a new contractual relationship with the landlord instead.

This will void the original lease and will remove the original tenant's (you) obligations to the landlord.

You can walk away and move on with your life, knowing that you will not be held legally nor financially accountable for anything that happens.

Both the landlord and tenant can be in charge of finding the new tenant. You may want to refer to your lease or speak to your landlord directly to figure out what they would prefer.
Sublets:
If you are not breaking the lease completely but simply renting a room, a portion of the property, or all of the property to another tenant, then this is referred to as a sublet.

In this arrangement, your original lease with the landlord is still valid and contractual. Meaning if the subtenant fails to pay rent or breaks the agreements stated in the lease, then you'll be the one held legally and financially accountable.

It is a good idea to qualify and sign a sublet agreement with your subtenant. Make sure that he/she is fully capable of paying rent and also fully aware of the terms outlined in your original lease with your landlord. For example: if there are rules towards no nails in the wall, then you should let your subtenant know.

Since you are held responsible for your tenant's actions, it is a great idea to prepare a sublet agreement.

Please refer to the infographic to see what important information you should always include in your sublet agreement. We recommend doing additional research as well to ensure that your unique sublet agreement matches your needs!
Regardless of whether or not you're choosing to lease break or sublet, you should always double check the original lease agreement you signed with your landlord to make sure you are allowed to either lease break, sublet, or both. Even if the lease specifies that you are allowed to do so, it would be an even better idea to check in with the landlord before you choose to break your lease or sublet your apartment to make sure you have their explicit approval. As always, it is a good idea to have any sort of approval in writing.