New York City may be full of skyscrapers, museums, and music halls, but it also has beautiful churches and cathedrals that range from the massive and ornate to the intimate and simple. Not only do these houses of worship cater to NYC's many devout communities, but they're also popular tourist destinations for their breathtaking architecture and exquisite artwork.
The following are ten churches and cathedrals in New York City that are must-sees for architecture buffs, art lovers, history enthusiasts, and more.
NYC Churches and Cathedrals
St. Patrick's Cathedral
Dominating an entire city block in Midtown Manhattan, St. Patrick's Cathedral is one of the largest and most prominent Roman Catholic churches in America. This Neo-Gothic masterpiece, completed in 1878, is noted for its ornate bronze doors, massive rose windows, and thousands of stained-glass panels. It was listed on the U.S. National Register of Historic Places in 1976 and remains one of the city's most popular tourist attractions, with approximately five million visitors drawn to its grandeur each year.
The Cathedral Church of St. John the Divine
Located steps away from Columbia University in Morningside Heights, the Cathedral of St. John the Divine is the largest house of worship in the U.S. and the sixth-largest in the world. Construction began on St. John's Day, December 27, 1892, and was undertaken by the Episcopal Diocese of New York. Although a work-in-progress to this day, St. John the Divine's stunning façade and decorated nave are already a triumph of Gothic and Romanesque Revival architecture. Meanwhile, the church's "great organ" is considered to be one of the most powerful and versatile instruments in the world, with over 10,000 pipes.
Trinity Church
Founded in 1697, Trinity Church in Lower Manhattan is one of the oldest congregations in New York City. Destroyed in the Great Fire of 1776, this Episcopal parish, with its boxy brownstone tower looming in Gothic Revival architecture, was rebuilt soon after, in 1790, enduring as a touchstone of NYC's relentless spirit. Not only that, but this historic church is also home to one of the city's most famous graveyards, where John Jacob Astor, Alexander Hamilton, and his wife, Elizabeth Schuyler, are buried.
Church of St. Francis Xavier
In 1847, a Jesuit priest set out from Fordham Village in the Bronx to Downtown Manhattan with 50 cents in his pockets. His mission was to establish a Roman Catholic church in the Jesuit tradition to expand its influence in New York City. Today, the Church of St. Francis Xavier is a result of that endeavor. Situated on West 16th Street in Manhattan's Flatiron District, this Neo-Baroque beauty has an arcaded portico at the entrance and an altar made of chalk-white stone. The church itself is committed to cultural diversity programs and social justice reform.
Église St-Jean-Baptiste
The Église St-Jean-Baptiste, otherwise known as St. Jean Baptiste Roman Catholic Church, dates back to 1882 and serves the Upper East Side's French-Canadian population, among other worshipers. Clad in limestone and rich with ornament, this gorgeous edifice is an achievement of Italian Renaissance Revival architecture and one of the few Catholic churches in the city that boasts an imposing ribbed dome, with twin bell towers topped by gilded crosses.
The Basilica of St. Patrick's Old Cathedral
Standing on Mulberry Street in Little Italy, the Basilica of St. Patrick's Old Cathedral was established in 1809 to serve Irish immigrants who were flooding into New York at the time. Since then, this brick-and-stone Catholic parish, built in a Gothic Revival Style, has earned many accolades as one of the most outstanding religious structures in NYC, including two National Historic Landmark achievements and a "minor basilica" designation by Pope Benedict XVI. But one of its biggest draws is the "Catacombs by Candlelight Tour" available every spring.
Riverside Church
Completed in 1930, the iconic Riverside Church is widely regarded as one of the city's great houses of worship, thanks to its 392-foot tower, 74 bells, and cavernous interior. Located on Riverside Drive between West 120th and West 122nd Street, this Neo-Gothic church features a wide range of amenities, including the Theatre of Riverside Church, where productions have ranged from dance and jazz to film and visual arts. A seven-story wing in the structure's southern flank was renamed in 1985 for Martin Luther King Jr., who gave his famous "Beyond Vietnam" seminal speech from the pulpit.
St. Peter's Roman Catholic Church
St. Peter's Roman Catholic Church is a working-class place of worship that has been serving the community since 1785. A noticeable silhouette in Lower Manhattan, this stone edifice features six Ionic columns and a gold cross facing Barclay Street. The church played a significant role during the September 11, 2001 attacks, as it enabled rescue workers to store emergency equipment and provided space for New Yorkers who sought shelter in the aftermath of the tragedy.
Holy Trinity Lutheran Church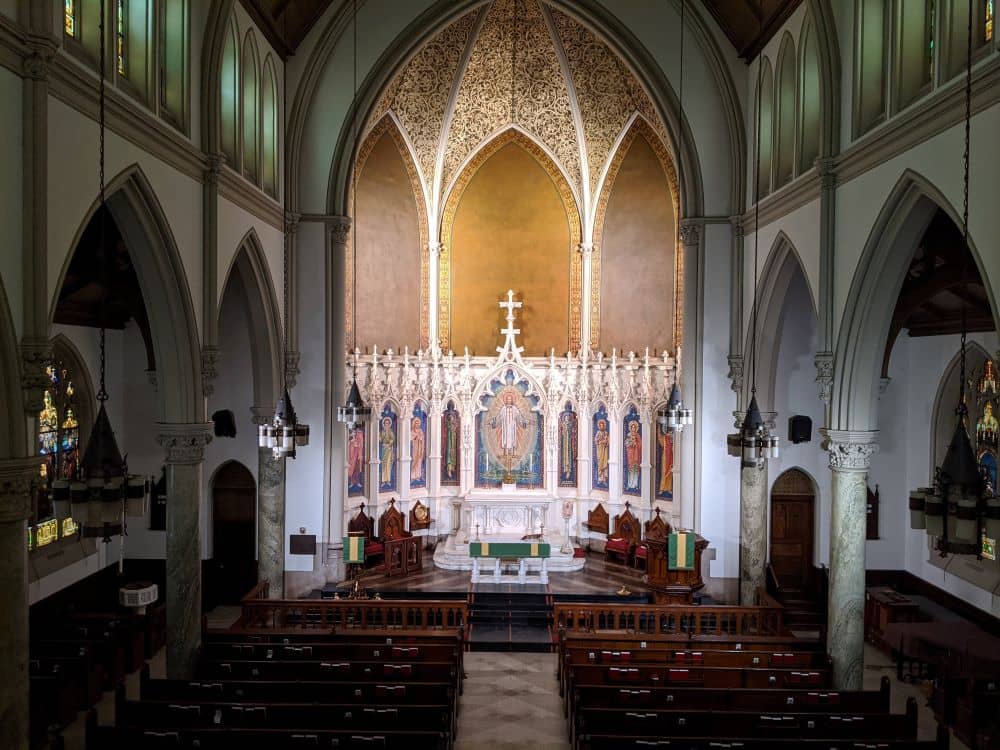 "Nobody steps on a church in my town!" That famous line from the 1984 classic film "Ghostbusters" was inspired by Holy Trinity Lutheran Church, where the Stay Puft Marshmellow Man was blasted with proton packs. In addition to being a key filming location for the movie, this Gothic Revival church on Central Park West is a designated NYC landmark and an active house of worship, with social programs that include a food pantry for Central Park's homeless population.
Grace Church
Steps away from Union Square, the richly ornamented Grace Church was designed by celebrated architect James Renwick Jr., who also designed St. Patrick's Cathedral and the Smallpox Memorial Hospital on Roosevelt Island. This Episcopal parish, consecrated in 1846, has a rectory and chantry that look like they were drawn from a Grimm's fairy tale, and in the springtime, cherry blossoms cover the grounds in a sea of pink, making this holy structure one of the most photogenic cathedrals in New York City.
Last Thoughts on Famous Churches and Cathedrals in NYC
New York City is home to a variety of stunning churches and cathedrals that have earned their place among the city's most famous landmarks. Those who visit them are drawn by their architectural splendor, rich history, or the faith imbued in each carved stone relief, flying buttress, and stained glass window. It's this blend of features that has made NYC's famous churches and cathedrals must-see destinations for locals and tourists alike.