6 Quick Tips To Find Your First Apartment After College
Originally posted on September 21, 2021 3:02 pm
Updated on September 21, 2021 4:14 pm
After several years of college dorms with oddly shaped beds, it's time to move into an apartment you can call your own! While student housing may have been a pretty straightforward experience, there are a lot of nuances on how to rent an apartment after you graduate college. Find yourself asking how to find your first apartment after college? Read on below for 6 quick tips to making a post-college apartment search turn into a reality.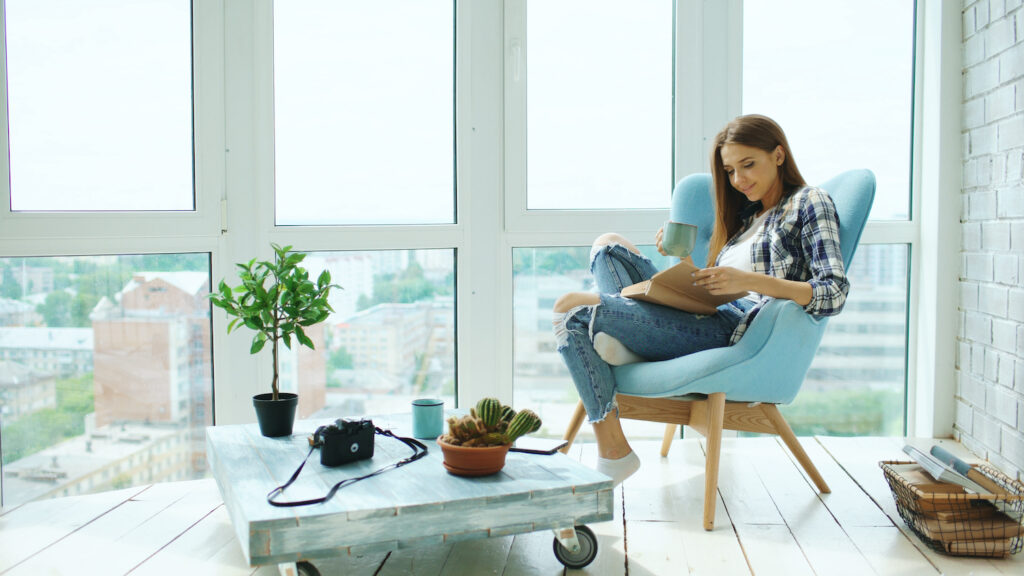 Tip 1: Find your first apartment after college by getting picky with a search site.
Certain sites have little to no protections for a first-time renter and anyone is able to list an apartment, whether it's real or not. However, a site like RentHop ranks apartments through our proprietary HopScore that filters out listings with lower quality. While other sites only give you the option to sort based on price or posting date, the HopScore takes into account aspects such as agent or landlord response time and reputation, listing photos, and price and time on the market. All of this means you can avoid scammy listings and find an ideal apartment as a college student if you get a little picky.
Tip 2: Afford your dream first post-college apartment by finding a roommate (or 2 or 3)
Straight out of college you may be ready to live on your own with no one in your personal space, but affording a place to call your own may require you to join forces with another person. Filtering your searches by "room" instead of bedrooms will give you options to find a private room that may already have roommates who are looking to acquire a new one. The bonus with living with roommates? You may be able to afford a swankier place with better amenities and in a more desirable location, cutting down on needing to leave your apartment for things like laundry and making your commute even faster. Just be sure that if you're apartment searching with a future roommate that you agree if you'll split the rent proportionately if one room is larger than the other.
Tip 3: If it seems too good to be true, it most likely is.
Covid rates that caused a dip in rent prices are almost completely gone and rent in most cities is steadily increasing. Unusually low rent most likely means an agent will try to do a "bait and switch", where they will then claim the apartment has been rented but they have something similar for just a little bit more. Also, be on the lookout for apartments that have been on the market for a while, there is almost always a reason no one wants it. Don't get scammed out of an apartment, there often aren't many ways to save on an apartment.
Tip 4: Budget and plan for your first apartment.
Get clear on what you'll need to pay upfront and start saving… like yesterday! The cost for your apartment can be a lot upfront. You need to budget in the first and last month's rent, a security deposit, and potentially a fee. Make sure you ask the agent what fees you will be charged if they show you an apartment that you rent. A first-time renter also needs to consider unpredictable costs such as moving supplies and services and all the little things needed to purchase to make your home livable such as cleaning products, furniture, or home decor like curtains. The costs can add up quickly when moving into your first apartment.
Tip 5: Save on rent straight out of college by paying a fee.
In NYC, apartments charging a fee are often the best deals on the market. "No fee" apartments generally carry a higher monthly rent because the landlord bakes the cost of paying the broker fee into the rent price. In many cases, apartments with fees carry lower monthly rents and can be incredibly good finds, particularly if the tenant doesn't plan on moving for a few years and can offset the cost of the fee over several lease renewals.
Tip 6: Visit at different times of the day to find the apartment of your dreams.
If possible, visit a potential apartment on different days of the week and at different times. This gives a potential renter the opportunity to see what challenges they may face. Is there a lot of natural light or will they need to rely solely on electric lights? What is the noise level like at different times of the day? Your neighbors will make or break how you feel about your apartment and what you save in rent may cost you in other ways. Wondering what neighborhoods might be louder than others? You can also read this post on NYC noise complaints to see where you might want to avoid or contribute to the noise.