AirBnb Cancellation Policy And Arbitrage Collapse?
Originally posted on March 14, 2020 8:12 pm
Updated on March 16, 2020 11:07 am
Absolutely brutal… but it is the right thing to do. No guest should need to worry about traveling just to prevent a forfeiture of their deposits. No host should compel a guest to take health risks, or be forced to stay open against their will. Hats off to Airbnb putting safety over profits.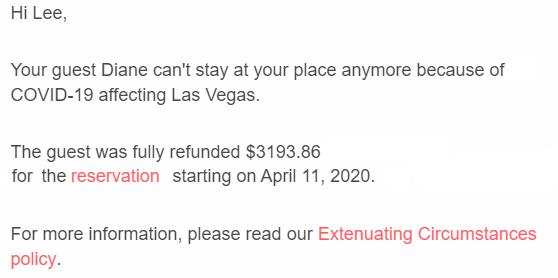 But what next? There are a few obvious conclusions in the coming months.
Sharing Economy Highly Leveraged
For years, professional hosts have cropped up, leasing apartments and condos everywhere and converting them into vacation rentals (sometimes legally, sometimes less so). It seemed like an arbitrage that couldn't lose. Rent a nice apartment for $1500 a month. Airbnb it for $100 per night. If you can fill it even 70% of the nights, you come out way ahead, right?
Economies of Scale Means Operational Leverage
Unfortunately, life isn't so simple. Hosts quickly realize that running one unit on Airbnb doesn't really amount to much of a side hustle – after dealing with key drops, furnishing, cleaning. and listings management, the margins are quite thin and the labor much more intensive than the mythical 4-hour workweek.
Many Airbnb operations require a portfolio of many units – that way the cleaning costs, inventory management, maintenance, and guest support operations can all be lumped together and shared. Also, nightly rates are never constant day-to-day. There are high demands days and low demand days, not always easy to forecast. A manager who can track multiple listings is in a much better position to react and change prices and maximize utilization rates. Finally, since reviews matter, a manager with multiple units can quickly earn Superhost and favorable status within the system.
Arbitragers Chase Thinning Margins
But how does someone manage many units? They probably need to over-extend themselves by accumulating lots of lease arbitrages, or finding outside investors, or become management-for-hire services. When the occupancy and revenues drop, all of those situations very quickly become fragile. Over the past 5 years, vacation hosting has become a very crowded trade – much like co-working spaces trying to replicate the WeWork model!
Stop paying the underlying landlord and risk legal trouble. Stop performing and you lose units to manage. When the well-oiled machine requires occupancy and utilization rates above 85%, a sudden demand shock will be orders of magnitude worse than even the most off-peak season.
Upside Down Unit Economics
Go back to that $1500 lease charging $100 a night. Most urban arbitrage hosts need at least 70% occupancy to break even after expenses. When bookings drop to 50% occupancy, they make nothing. In fact, they need to work hard just to lose money on cleaning, utilities, and furniture – providing the hospitality effectively at below cost to the guest.
How about a global lockdown due to Covid-19? You could go completely empty for months, owing $1500 monthly to the landlord, $300 in other expenses, while earning nothing. And that's per unit! What about the people who have "gone pro" earning $10,000 of "passive income" per month? Yikes…