Better Than No Fee? Free Rent!
Originally posted on November 25, 2019 9:55 pm
Updated on November 27, 2019 1:34 am
We previously discussed the concept of 1 AND 1 pricing. That is, the landlord should be willing to pay the broker fees for finding high quality tenants to fill a vacancy, and they should still offer all of the free rent concessions that they would offer to direct deals. Breaking the price parity would quickly lead to very few closed deals.
Many of the best agents close a high volume of deals and understand that time is a valuable asset for all sides. They are confident enough in their closing rate that they will offer a move-in gift, rebate, or reward back to the renter after lease signing (in practice, about 45 days after when the OP clears).
Done properly, all sides win. The renter gets an even lower net effective rent, the broker closes more deals more quickly, and the landlord fills their vacancy. The broker makes less on each deal and relies on volume and a high quality bar for both the renter and apartment.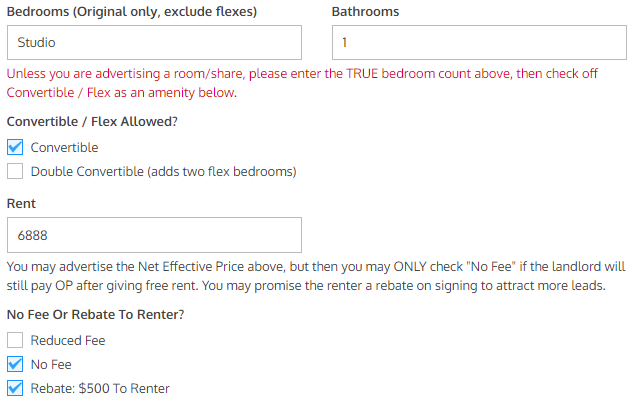 As a pilot program, we are allowing agents to list the Rebate To Renter as a listing amenity. Smart agents are already offering these deals, but no other NYC apartment finder is allowing consumers to filter and search this way. Keep in mind, whether a listing pays OP varies between buildings, landlords, and sometimes individual units.