Getting Into The Holiday Spirit in New York City
Originally posted on December 07, 2016 10:46 am
Updated on February 09, 2017 12:34 pm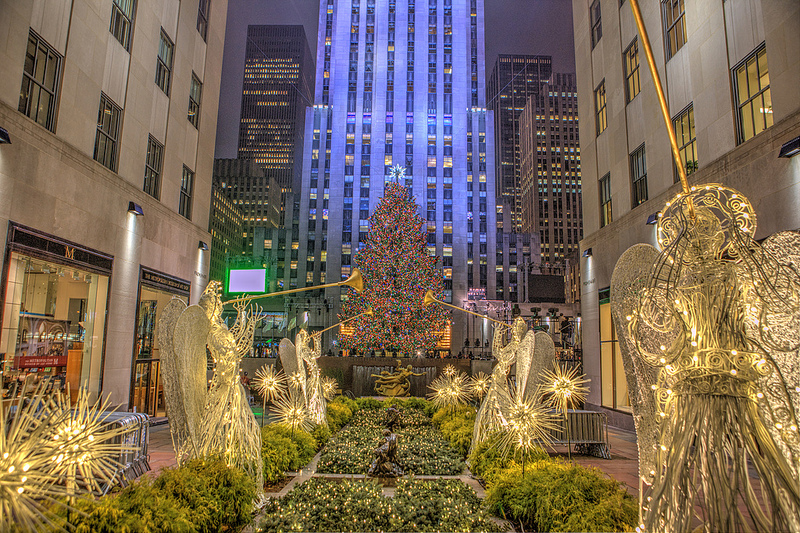 Photo of the Rockefeller Center Christmas Tree by  Anthony Quintano (CC BY 2.0)
Christmas is around the corner and already we're blessed with beautiful decorations around every corner. For some, getting into the Christmas spirit is easy. For some, Christmas might seem miles away yet. Visiting the winter villages spread around New York City or spending a day at the multiple ice rinks is one way to get into the holiday spirit. We compiled a list of other things to do as well, suited for kids and adults!
1. Rockefeller Center Christmas Tree
The spectacular site of the biggest Christmas icon in New York City is one that you don't want to miss. Santa himself would be blown away by the site of the 94' Spruce tree. Whether you're bringing family, loved ones, kids, or your friends it's a time where people come together to enjoy the beauty of the astonishing Christmas tree. There will also be lots going on around there to help you get even deeper into the spirit.
2. Visit a Pop-up Christmas bar
Bring your 21+ friends and check out these amazing bars you won't be able to find any other time of the year! Mace Cocktail bar aka Miracle on 9th Street is our personal favorite. You're guaranteed to feel warm and fuzzy on the inside. If not for the adorable decorations and vibing spirit, the alcohol should do the trick. We highly recommend you try the Jingle Balls Nog, it'll get you singing and dancing like a rockette!
3. SantaCon (December 10th)
This event can be a lot of fun, but you should probably read up on it to get a better idea of what you're getting yourself into. As the day goes on and drinks keep flowing, this event is known to get a bit out of hand. So much so, that certain neighborhoods have worked hard to ban SantaCon and many bars will refuse to serve anyone in a Santa suit.  
4. Unsilent Night (December 17th)
A wise elf once said, "the best way to spread Christmas cheer is singing loud for all to hear." Christmas time is about celebrating love and togetherness. Participating in Unsilent Night is the perfect way to celebrate the most magnificent time of year. Experience music like you never have before. There are four recordings on cassette tapes that are handed out to those participating. At the same time, the participants play their tapes, and together a beautiful song comes to life. Everyone walks around New York together playing a wonderful tune.
5. Visiting Santa at Macy's
Is The North Pole too far away for you to experience the ultimate winter wonderland? Think again, Miracle on 34th Street approved, there is truly no better way to embody the jolly spirit of Saint Nic than going to Macy's in December. This is something for the kids and the adults. We can personally confirm that the Santa this year is the real deal.
6. MSG Rudolph the Red-nosed Reindeer Musical (Dec. 1-18)
What better way to explain the magical legend of Saint Nicolas than to bring your child to see the spirited musical performed at Madison Sq Garden! The singing and dancing will warm your hearts. A truly sweet and splendid sight for children (and adults).  Brush up on your Christmas history and check out Rudolph the red-nosed reindeer musical!
7. Volunteer
As humans, we're busy and we don't always get the chance to fit in everything we should be doing, like working out, keeping up with friends and family, and being aware of the thing your mom always told you to do no matter what, "treat others the way you want to be treated." The best way to get into the holiday spirit and feel blissfully happy is to donate some of your time to volunteering. Whether you're wrapping presents for underprivileged children, serving food to the homeless, or simply giving help to someone who may need it, you will have the incredible satisfaction of making a difference. Not to mention the good karma!
8. Bake Christmas Cookies
Oh, the weather outside is frightful, but treats are so delightful!  One thing uniting humanity is our desire for good food. Since we have time to slow down during the holiday season and come together with those we love most, take advantage of this opportunity and bake, decorate, and eat!  There are so many delicious and simple holiday treat recipes, experiment! Try out different types and let your family and friends be the judge! Our rule is as long as a copious amount of sugar is added, you really can't go wrong.