As a modern, real estate driven startup, RentHop understands how much people care to live in a neighborhood with like-minded individuals. That's much easier said than done, but what if you could find out the political views of your Los Angeles neighbors without hear all about it? Well our data scientists crunched the numbers from FEC.gov on the LA area's campaign contributions, so you can do that!
Find your zip code, choose your candidates, and explore the city and suburbs.
To create the map, we picked up where we left off with the nationwide data we prepared for our Trump Map here. We took the FEC's disclosure reports detailing individual contributions to candidates. The data from the most recent national filing on February 20, 2016 contained a smidgen over 1.17 million documented contributions, totaling nearly $300 million for all candidates' campaigns nationwide. To make this data more usable, we cleaned it up a bit first, grouping together line items from people with the same name, from the same zip code and with the same occupation, effectively removing duplicated entries for the same person. It is important to note that individuals giving less than $200 during the election cycle are not required to disclose their personal information, but some will do it voluntarily. Although this stipulation affects the data for each candidate differently, it is not intrinsically biased and we feel the data is still statistically relevant for comparing them to one another.
With the resulting data, we set out to see where the donors are in LA and whom they support. Candidates like Jeb Bush and Ben Carson collected significant amounts of money, but have since dropped out, so they have been grouped together with the rest of the former candidates. At the moment we've left Rubio's data in to show where he stood, and emphasize the gap that currently exists in GOP support. The interactive pie chart will always show candidates proportionate to each other, whether showing all or just your selected candidates.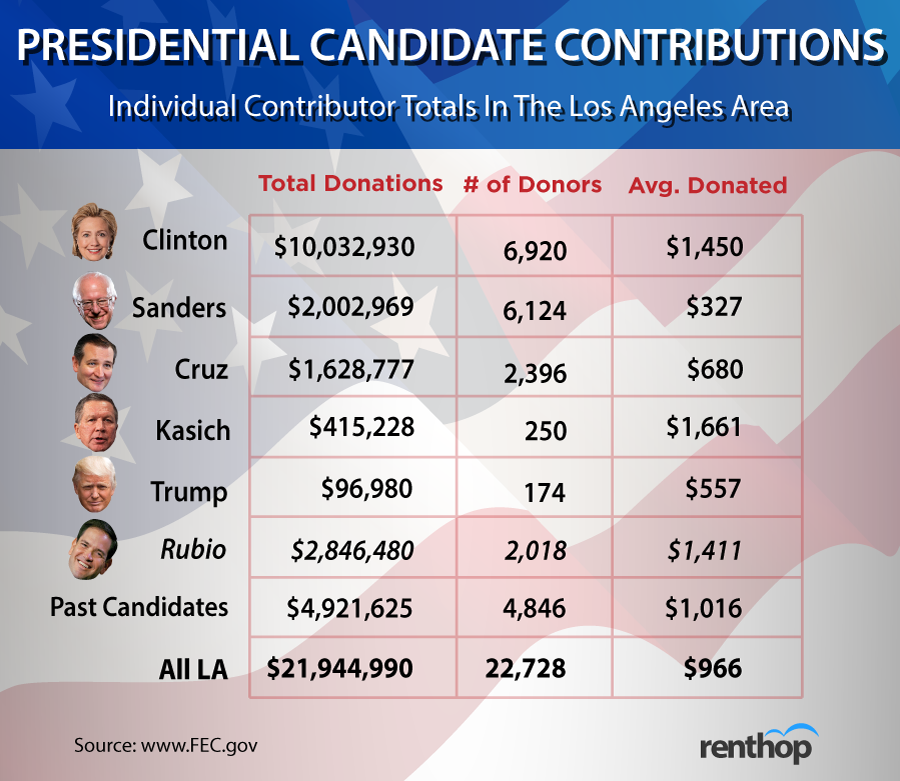 Hillary Clinton has a massive lead in funds raised, thanks to the deep pockets of LA residents, but Sanders is giving her a run for her money when it comes to donor count. His average amount raised was just $327 to Hillary's $1,450, which shows that they're targeting very different demographics. The number two spot in funds raised is unfortunately someone who's no longer in the race. With $2.8M+ in donations, I'm curious to see if that money mkes it back, or if it was spent already. Regardless, the GOP is now left with Ted Cruz and John Kasich to fend off Donald Trump for the nomination. Cruz's $1.6M is fourfold more than Kasich has raised, which, in turn, is fourfold more than Trump has raised. Kasich's average donor gives more than any other candidate is getting from their donors, which seems to show that his target demographic, at least from a socio-economic standpoint, is very similar to Hillary's.
As the field narrows, we see the total going to former candidates growing; with Rubio's concession, that totals $7.5 million which is about enough for to buy a Kardashian-sized mansion, not the one that Kanye has though.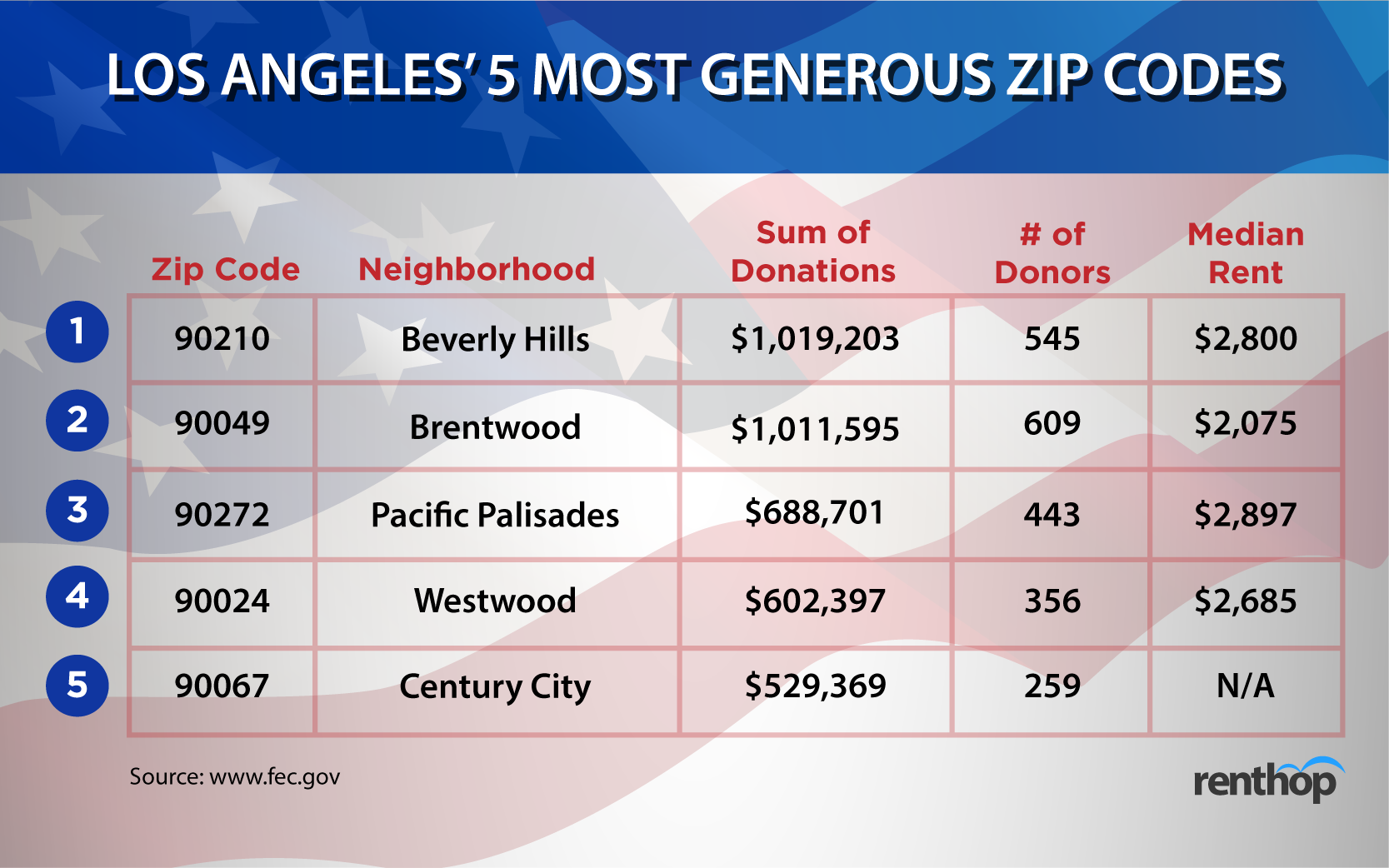 Los Angeles' most generous donors are unsurprisingly in the richest areas of LA. Beverly Hills tops the list, followed closely by Brentwood. The beautiful Pacific Palisades comes in 3rd but is quite aw ways behind. Number five on the list is the home to 'Avenue of the Stars', and the residents there on average contributed $2,044 to their choice of candidate.
We analyzed where each has the strongest show of support based on percentage of donors choosing them and total dollars collected there. When tablutaing our data, we looked at the zip codes that make up the massive Los Angeles County, as well as Orange, Ventura, San Bernardino, and Riverside Counties. These 495 zip codes had a median donor count of 27, which we chose to use as the lower boundary when calculating which neighborhoods were "TOP" for each candidate. This prevented us from coming back with a list of zipcodes where a candidate had a 100% share of the just one or two donors there.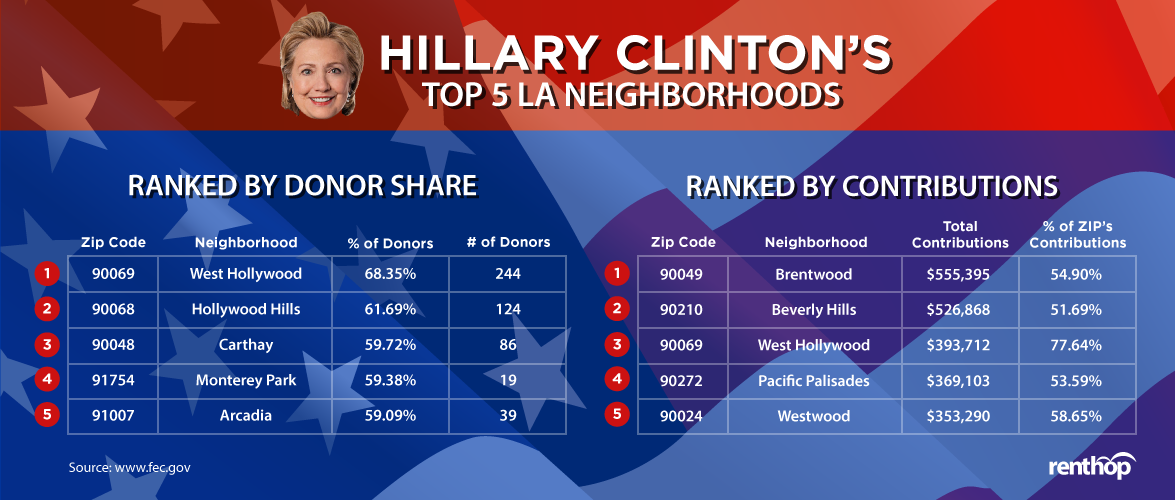 Hillary is raking in major money around Hollywood, enough for the next big indie film. Her very wealthy donors are surely hoping that it's plot will involve The demise of Donald Trump, but only time will tell. She'll have to take down Bernie Sanders first, unless she can join forces with him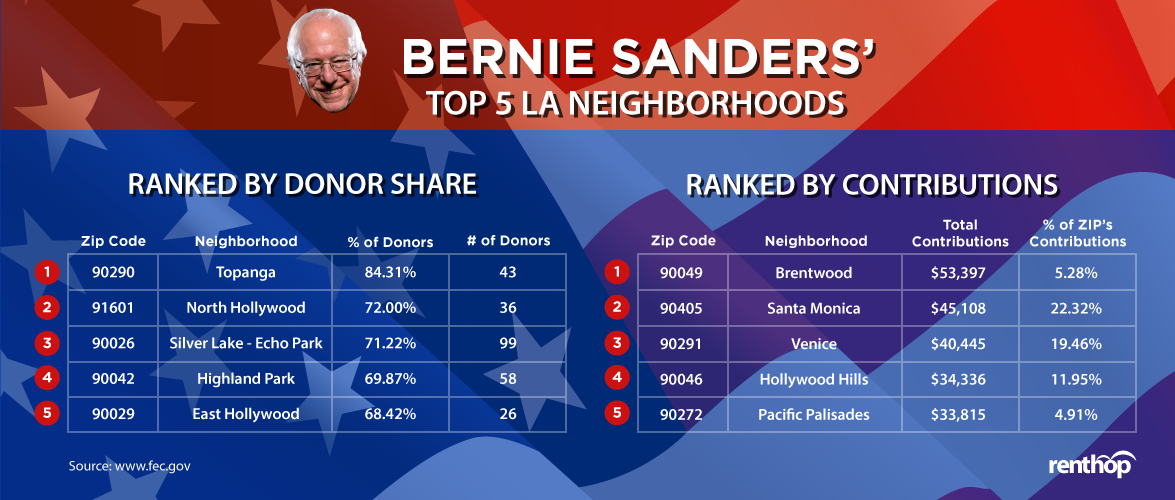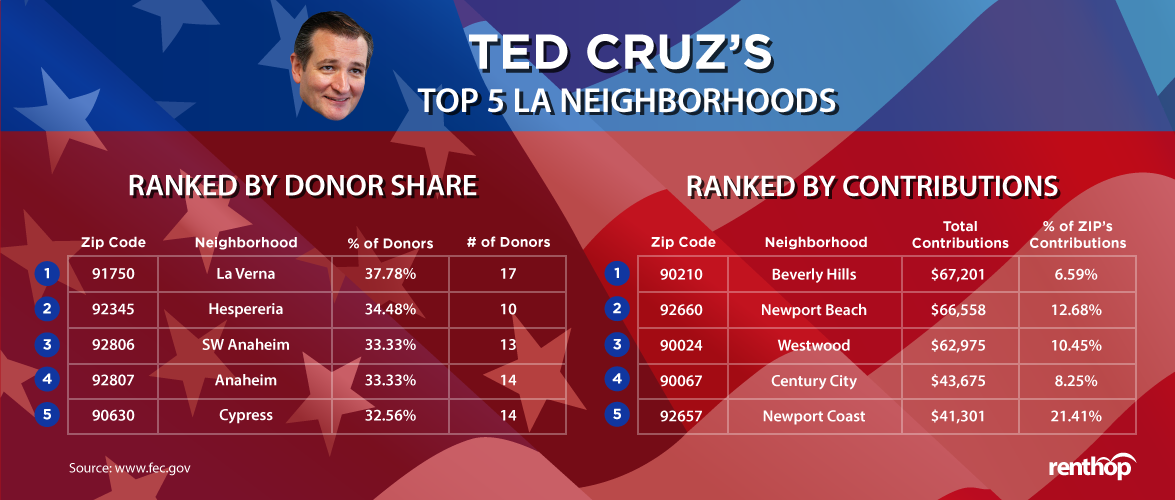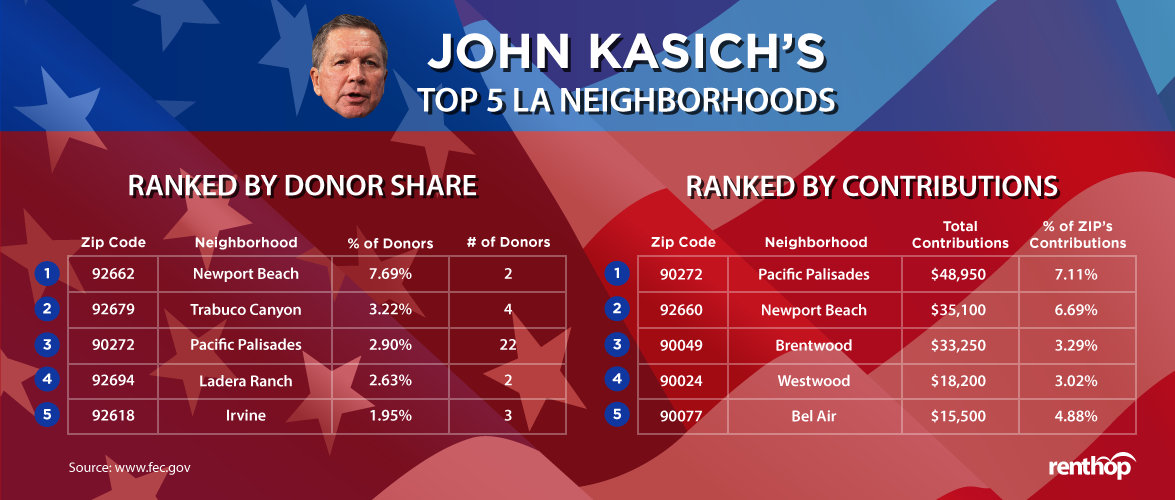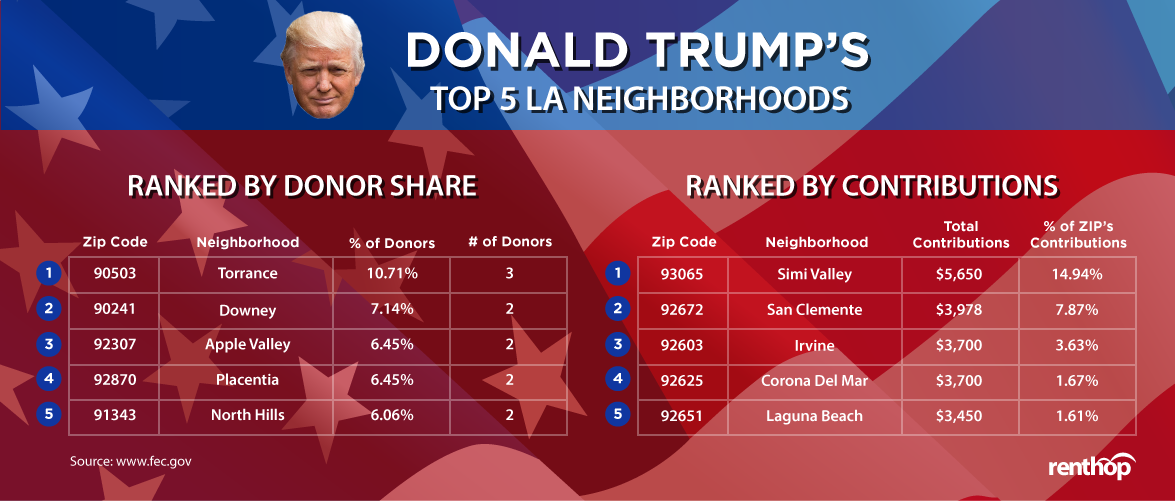 With just 174 donors in the greater Los Angeles area, anyone not looking elsewhere would never guess that he's the GOP frontrunner.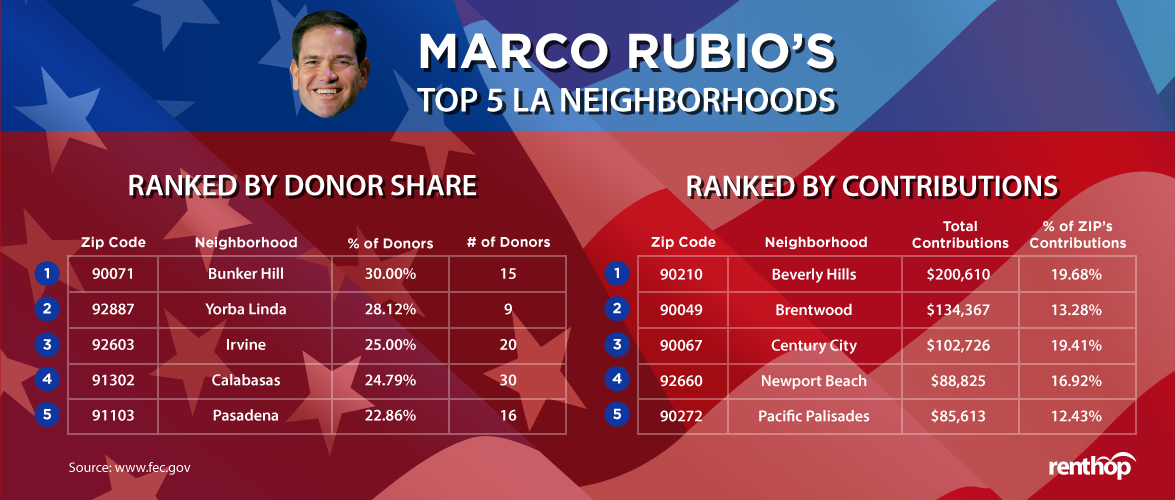 If you're in the market for a new apartment, or were just influenced to move because of this study, be sure to check out the extensive selection of Los Angeles apartments for rent.
RentHop, it's like apartment hunting.. but smarter.
"2016 Presidential Campaign Finance, Contributor Data Download, All Candidates", FEC.gov, Pulled on February 24, 2016, http://fec.gov/disclosurep/PDownload.do.
"CartoDB Map Tiles", www.CartoDB.com.