Interactive Map of Heating Complaints by Neigborhood and Address
311 Heat Complaints are pouring in before the first freeze
As the temperatures and leaves drop, we dig out the winter clothes. Hats, gloves, and big puffy coats help us survive the journey to the office. Unfortunately for many people across the city, they have to keep their gloves on to stay warm at home. During the cold months, landlords are required to heat apartments to an acceptable level. New York City's department of Housing Preservation & Development (HPD) defines the period between October 1st and May 31st as "Heat Season" and sets temperature requirements for landlords to meet.
During Daytime hours (6AM – 10PM): When temperatures fall below 55 degrees Fahrenheit outside, the inside temperature of all units must be above 68 degrees.
During Nighttime hours (10PM – 6AM): When temperatures fall below 40 degrees Fahrenheit outside, the inside temperature of all units must be above 55 degrees.
Although the requirements are rather lenient, the HPD department reported receiving 115,848 unique calls (228,796 including duplicates) during the last "heat season". They issued 9,214 violations and collected $1,855,293 in fines. The HPD also completed over $4 million in emergency heat-related repairs – charged to building owners – doing their best to ensure that nobody is left in the cold. If your apartment isn't being adequately heated, you can use NYC 311's online tool file a complaint.
Although the weather has been mild this fall, the complaints have rolled in. There have been over 50,000 (37,000 unique) complaints due to heating deficiencies as of 11/29/2015. The data is publicly available from the city and is a great resource for tenants and prospective renters. Since the quantity of data is a bit daunting, we've had our data scientists help make sense of it all.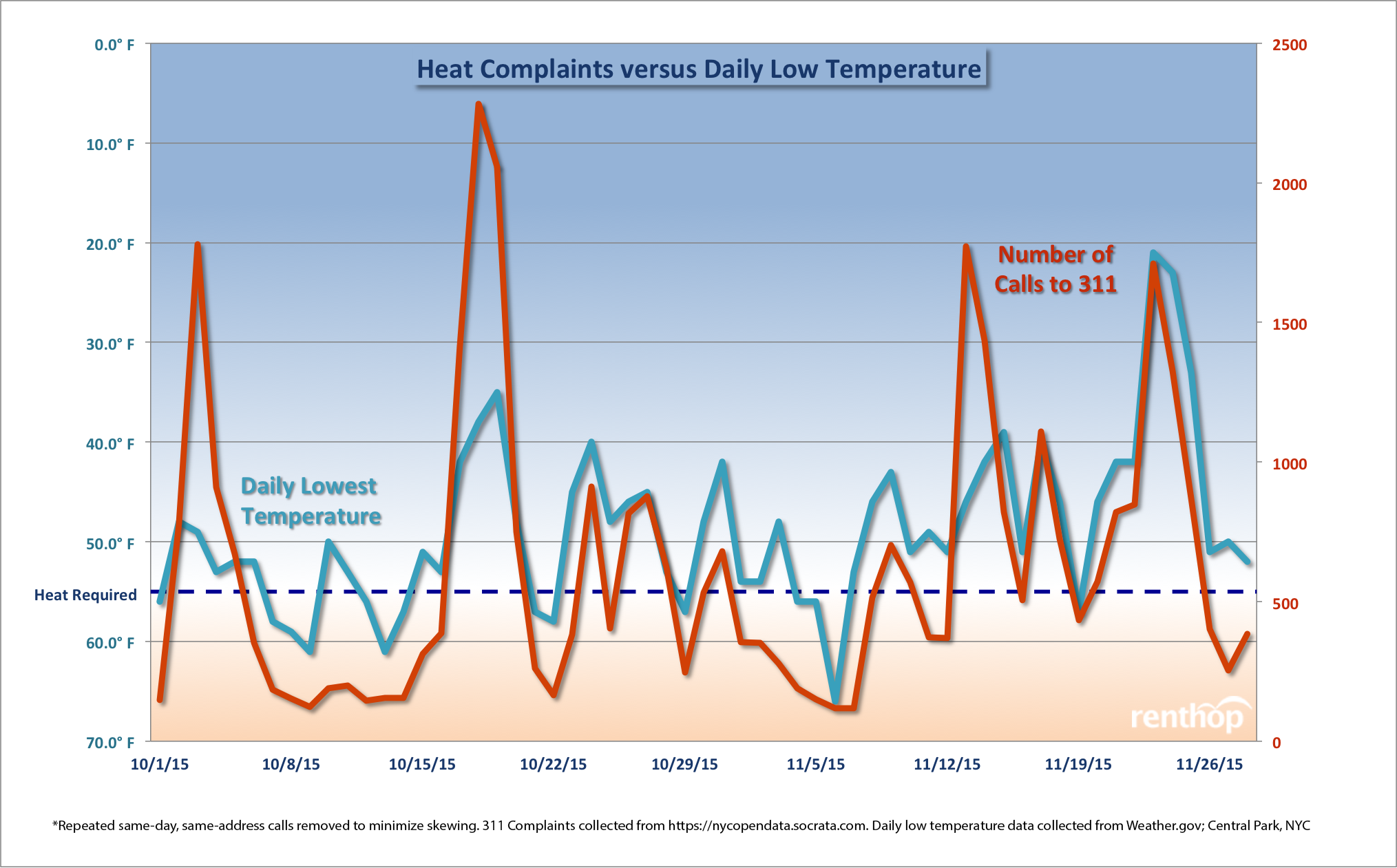 From the complete history of Housing Preservation and Development heat complaint data, the desired time frame was selected (October 1 - November 29, 2015). That data was checked for duplicate calls from the same address, on the same day, which were removed to prevent accidental repeat entries and potentially disgruntled tenants. The correlation between these filtered, unique entries and daily NYC weather data, gathered from Weather.gov, is demonstrated in Figure 1 above. The temperature is represented with temperature decreasing upwards.
Geographic data from the unique complaints was also used to map the complaints within the NYC neighborhood tabulation areas (NTAs) used by the census in Figure 2. Our map clearly shows that there are problem areas in all boroughs. Complaints for heating deficiency were concentrated in lower income areas like Washington Heights in upper Manhattan; Crown Heights, Brooklyn; and Grand Concourse in the Bronx.
Buildings in these areas may not be as well maintained and heating costs often make up a larger percentage of the budget for building owners. Complaints weren't constrained to the these areas though; a few of New York's more expensive areas received an abundance of complaints as well: East Village ranks in the 88th percentile with 396 unique calls so far, and the Upper West Side has received more calls than 95% of all NYC neighborhoods, with 629 complaints.

Essentials like heat shouldn't be considered an amenity, but smart renters should use all the resources available to ensure they'll have a warm home. These are some things to look for when shopping for your next apartment:
Maintenance and Renovation: Not surprisingly, a well-kept building gets fewer complaints. Look for newer windows and doors with weather stripping and don't be afraid to ask about that old radiator.
Clean Heat: Buildings that have converted to cleaner burning fuels like natural gas, instead of the #4 and #6 oils being phased out as part of NYC's 'Clean Heat' initiative saves money in the long run and is better for the environment.
Accessible Managers: Many complaints come from frustrated tenants that can't get ahold of their building manager or feel neglected. High complaint volumes mean more than just a cold apartment; these building managers will also be hard to reach for maintenance requests.
Higher Rents: Most everyone would prefer to spend less, if they have a choice, but there are times when small increases mean a significantly better living situation. If you're searching for a new abode, choosing a superior building in a less expensive area is often much better than a cheap place in an expensive area.
If you live in or are browsing for apartments in an area with lots of complaints, or are just curious about a particular address, you can use the HPD's online tool to check the records.
If you need to make a complaint of your own, call 311 or use 311 online to file.