November the Best Time to Move?
Wow, I saw this while glancing through my inbox yesterday.  505 West 37th is offering 2 months free + 2 months OP!!  That's 4/14 months of discount off the gross from the landlord's point of view!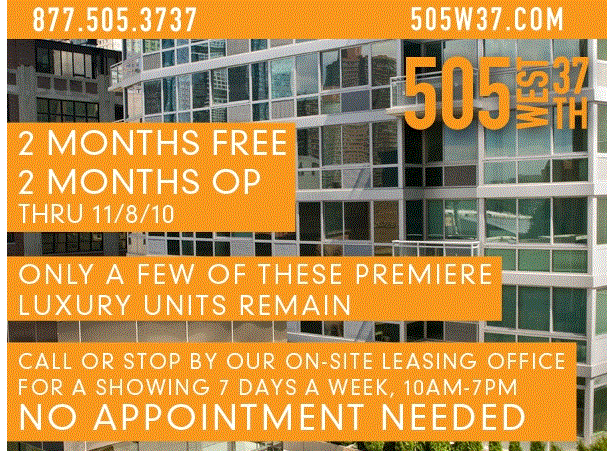 There are a few interesting ways to play this deal.  If you are a broker, do you try advertising the open listings with 3 months free as a net effective, hoping to fold half your OP into the rent during the negotiation process?
If you are a renter, do you walk into the leasing office demanding 3 months free?  Better yet, can you find a licensed broker to be your roommate, and then you all get the full 4 months free??  Note that not all buildings by this management company are offering such a great deal.  I believe 2 Gold is still at 1 month free + 1 month OP.  Still, after gathering data from the past three years, we're pretty sure November is the magic sweet spot for moving, if you can somehow sync your schedule accordingly.