Originally posted on September 22, 2016 5:42 pm
Updated on November 03, 2016 6:39 pm
Have you ever happened upon a film set? It's such an exciting feeling and even the most jaded among us can get a little starstruck, wondering who you may see. The RentHop data science team has discovered the top locations in SF for stalking actresses and actors such as Michael Douglas, Emma Roberts, Kate Winslet, James Franco, Harrison Ford, Dwayne Johnson, Arnold Schwarzenegger, and Kristin Wiig. With this data study you just might make your walk-on debut.

Using data provided by San Francisco's open data portal we've geocoded and mapped out where the most popular San Francisco neighborhoods and locations for filming are. The data goes back all the way to 1915, covering over 100 years of filming. There were over 200 movies and TV shows filmed in San Francisco that have been documented, with nearly 1,200 set locations. 2015 was the busiest on record, with 13 unique titles and 206 filming locations. The 1988 Clint Eastwood & Liam Neeson blockbuster "The Dead Pool" lead with the most film locations (29). The short-running TV series "Looking" used 41 different filming locations across the city during the two years it aired.


We can see from the map that the densest clusters of film sets are around The Embarcadero, Chinatown, The Golden Gate Bridge, Golden Gate Park, and Alcatraz. Some areas seem to always have been popular, and probably always will, while some others have gained or lost popularity. SoMa has held top spot in all time periods of available data, but has gained even more popularity recently, hosting 29% of film sets since 2001. The Financial District has also remained popular as has North Beach.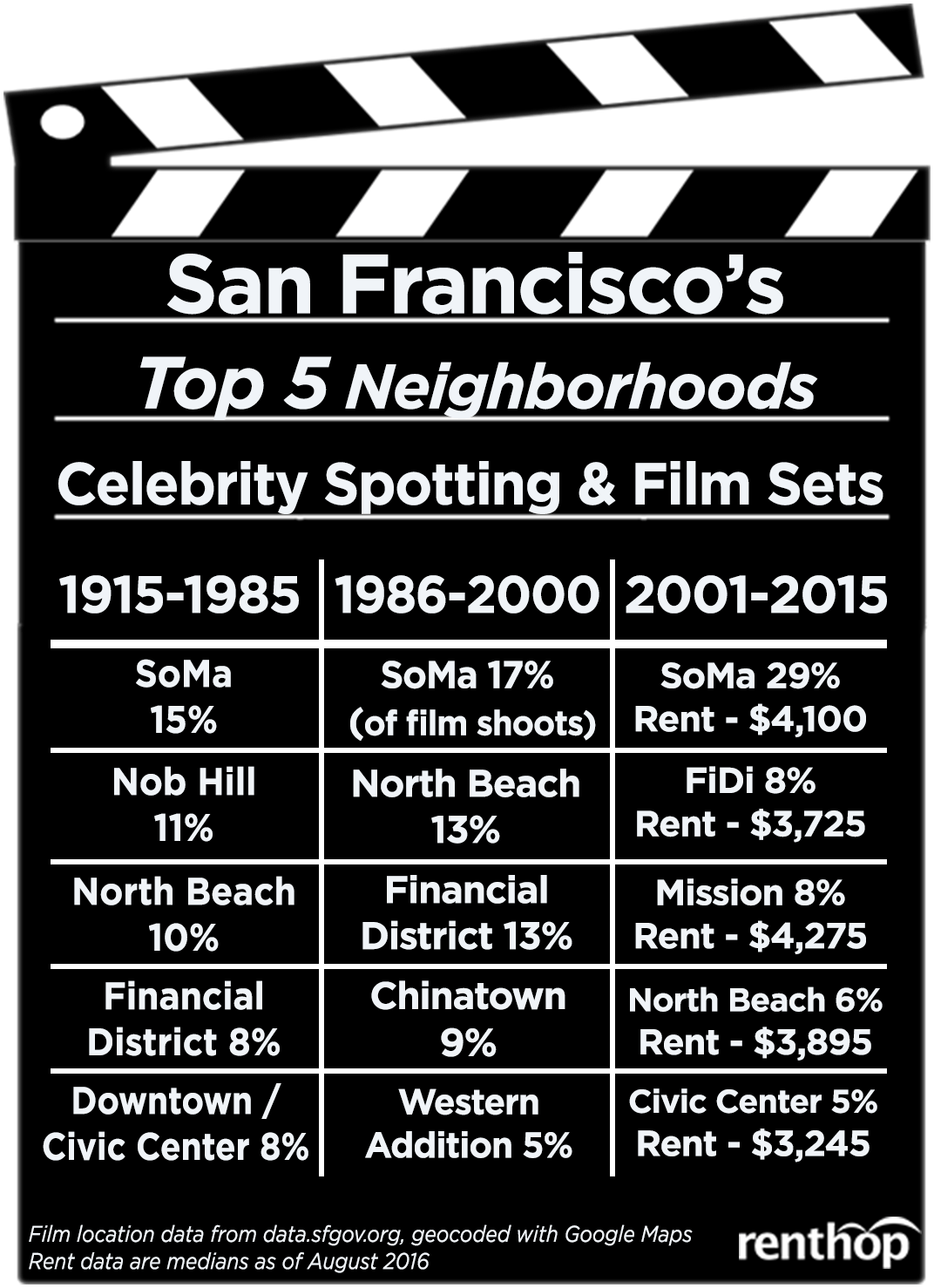 The Mission District has gained a lot of popularity recently, which is likely related to the levels of development there and the desire to film representations of the gentrification taking place. The Mission District actually has the highest median rent of any neighborhood in the top 5 film locations. Nob Hill and Golden Gate Park were among the hottest spots before 1985, but have since been in sharp decline. Chinatown saw a huge spike in popularity between 1986 and 2000, but is no longer a Top 5 neighborhood.

Combing through the data we found some interesting trends that are reflective of San Francisco's overall popularity. The 70's, 80's, and 90's were all very popular times to film in San Francisco, but the Dot-Com crash clearly turned that faucet off. Filming was very scarce from 2002-2012. In 2013 things picked up again, with exponential growth the next 2 years.

If you happen to live around tourist areas, you may be mingling with stars every day. However, for film fanatics who live outside of touristy spots, it may be worth taking a day trip to drive around San Francisco to check out the various locations where many films were shot in San Francisco. If you don't currently, but would like to live in the center of all this, check out our selection of San Francisco apartments for rent.