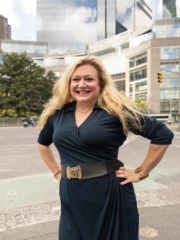 Melissa Perro
Bond New York
mperro@bondnewyork.com
(917) 374-7118
Agent Profile
Melissa takes her responsibility to her clients to heart and makes building and establishing successful client relationships is her number one priority. She does this through her passion and commitment to each and every single client's real estate journey.

Melissa starts by listening and figuring out what her client not only wants but what they need. She works with them to drill down on specifics in order to ensure their time is used as efficiently and effectively as possible. Then she gets to work, using her vast market knowledge to start the process of finding her client their perfect home. Melissa is a problem solver and is quick to communicate and then provide a solution to any obstacle that may arise along the way. She never gives up and remains steadfastly determined to see her clients to the end. All of this is done with good humor, coupled with her personable approach, Melissa believes in keeping the stress down while she does all the work behind the scenes.

Melissa has been in New York City for twenty-two years and always says, "They will have to take me out kicking and screaming!" It's a motto that directly translates to her love of the city and her love of helping others discover their connection to it too. Melissa has never lost her dream-like wonderment she felt when she visited for the first time and refers to New York as her heart. Whether it's uptown, downtown, the east side, west side or midtown, each neighborhood has its own rhythm that Melissa relishes in helping her clients discover and determine which one is the right beat for them.

Before transitioning into real estate, Melissa spent twenty years in fashion retail management. During this time she mastered her customer service skills and expertly learned how to provide genuine, informed guidance to help her clients achieve the best possible outcome.

Originally from Long Island, Melissa attended The Fashion Institute of Technology where she received a Bachelor Degree in Marketing. She also holds an Associate Degree in Fashion Buying and Merchandising. When not assisting her clients with their real estate needs, Melissa enjoys spending time at The Metropolitan Museum of Art and attending rock concerts.
Apartments for Rent in Top Cities

Fair Housing and Equal Opportunity
© 2009 - 2023 RentHop.com™