7 Outdoor Activities To Do In New York City
Posted on May 23, 2017 12:50 pm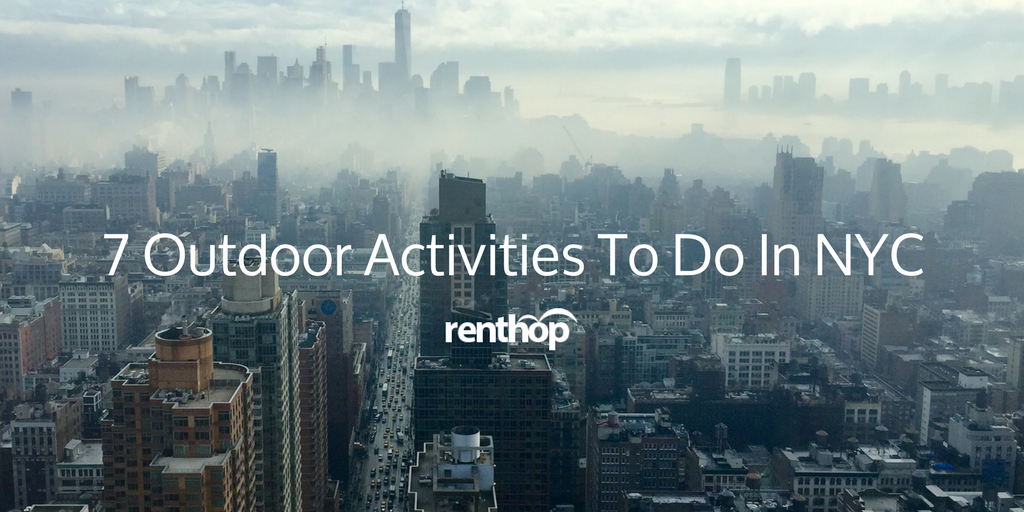 There is no shortage of things to do in a city like New York City. It is an epicenter for art, culture, music, nightlife, and sports. Right now, we might not have the best weather but great weather is spotted and soon we'll be wanting to spend all of our time outside. New York City winters are gloomy and cold, so you better believe residents are ready to break out of their shell and enjoy the outdoor activities NYC has to offer. Thankfully, there are plenty of fun and exciting outdoor activities to do in New York City, and here we will take a look at a few of them.
1. Get out on the water
Once summer hits in NYC, one of the first things you should do is put on your swimsuits and get on the water. There are many different things you can do on the water including kayaking and paddle boarding on the Hudson River, taking a ride on the river via a ferry, or simply go for a swim. There are also a ton of beaches throughout NYC that will get you out of the house and into that new bathing suit!
2. Take a walk on the High Line
While the High Line is one of the most popular tourist attractions in NYC and is swamped with people, you should still check it out. The High Line is a park in Manhattan built on elevated section of what used to be the railroad. It offers amazing views and is also full of lush greenery once summer hits. The High Line also spans 15 different blocks, so there is ample opportunity to stop at different places to eat, drink, or shop. There are also food trucks and street performances often in the area, so you never know what you'll see!
3. Watch some movies in the parks
Instead of watching Netflix in your bed like you have all winter, why not get outside and enjoy a movie in one of NYC's best parks. A number of different parks offer free movies and these normally begin around sunset. One of the most popular places to enjoy an outdoor movie is the Brooklyn Bridge Park. Be sure to head to the parks early to make sure you get a spot, and don't forget the popcorn!
4. Go bouldering in Central Park
While many just go to Central Park to people watch or take a stroll, there are more fun things to do there. One of which is the sport of bouldering. Bouldering is basically like rock climbing; only you are not strapped in. If that just made you cringe and feel sick, don't worry, the rocks are rarely higher than 10 feet. This fun sport offers individuals and mental and physical challenge as they try and traverse the small rocks. Central Park is full of different places to do that such as Rat Rock, which is a great place to start if you've never done it before. Despite it only being 10 feet, be sure to be safe or you could end up with a few less in-tact bones in your body real quickly.
5. Visit a street fair like Smorgasburg
Whether you like to stuff your face full of delicious food, or purchase little trinkets, street fairs have it all. While some strange and eclectic people often set up shop at these fairs, they are cool places to visit and can lead to some pretty unique discoveries. There are various different fairs you can check out, but one of the best is Smorgasburg. This place features nearly 100 different vendors with delicious food that will be sure to make your heart happy and your belt fit a little bit tighter.
6. Do outdoor yoga at Bryant Park
While yoga is often done in a cramped and hot studio, this is a much better way to get in touch with your body. There are free outdoor yoga classes at various different locations in the city, but the classes at Bryant Park in Midtown are among the best. It is a lively place to go and is often full of other great outdoor activities to do as well, if even just the thought of yoga makes your body ache.
7. Have some drinks at a rooftop patio bar
There is just something about having patio drinks on a rooftop patio bar on a gorgeous day. Whether you just like to have some ice cold drinks in the sun, or people-watch the thousands of people that traverse below you, there is something inherently fun about rooftop bars. These are scattered throughout the city and make for a great night out or pre-game drinks before a nightclub! Just be sure to remember how high up you are, that nice and shiny new iPhone isn't going to stand a chance against the concrete after a 20 foot drop.