Originally posted on April 21, 2023 3:00 pm
Updated on April 10, 2023 11:21 pm
A real estate agent and popular content creator that goes by the handle @ayec33, recently posted a video with nearly four million views asking TikTok users to "guess the price" of a particular New York City apartment. This apartment was not a sprawling multi-million dollar penthouse – it was an "efficiency apartment," located at 316 West 14th Street, on the border between Chelsea and the West Village. Many commenters were flabbergasted by the lack of space in this apartment, but this apartment was designed not for the purpose of hosting large parties or for a budding family but for a single inhabitant looking to prioritize location above all else. Efficiency apartments like these are common in densely populated cities and are created for residents who desire to live in trendy, expensive neighborhoods while still renting on a budget. 
What is an efficiency apartment?
An efficiency apartment is an apartment with all the living spaces contained within one room and is usually less than 500 square feet. These apartments lack space and amenities but are located in desirable areas and are well-suited for people looking to live alone in heavily populated cities.
Kitchens (or lack thereof)
Efficiency apartments do not have full kitchens, opting for a kitchenette or "mini-kitchen." These kitchenettes usually have stovetops and miniature fridges and don't have ovens. While some of these apartments have dishwashers, the sinks in these units are often smaller than standard sinks, and they have little to no counter space or cabinets available. Residents in efficiency apartments may need to get creative when cooking at home, opting for more microwave meals, stovetop cooking, or eating outside the house. 
Ideal locations
While the lack of kitchen appliances may sound inconvenient, what these apartments lack in space, they make up for in location. Most efficiency apartments are in ideal locations close to the city center (in Manhattan, many of these apartments are in downtown neighborhoods such as the Lower East Side or Chelsea or highly desirable areas such as the Upper West Side or Midtown), allowing residents to cut down on or eliminate their commutes. While these apartments offer little opportunity to eat at home, they are located in neighborhoods with a myriad of restaurants, bars, and places to order takeaway dinners when needed. 
The price is right
Efficiency apartments are not only popular due to their convenient location – these apartments are also more affordable. Efficiency units offer cheaper rent than traditional studios or one-bedrooms due to their lack of amenities and square footage. In addition to cheaper rent, these apartments boast lower utility bills, as heating and cooling a small space is much cheaper than a large apartment. In a city where many people live with roommates, these apartments can offer a slice of privacy while not breaking the bank. 
Minimal Furnishing
Efficiency apartments are also easier to furnish and maintain as residents need less furniture and possessions. The need for a large sectional couch is gone, and some of these units don't have space for a dining table either. If moving into an efficiency apartment from a larger apartment, it could be time to sell or donate any miscellaneous and unused items! The lack of kitchen space eliminates the need for cookware, and while the lack of storage space may seem intimidating, these apartments are easy to keep tidy and organized due to the compact nature of the space.
What is the difference between a studio and an efficiency apartment?
Efficiency apartments and studio apartments are frequently confused and are often used interchangeably. Yet these two types of apartments have some key differences:
Studio apartments offer full kitchens, complete with ovens and full-size refrigerators. Many studio apartments have dishwashers and full-size sinks, whereas efficiency apartments have kitchenettes without ovens or full-size appliances.
Studio apartments are bigger than efficiency apartments, which are usually under 500 square feet.
Studio apartments sometimes have lofted sleeping areas where the bed is separated from the living area, whereas efficiency apartments have everything in a single room.
Studio apartments can be found almost anywhere, but efficiency apartments prioritize location and are almost always in the city center or a city's most desirable neighborhoods.
While studios often have alcoves for kitchens or a separate area for living space, efficiency apartments are too small for space differentiation and frequently only have room for a bed and perhaps a small desk or table.
How to find efficiency apartments
When looking for an efficiency apartment, it can be difficult to sort through the countless listings. Many websites do not have filters to find these types of units, and users need to search through the studio listings to find an efficiency apartment. A great way to approach looking for an efficiency apartment is through the "keyword" search, where you can type "kitchenette," "mini fridge," or "efficiency kitchen." While simply searching for the word "efficiency" can be useful, many appliances are marked as efficient because of their energy-saving capabilities and the lack of specificity in your search can cause less relevant results to appear. You can also sort by square footage – most efficiency apartments are less than 500 square feet.
Examples of efficiency apartments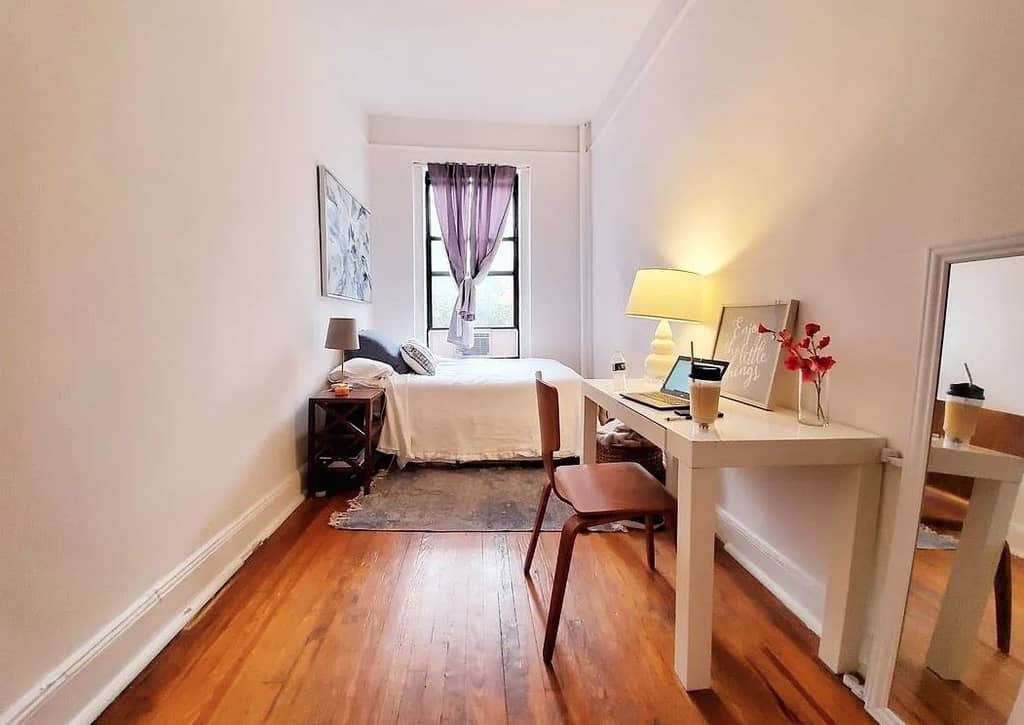 This apartment at 49 West 11th Street costs only $2,300 and has room for a bed, desk, and a small kitchenette that even has a dishwasher. This apartment is at the heart of Greenwich Village, one of New York City's most popular neighborhoods boasting esteemed restaurants, bars, and shopping. The apartment is conveniently located right off the L train and is close to Union Square as well as Washington Square Park.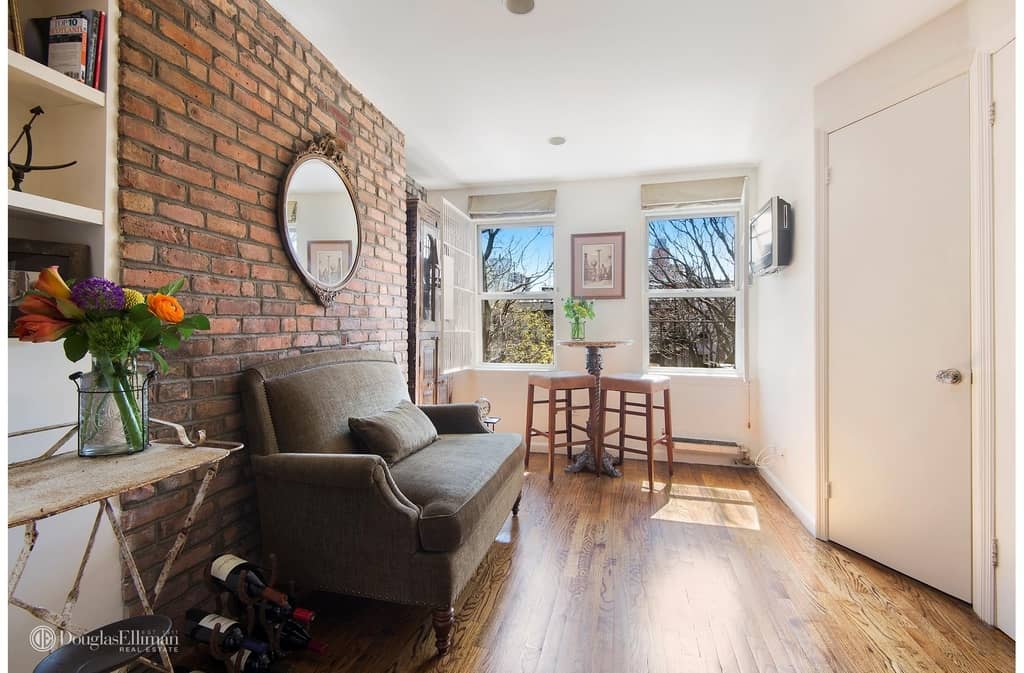 At 336 East 6th Street, residents can enjoy a top-floor apartment with "pre-war charm" for just $2,200. This apartment has great natural lighting (this can be difficult to find in small NYC apartments) and room for a small couch, table, and bed. This apartment also has closet space and built in shelving for extra storage. This efficiency apartment is located in the East Village, close to Tompkins Square Park and copious popular restaurants and recreational spots.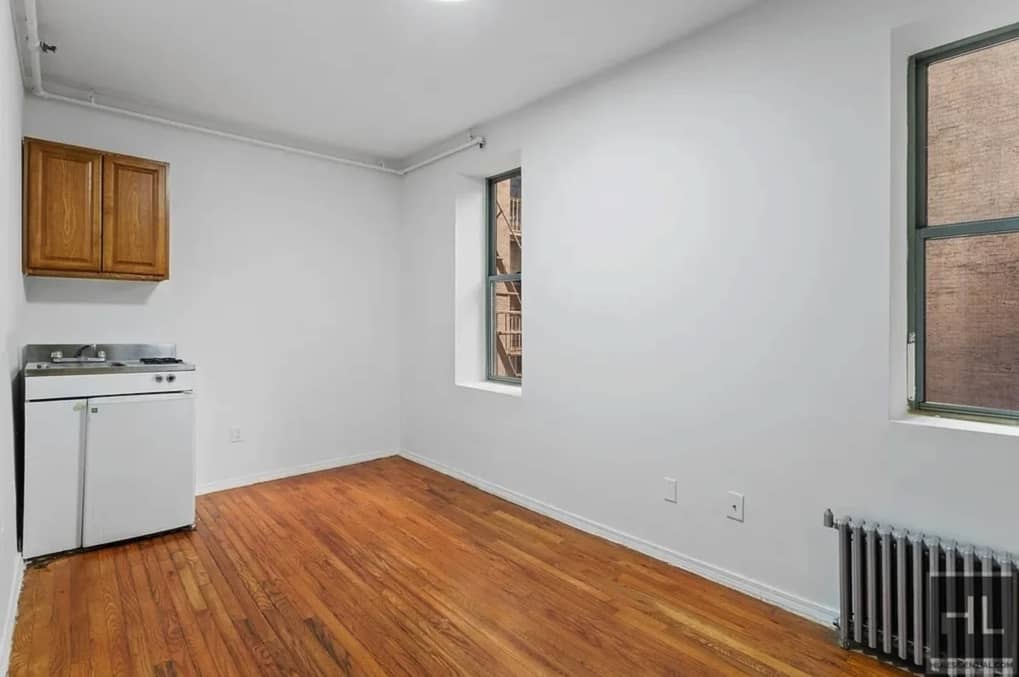 The Upper West Side is both an expensive and highly coveted neighborhood, and this apartment on 243 West 63rd Street costs just $2,195 (the lowest-priced unit in the building!). While this unit doesn't even have a stovetop, it offers other useful amenities such as a gym, laundry in the building, and a common courtyard area for residents to enjoy. This apartment is also located just steps from Lincoln Center and is easy walking distance to Central Park. 
Is an efficiency apartment right for you?
Though efficiency apartments have many benefits, including lower rent, utilities, and prime location, they are certainly not suitable for everyone because of their compact living space. These apartments can get cramped with more than one person living there (with a lack of space also comes a lack of privacy). Yet for those looking to live alone, an efficiency apartment can be a great way to acquire private space at a low cost.
These spaces are best suited for residents who don't like to cook or who find themselves dining out frequently, as the kitchen is not suitable for elaborate cooking. Most of these apartments don't have space for a large couch or dining table, hosting a gathering at an efficiency apartment is also difficult. These units are best suited for those looking to go out more than stay in and for residents who don't mind living in tight quarters.
Any resident with a multitude of possessions may want to think twice before choosing an efficiency apartment, as these units have little room for storage and sometimes don't even have closets – minimalism is key for anyone looking to live in this type of space. Conversely, these apartments are great for people just moving to the city. Many new residents in New York City don't have access or resources to purchase furniture like couches or dining room sets, making these small apartments ideal for those with limited furniture.
If location is a major priority in your search, efficiency apartments can offer the "best of both worlds" when it comes to price and choice of neighborhood. Many of these apartments in Manhattan are located in neighborhoods that are otherwise very expensive and offer residents the opportunity to live in the heart of the "hustle and bustle" while saving on rent and utilities.
The benefit of compact living
Outside of densely populated areas like New York City, residents may not understand the appeal of a small efficiency apartment. However, those familiar with New York City real estate know that efficiency apartments are one of the best ways to combat expensive rent prices and high demand. These apartments allow residents to live close to the most popular landmarks, restaurants, bars, and museums while offering more affordable rent and utility costs. Much like some people who choose to live in "tiny homes" and traverse the countryside, residents in efficiency apartments make sacrifices of space to reap the benefits of city living.