Tips and Tricks to See Theatre for Cheap in NYC
Originally posted on June 10, 2022 3:00 pm
Updated on June 06, 2022 4:52 pm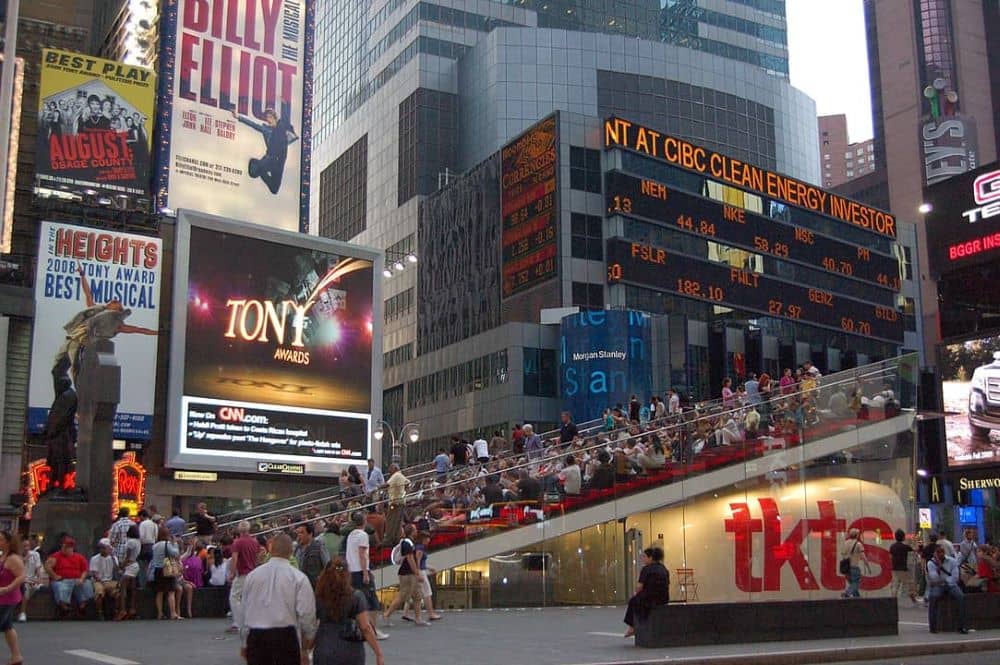 Being a New York City resident provides unique access to a number of exciting things: artichoke pizza, subway rat sightings, and some of the finest museums in the country. But by far my favorite part of city living is the sheer quantity and variety of live theatre that I've been able to enjoy since moving here. Unfortunately, theatre going is a hobby that can quickly break the bank if you're not careful. On the plus side, there are plenty of ways to see theatre very inexpensively—or for absolutely free!—that you can easily take advantage of.
Visit the TKTS Booth
The classic way to obtain discounted tickets to Broadway and off-Broadway is to swing by Duffy Square and see what offerings are in store under the iconic red "bleacher seats" of the TKTS booth. Operated by the Theatre Development Fund, a nonprofit organization dedicated to making the performing arts more accessible to all, the TKTS booth on the north side of Times Square has been selling discounted day-of tickets since 1973 (though the red steps were not constructed until 2008). The booth is a popular attraction in and of itself, so you will have to wait alongside throngs of tourists to get your tickets, but it's worth it for the amazing deals: up to 50% off for certain performances.
The TKTS booth opens at 3 p.m. for evening show sales and 11 a.m. on matinee days, and the best seats are generally available on a first-come, first-serve basis (although some blocks of seats are not released until closer to the start of the show, so don't despair if you arrive late). There are currently two TKTS booths in the city, but the second location—over at the Lincoln Center's David Rubenstein Atrium—has yet to reopen following its temporary closure during the pandemic.
Ticket Apps
If you aren't in the mood to wait in line, you can beat the crowds by buying right from your phone. BroadwayBox is great for Broadway and Off-Broadway tickets, while Eventbrite often offers access to productions by smaller companies and student groups (though does not necessarily provide discounts).
The most popular ticketing app, however, is TodayTix. This app allows you to buy discount and regular-price tickets to Broadway and Off-Broadway shows hours, days, or weeks in advance and offers a respectable array of savings, especially on shows such as Chicago or Phantom of the Opera that have been running for decades. TodayTix also provides running times and helpful taglines for its shows to aid you in deciding what you might like to see. As a bonus, you can even use TodayTix to purchase rush tickets to certain performances at even greater price cuts.
Rush and Lottery Tickets
If you're in the mood for the old-fashioned experience, however, several productions still offer in-person rush and lottery tickets. For those unfamiliar with the practice of rushing a show, most Broadway theatres reserve a block of reduced-price seats to each performance that are released to the general public as soon as the box office opens on the day of the show. Most rush tickets can only be bought in-person, and it is not uncommon for theatregoers to camp out near the box office hours before sales begin to secure affordable seats to in-demand performances.
Alternately, some theatres choose to release these seats via a lottery system instead to ensure they are distributed equitably. Some lotteries are online-only, while a select few shows, such as Wicked, continue to draw lottery tickets out of a hat in-person at the theatre. Finally, if you're really desperate, a couple of Broadway shows will offer steeply discounted standing room tickets for sold-out performances. Playbill maintains a wonderfully thorough list of the rush and lottery policies for current Broadway and off-Broadway shows that makes obtaining these tickets even easier.
Sign Up for Discounted Ticket Programs
Broadway audiences have historically been dominated by a white, wealthy population of middle age or older: according to statistics released by the Broadway League for the 2018-2019 season, only 24.7% of Broadway tickets were purchased by nonwhite audience members, while the average Broadway theatregoer was 42.3 years old and had a household income of $261,000.
In an effort to broaden their audience base, several Broadway and off-Broadway companies and venues—including Manhattan Theatre Club, Playwrights Horizons, Roundabout Theatre Company, and Lincoln Center Theater—have introduced discounted ticket programs for those under the age of 35 or 40. These theatres and many others also have discounts for currently-enrolled students if they present a valid student ID when purchasing tickets at the box office.
The Theatre Development Fund offers a reduced-price ticket program to Broadway and off-Broadway shows that is accessible to an even wider range of people. For a nominal yearly fee, TDF Memberships are open to teachers, seniors, veterans, government employees, non-profit workers, individuals on federal disability, and artists of all stripes, as well as students and individuals 30 and under.
Expand Beyond Broadway
In my personal experience, the best and cheapest way to get more theatre in your life is to cast your eyes beyond the Great White Way and explore what some of the city's smaller companies have to offer. Many of my all-time favorite theatrical experiences came from attending grungy new operas in repurposed Bushwick warehouses or cramming into old church basements uptown to see inventive takes on Shakespearean classics.
Though often (but not always!) lacking the enormous budgets and glitzy special effects of Broadway shows, these types of companies feature incredible performances on a more intimate scale than can be achieved in 500-seat Broadway houses. Many sell tickets in the $15-40 range—and, as a bonus, their small size makes it easier to befriend box office workers, performers, and even artistic directors who may be able to offer you even greater discounts.
Make Friends in the Industry
Life in the theatre is all about connections. Making friends with the people you meet at shows is a great way to both find new shows to go see (just check their social media or chat them up to see what they're working on next) and also potentially to snag comp tickets so that you can attend their performances for free.
If you work in the industry, it's also worthwhile to try to connect with as many theatre companies as you can. Having a company decline an audition or a script you've submitted is a common occurrence, but sometimes they'll sweeten the sting of rejection by adding your name to their comp lists when papering the house for press nights.
---
At the end of the day, live theatre is no theatre without an audience, and theatre companies want you there just as much as you want to be there. So by all means, make use of all the discounts you can while taking advantage of the city's gloriously diverse and utterly unparalleled buffet of theatrical offerings.