Taipei Cracks Down On Airbnb Quarantines
Posted on September 07, 2020 8:35 pm
We recently described the Covid-19 home quarantine process for various cities, including New York City and Taiwan. Today, Taipei Times reports that the city will no longer allow short-term quarantine rentals, citing dangers such as increased cross-contamination from large groups, and inadequate cleaning standards. Per usual, the punishment is both a financial fine and a public shaming – they will publish the names and addresses of landlords found to be in violation (sparing the guest it seems).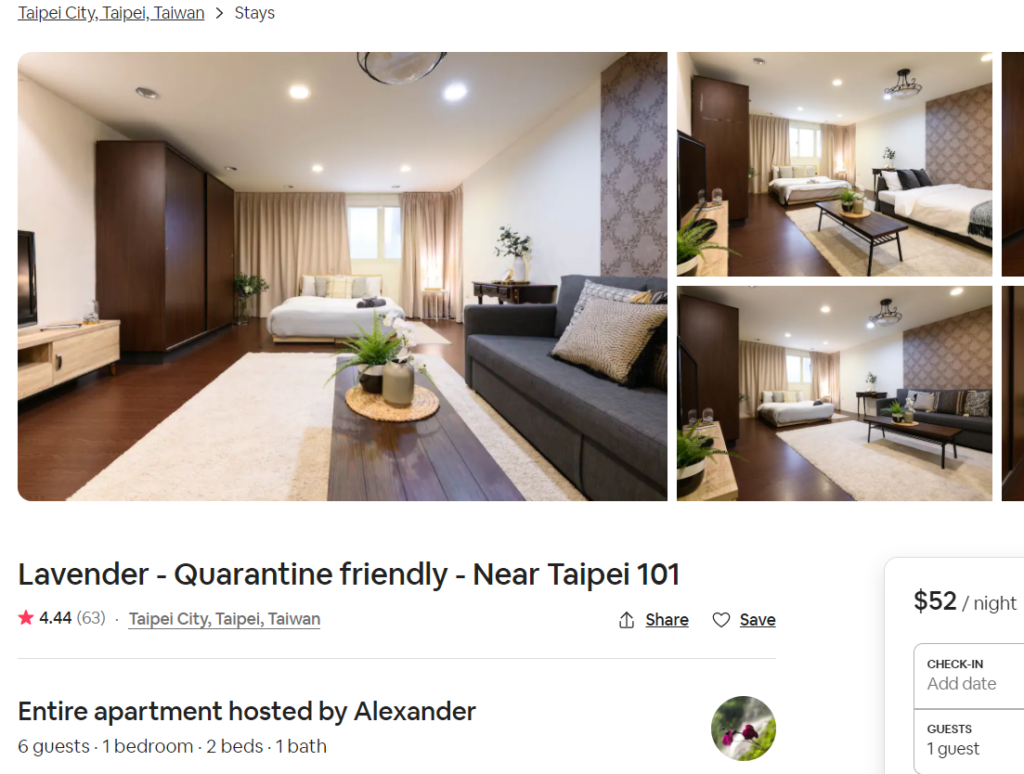 How Did They Know?
The government used their data analysis powers to identify about 80 or addresses that seemed overly suspicious. Each of these homes supposedly hosted 5 different groups over the past few months, triggering some red flags back at HQ. Also, keep in mind a local CDC official will visit your home early in the quarantine – eventually he or she figures out you are not all relatives or family friends.
What Is The Rule?
The rule is you may stay at an official quarantine hotel, booked accordingly, where each individual must stay in a separate room. The only exception is a parent caring for a young child; a husband and wife still must stay in separate rooms.
You may also stay at home, meeting certain conditions: either you are the owner, or you have a clear family, friendship, or employment relationship with the owner and are not providing compensation (company corporate apartments seem to be allowed – a loophole for sure).
A normal hotel is not allowed, as they do not have adequate procedures in place to enforce safety measures. There are simple things like knowing you need 3 meals a day, lots of extra water delivered straight to your room, and garage taken out regularly. They must also not allow the guests to leave their rooms at all, which means forgoing all of the other hotel amenities: lounge, gym, pool, restaurants, etc.
Worth The Risk?
Still, a search for "Quarantine Taipei Airbnb" still nets quite a few results. I imagine those disappear soon – or at least they do a better job concealing. It's been a tough year for Superhosts everywhere, and while I don't blame them for trying, I also agree with the government.
It is understandable that people choose to quarantine in an Airbnb – the entire family can stay together and keep each other company. There is more freedom to choose grocery or food delivery options. You can even have relatives stop by for socially distanced engagement during the 14-days (they shouldn't use the bathroom apparently, unless you have a spare).
But with the extra freedom, there is much greater temptation to break the rules. Yes, the fine is significant for those who are caught, but in the end most government regulations and technology solutions still require a level of human compliance and good judgement. No one wants to be the cause of a major outbreak and ruin things for millions of others.